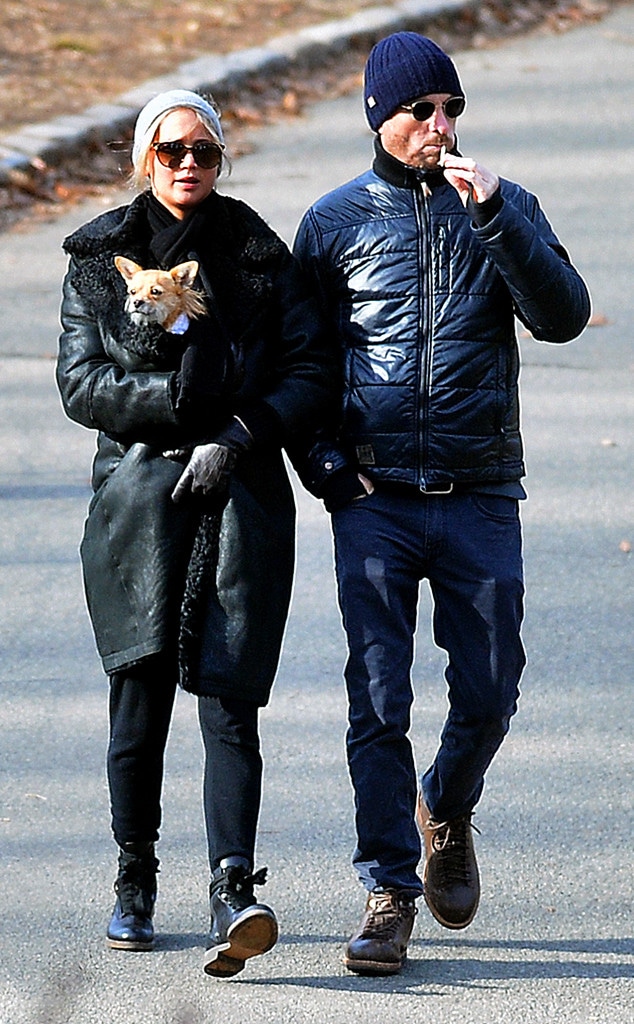 TheImageDirect.com
These two are suckers for love!
Jennifer Lawrence and boyfriend Darren Aronofsky's oral fixation is as strong as ever. J.Law, 26, her dog Pippi and the acclaimed director, 47, were spotted in New York City over the holiday weekend going for a stroll in Central Park. Once again, the bundled-up pair shared a lollipop while perusing NYC's great greenery, even stopping for a moment to let Pippi wander in the grass.
Rumors about the Passengers actress and Aronofsky began to swirl in mid-October after they were photographed together on a couple of occasions. They were spotted sharing a lollipop in early November, and then two days later the couple confirmed their relationship when they were caught kissing. 
An eyewitness told E! News of their initial lollipop date that they "were laughing and smiling while walking with her dog" and definitely "look[ed] like a couple."
A separate source told us that they've been "official since August." In fact, Aronofsky's dad has had "some medical issues, and she is very supportive and has even visited him in hospital."
Aronofsky shares a 10-year-old son, Henry, with ex Rachel Weisz, but there's no word on whether Lawrence has met him yet. Our source did note, however, that Lawrence "seems very comfy with his family."
The Hunger Games alum was previously linked to Coldplay frontman Chris Martin but reportedly called it quits with him because of her struggles with the extra spotlight the relationship put on them.