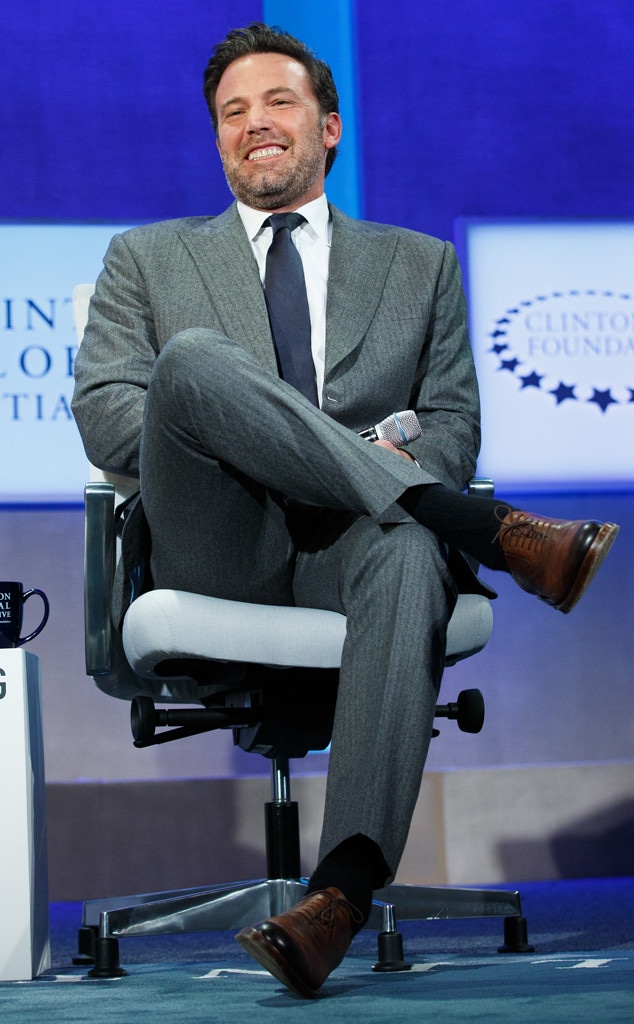 Marcus Owen/startraksphoto.com
And to think Ben Affleck is known for making his directorial debut with Gone Baby Gone.
In a new interview with The Guardian in which he assesses the currently impressive state of his career after hitting some memorable lows along the way, Affleck fondly recalled the actual first production he directed—a short film called I Killed My Lesbian Wife, Hung Her on a Meat Hook, and Now I Have a Three Picture Deal at Disney.
"Yeah, the title is the best thing about it," he deadpanned. But apparently there was some method to his madness even then, in 1993, just four years before he and Matt Damon would win Best Original Screenplay Oscars for Good Will Hunting.
"It's about how we sometimes forgive the lunatic behavior of artists and call it 'eccentricity,'" Affleck recalled, an indication he was taking his work just as seriously then as he has been doing through his second, post-Gigli act, which has netted him numerous accolades, including an Oscar.
"I was trying to make it as an actor and hearing stories of how 'so and so was doing this' or 'that guy has this outrageous technique'. And I remember thinking, 'What bulls--t.' Just because this guy's on some crazy diet doesn't make him talented. The work itself is what matters."
Affleck, who most recently wrote, directed and stars in Live by Night, admits that the work definitely went by the wayside for awhile.
"When you're a young man in your 20s, part of that is making mistakes and learning from them," he summarized the roughly five-year period where he went to rehab, was engaged to Jennifer Lopez and made a handful of crappy films. "I just made those in front of everybody, rather than privately."
Life hit an upswing when he married Jennifer Garner in 2005. They split up in 2015 but remain close as they co-parent their three children together.
"I think becoming a father makes you see the world differently and it's good," Affleck told The Guardian, though he acknowledged that his success and his high-profile marriage came with a price.
Jason Merritt/Getty Images
"I've been lucky. I've had my wildest dreams come true, but the price is the Faustian exchange you make where your identity is not your own," Affleck said.
"You become a public figure and it changes all the rules. The press can become invasive and dishonest, and you have to put up with inconvenient stuff like that. I'm at peace with paying my own price, what I'm not at peace with is when it invades on my kids' space and time. They didn't make any bargains. I try to shelter them as best I can. That's my only real gripe."
Todd Williamson/Getty Images for Swisher Productions
At least he has a best friend who gets him. Pearl Street Films, co-founded by Affleck and Matt Damon, most recently produced Live by Night; Manchester by the Sea, starring Casey Affleck; and Damon's latest blockbuster Jason Bourne.
Reminded that Damon had previously joked to The Guardian that Affleck was taking all the good acting roles for himself these days, Affleck reportedly laughed and said, "That's true. But I'd love to get a great two-handed script and do a movie with Matt. But, for whatever reason, those scripts are rare."
We seem to recall a couple of guys who wrote a script once and, while it was no I Killed My Lesbian Wife, it turned out OK for the both of them.
If that's what it takes for the right two-handed script to come along, then we suggest Damon and Affleck get to work.