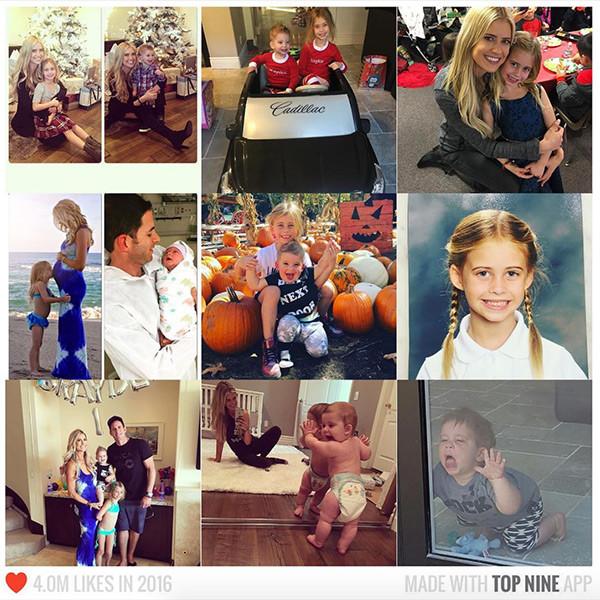 Instagram
Christina El Moussa is focused on the future.
As the 33-year-old star of HGTV's Flip or Flop explained in an Instagram collage caption Saturday, "2016 has been a crazy year of highs and lows." That's putting it mildly, of course.
Police visited the El Moussa family's Orange County home in May after receiving a "call of a possibly suicidal male with a gun." Tarek El Moussa allegedly ran from the house with a gun, only dropping the firearm after a helicopter spotted him and police commanded him to do so. Tarek told police he did not intend to harm himself—he just wanted to "blow off some steam."
According to the El Moussas, the incident was a "misunderstanding," as Tarek merely went "on a hike and took a gun for protection from mountain lions, bobcats, coyotes and rattlesnakes."
News of the incident surfaced in October, and shortly after, the El Moussas—parents to 6-year-old daughter Taylor and 1-year-old son Brayden—announced they were separating after seven years of marriage. "A lot of things have changed but one thing will always remain a constant in my life and that is the love I have for our children," Christina wrote in her Instagram caption Saturday. "Their genuine happy spirit is always the light at the end of the tunnel. May 2017 be a start to a fabulous year ahead and bring happiness, peace, joy and new adventures to you all."
Christina is said to be dating family contractor Gary Anderson. According to reports, Gary was the one who told police in May that he'd witnessed Tarek flee the family home with a weapon.
In a statement, the exes confirmed they "dated other people following the separation," but said neither was "ready to announce anything in terms of another relationship."
After calling it quits, the former couple told People magazine, "We plan to continue our professional life together by being professional, by doing our jobs well, by being prepared and by working hard." Days later, however, E! News learned new episodes of Flip or Flop will only be filmed in 2017 to fulfill contractual obligations. Said a source, "The show will end after that."
In a previous statement, HGTV told E! News, "We admire and appreciate Tarek and Christina's great work on Flip or Flop. When it comes to matters related to their own family, we respect their privacy and honor any decision that works best for them and their children. HGTV is currently airing episodes of Flip or Flop and the series will continue production as scheduled."
Tarek provided an Instagram update of his own Saturday afternoon. Sharing a slideshow set to Rascal Flatts' "Bless the Broken Road," he reflected on the lessons he's learned in 2016. "Today signifies they end of another year. It's a time where we all reflect on our own personal journey. Looking back we must ask ourselves what we did right and what we did wrong," he wrote. "It's a time to look back and ask ourselves if we took advantage of the year we will never get back."
"For me... 2016 was the biggest defining year of my life. It was a year that will change the destination of my life and I'm ready for the ride. The crazy ride of 2016 taught me so much about myself," the home remodeler continued. "Today, going into 2017, I've learned i'm much stronger than I ever thought possible and the lessons I learned in 2016 will stay with me through the rest of my life. I truly believe in all these words and I urge everyone to look back and ask yourself what lessons can you take from 2016 to make 2017 the best year ever!! HA."
(Originally published on Saturday, Dec. 31, 2016, at 8:45 a.m. PDT.)