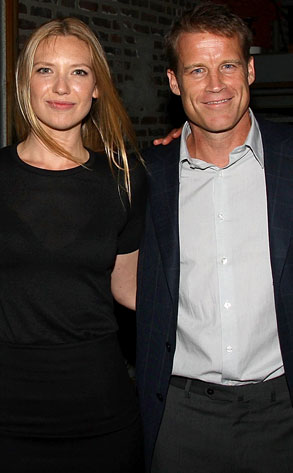 Jason Kempin/Getty Images
It's true.
A rep for Anna Torv has just confirmed to us that the Fringe star secretly married Mark Valley, who plays her love interest on the Fox show.
OK, "love interest" may be simplifying things just a wee bit. Mark plays her ex-lover John Scott, who turned out to be evil and died, but then came back to the series through hallucinations. (Just another day in the world of J.J. Abrams.)
So when and where did the wedding ceremony go down? And more importantly, who even knew these two were together at all?
Though Torv's rep declined to provide further details, sources on the show tell us the small, private ceremony took place over the holidays.
The pair has been quietly dating for several months—so quietly that many of their fellow castmates and crew members weren't aware they were together.
Neither did the press. On Thursday, Valley took part in a conference call with reporters, and talked about his new bride (without referencing her as such). "I think [Anna] is just a fantastic actor and I really like working with her," he said. "She's my favorite on the show, to be honest with you." (We should hope so!)
We're told the ceremony took place within days of Mark's 45th birthday. Anna is 30.
What do you think of this real-life coupling? Anyone else surprised?