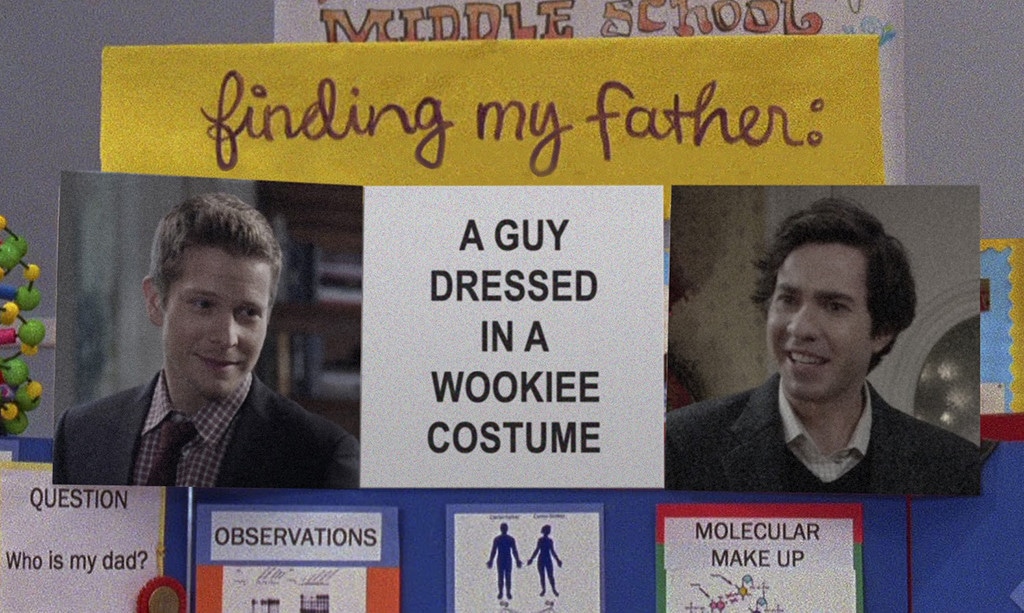 Netflix/Facebook
Netflix has a little gift for Gilmore Girls: A Year in the Life fans. Well, some may call it a gift, others may call it trolling. Since the Gilmore Girls revival dropped on Friday, Nov. 25, fans have been speculating about the cliffhanger ending and Netflix took to Facebook to stoke those flames. This is your one and only spoiler warning.
Gilmore Girls: A Year in the Life ended with Rory (Alexis Bledel) telling her mom, Lorelai (Lauren Graham) that she's pregnant. Fade to black. Cut to "Where You Lead" and the credits. That's how the GG revival ended. While we don't know if there will ever be more Gilmore Girls we also don't know for sure who the father is, but it's pretty obvious…or is it?
Netflix posted the above photo on Facebook to get one last bit of trolling in. Is the father of Rory's baby Logan (Matt Czuchry), Paul (Jack Carpenter) or the man dressed as a Star Wars character she had a one-night stand with in "Spring"?
"Where's an eighth grade science fair when you need one? #GilmoreGirls," the streaming site posted on its official Facebook. Netflix is referring to how April (Vanessa Marano) found Luke (Scott Patterson), her biological father, through a science fair.
"Those four words obviously impact someone and it was left open," Czuchry said referring to the series' ending. "I'll leave that to Amy and Dan to say who was the father of that child."
Creators Amy Sherman-Palladino and Daniel Palladino said they know for sure who the father of Rory's baby is.
"I think a lot of clues are out there. I know with the time passage it wasn't 100 percent clear, but we also didn't have her engage with who she thought was the father," Daniel told E! News after the episodes premiered. "She felt like she was going ahead on this, deciding what to do and how to do it solo, that's why we had her go to her father. At that point you didn't know she was pregnant, but in hindsight, I think that was—"
"In hindsight, she was searching for what is her path going to be. Look, I thought I had told Lauren the last four words 10 years ago and she informed me that I didn't, so I don't know what I've told anybody and what I've said to anybody," Amy said. "We just sort of felt like we wanted to leave it in that way because it was really less about who the father was and more about Rory repeating her mother's history."
Gilmore Girls: A Year in the Life is now streaming on Netflix.