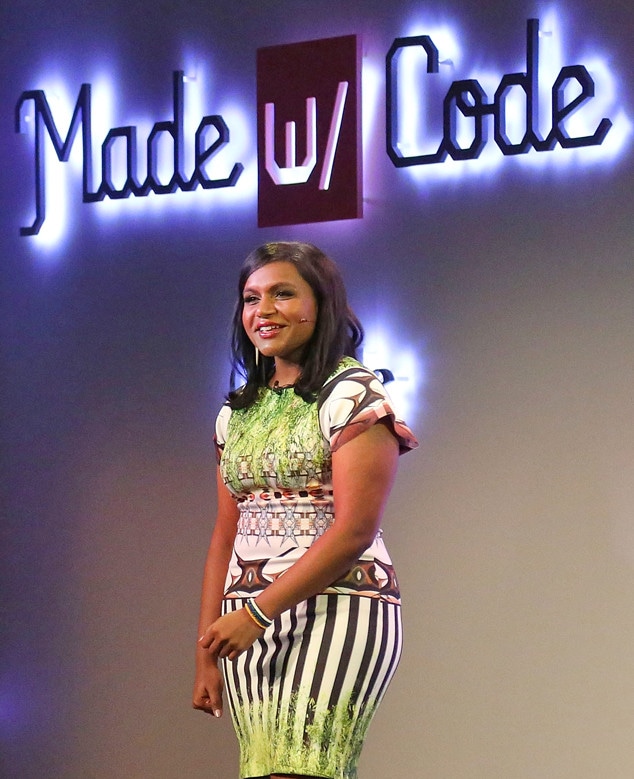 Taylor Hill/FilmMagic for Google
Blake Lively, Mindy Kaling, Chelsea Clinton, Luptia Nyong'o and Zac Posen are empowering girls across the world to follow their love of science and technology through Google Made w/Code, an initiative and movement allowing girls to try coding and turn their passions into careers.
In the United States, women hold only 25 percent of computing occupations, and the numbers are even lower for women of color; for example, Latinas and black women hold only 1 percent and 3 percent of these jobs, respectively. Made w/Code hopes women will one day be equally represented in a space governing us all: technology.
There is much you can do with code from mixing music to animation to creating LED fabric like Posen did for Lupita Nyongo's one-of-a-kind Star Wars Force 4Fashion show. That Made w/Code creation was the work of girls around the world who, with the help from "coding mentor" Maddy Maxey, helped create the technology behind the fabric.
And for those who are still confused as to what coding actually is, well, we won't go too into detail. All you need to know is that it's the language that allows us to communicate with computers. Basically.
Maya, an 8 year-old who got the hang of coding quite young, had Blake feeling like a slacker earlier this year. "My Valentine this year is @mayasideas At 8 years old she started her own business," the actress wrote on Instagram. "She's given 3 Ted Talks, started a non-profit organization, and created multiple animated shows with a foundation in education. Now at 16 years old, she continues to change the world and make me feel like a massive slacker. Thank you @mayasideas for rocking our world. And thank you for coding this heart. I can barely work an iPhone. #codewithlove."
"Code is how all dreamers and doers right now will build things and create things in the future," The Mindy Project actress said. "It can help turn your wildest dreams into your reality."
Over a million people watched Blake's video! And when Mindy and Chelsea spoke to hundreds of girls at the Made w/Code launch party, they helped open the eyes of so many who may not have known about coding nor understood its power.
And while all of us still might have questions about coding and what it is and what it can do, we better figure it out quick because it really is the way of the future.