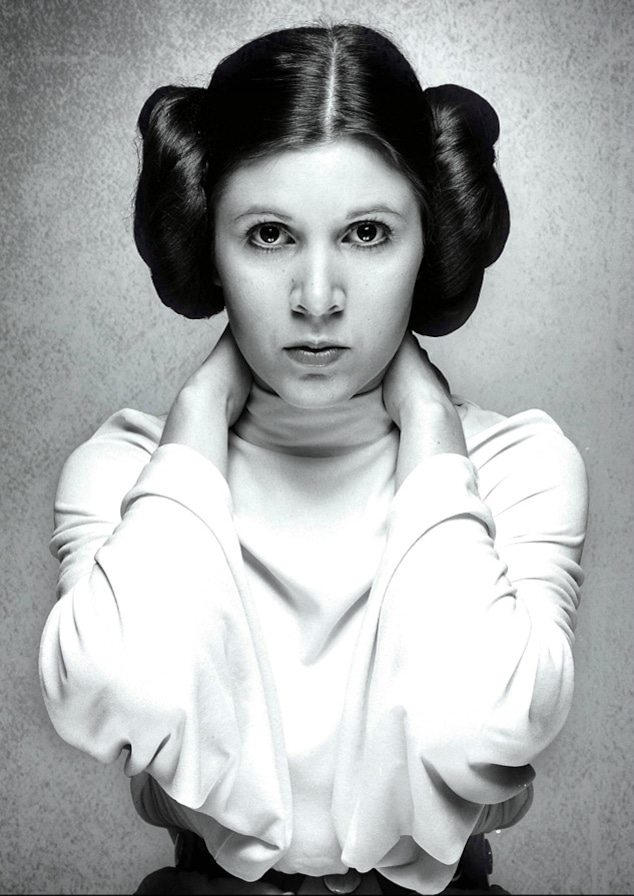 CAP/PLF/MediaPunch/IPX via AP Images
There are so few true icons.
"Iconic" is a word that gets thrown around haphazardly, having become interchangeable with any word that connotes fame and losing its primary definition as something inspiring unflagging, uncritical devotion.
Yet Carrie Fisher's Princess Leia fits the bill.
When every other movie and TV show these days is a spin-off, a reboot, a remake, the mass-entertainment moments that resonate as singular are becoming increasingly rare. Even fewer and more far between are truly memorable characters, ones that transcend their respective medium and end up seared into the pop culture lexicon.
Fisher, who was 60 when she died Tuesday morning, several days after suffering a heart attack, became one of the most recognizable people in the world after starring in George Lucas' Star Wars trilogy. Starting with 1977's Star Wars Episode IV: A New Hope, Fisher's Princess Leia—a headstrong damsel who needed saving a few times, but whose wits and courage kept her from ever appearing too distressed—became a part of our collective history.
Thirty-nine years ago, there was no such thing as viral memes, as Twitter, as YouTube, as Reddit or Tumblr, where endless movie conspiracy theories are born and endlessly probed—yet the magic that was Star Wars, with Leia and, first, her twin-bun hairstyle, followed by her legendary metallic bikini moment, reached icon status all on its low-tech own.
Lucasfilm/20th Century Fox/REX/Shutterstock
Even for the late converts to the Force among us, those who spent the first few decades of life knowing Star Wars existed but not having crossed its path…still, we knew about the magic! And perhaps it was that very fierce fandom that deterred us in the first place. How could the actual product ever live up to that level of devotion?
There's an infinite amount of analysis out there about just how good the Star Wars movies are or not, but we can say this: Carrie Fisher makes them worth watching, regardless.
The daughter of golden-age stars Debbie Reynolds and Eddie Fisher, Fisher was considered Hollywood royalty in life. And after her turn as Princess Leia, she'd be cinematic royalty forever after.
Only 19 when she shot the original Star Wars, her second movie after having a brief turn in Shampoo, in addition to being absolutely gorgeous Fisher had a magnetic presence that outshone any plot holes and made capital-M Moments out of what could have been throwaway dialogue for any other actress.
Of course, she didn't work alone. Leia's chemistry with Han Solo—which as we now know was being acted out off-camera as well between Fisher and co-star Harrison Ford—still radiates off the screen four decades later. A split second of the two sharing a tender moment in the trailer for last year's Star Wars: Episode VII—The Force Awakens was enough to thrill even those whose trilogy trivia skills were negligible.
"I used to sit in the bathtub the night before, go over my lines," Fisher said in a January 1977 interview that was only released a few years ago by Lucasfilm. "Like the one in the hallway where I would say, 'This is some rescue! When you came in here didn't you have any plan for getting us out?'"
Only lines that would be emblazoned on fans' brains for decades.
"George wouldn't really say anything in the beginning," she continued. "He was say, 'faster,' or 'more intense.' And I didn't know what that meant. I thought that just meant that I was not very good, or whatever, and then I found out that was OK. I don't remember how I found out, I think maybe Harrison told me that when he didn't talk, when he didn't say anything, that's when he was getting what he wanted."
"In Star Wars she was our great and powerful princess—feisty, wise and full of hope in a role that was more difficult than most people might think," Lucas said in remembering Fisher today.
And while some actors who are forever associated with one particular role grow to have a prickly relationship with that character, Fisher wasn't among them.
"I haven't gotten out," she admitted to E! News last year while promoting The Force Awakens. "I got into Leia 40 years ago and I have not been able to get out since. People want me to be sick of it and I said, as a joke, at some point that George Lucas had ruined my life. Inflection isn't conveyed in written things, so... I was kidding. He doesn't have the power to ruin my life. Only I can do that."
Fisher's life as the child of Hollywood legends also perhaps made her unusually equipped to deal with the ironies and disappointments of life in the spotlight.
"I thought everybody had movie star parents," Fisher said frankly during her first-ever appearance on The Tonight Show Starring Johnny Carson, when she was promoting Return of the Jedi and was still first and foremost asked about her childhood.
Her semi-autobiographical novel (one of several she wrote) Postcards From the Edge, about a fresh-out-of-rehab actress' rocky relationship with her own scene-chewing mother, was turned into a 1990 film with Meryl Streep and Shirley MacLaine playing the tempestuous duo.
"I had to share her and I didn't like that," Fisher said about mom Debbie Reynolds on NPR's Fresh Air just last month while on an extensive press tour promoting her eighth book, The Princess Diarist. "When we went out, people sort of walked over me to get to her, and no, I didn't like it. And people thought — I overheard people saying, 'She thinks she's so great because she's Debbie Reynolds' daughter!' And I didn't like it; it made me different from other people and I wanted to be the same. I wanted to be, you know, just no different than anybody else."
She couldn't help but be different. Not ever inclined to just be Princess Leia, though there wasn't much she could do about her slice of film immortality other than learn to embrace it, Fisher's greatest role was easily herself.
Fisher's gifts as an artist, author and entertainer gave her a creative outlet for, not only her childhood issues, but her struggles with substance abuse (she later admitted to doing cocaine on the set of The Empire Strikes Back), mental illness (she discussed having electroconvulsive therapy in her 2011 book Shockaholic), men (she was married to Paul Simon for barely a year in the 1980s and she's mom to daughter Billie Lourd with her talent agent ex Bryan Lourd).
Her 2008 book Wishful Drinking turned into a hit one-woman show on Broadway.
"I am in the abnormal psychology textbook," she said in the play, during which at one point she sports Leia's breakfast-Danish hair. "How cool is that? Now keep in mind, I am a Pez dispenser, and I am in the abnormal psychology textbook."
Though she at times turned her humorous yet unsparing eye toward her famous family and the people who crossed her path in Hollywood and her personal life, Fisher always owned her issues.
"It's always been my responsibility," she told reporters in 2010, referring to her behavior. "If it was Hollywood [to blame], then we'd all be dope addicts." And to the Los Angeles Times, she said she didn't believe in regrets.
"I know they're human and I have them sometimes," she said. "But I don't like to hang out with them. The only stuff I regret is any discomfort I caused someone else."
Her proclivity for sharing, both her probing, reliably self-deprecating anecdotes about herself and stories about other people, always had people wondering over the years how that affected her relationships with those she talked about.
"I think I do overshare," Fisher told NPR weeks ago when the only thing people were seizing on from her new book was her revelation of her affair with Ford. "It's my way of trying to understand myself. ... It creates community when you talk about private things."
Interestingly, Fisher's candor—though it certainly struck a chord with people who've experienced similar issues and helped fans understand her better—didn't necessarily make her more knowable. Her relationship with Reynolds, though they were close, still often seemed to teeter on a precarious foundation built of long-simmering emotions, reluctantly resting bygones and caustic wit.
"I don't think you can predict a manic-depressive, bipolar person," Reynolds told the Los Angeles Times in 2012 about her relationship with her daughter. "I find it an everyday experience, you never really know what's going to happen. So it's kind of interesting. It's like learning to do impressions; you play it by ear. Life should be like that anyway."
Fisher, though Reynolds would say that Carrie had barely even tapped into her hereditary talents over the years ("She has a great voice. She has Eddie Fisher's voice"), was indeed a world-class impressionist—in her case, someone who willing shared her impressions of her experiences, whether she'd gotten a firm handle on them or not, with the world.
And she was a born storyteller.
Kevork Djansezian/Getty Images
Fisher presented Reynolds with the Lifetime Achievement Award at the Screen Actors Guild Awards in 2015.
"In fact, she has been more than a mother to me—not much, but definitely more!" Fisher said in her introduction, the audience tittering knowingly at the nod at her widely known family history. "She's been an unsolicited stylist, interior decorator and marriage counselor."
Referencing her own "ugly bun" in Singin' in the Rain, Reynolds recalled onstage, "I warned my daughter, who had just gotten a part in a picture, Princess Leia in Star Wars, I said, 'Well, Carrie, be careful of any weird hairdos.' So luckily, George gave her two buns. Thank you, George."
Thanks to George, for sure—but that would have just been an iconically ridiculous hairstyle if Carrie Fisher hadn't somehow made it work.
"They just say, 'there's going to be a giant horrible monster with mucous falling from its face, and you do that,'" she mimed a terrified scream as she recalled to Carson on that Tonight Show appearance in 1986. "I started doing the films when I was 19 years old so it's sort of like...that's one of my specialties."
"I have trouble reacting to things that are there now, I'm so used to reacting to things that aren't there."
Though known as part of an ensemble, Carrie Fisher was well on her way to becoming an unforgettable one-woman show even then.