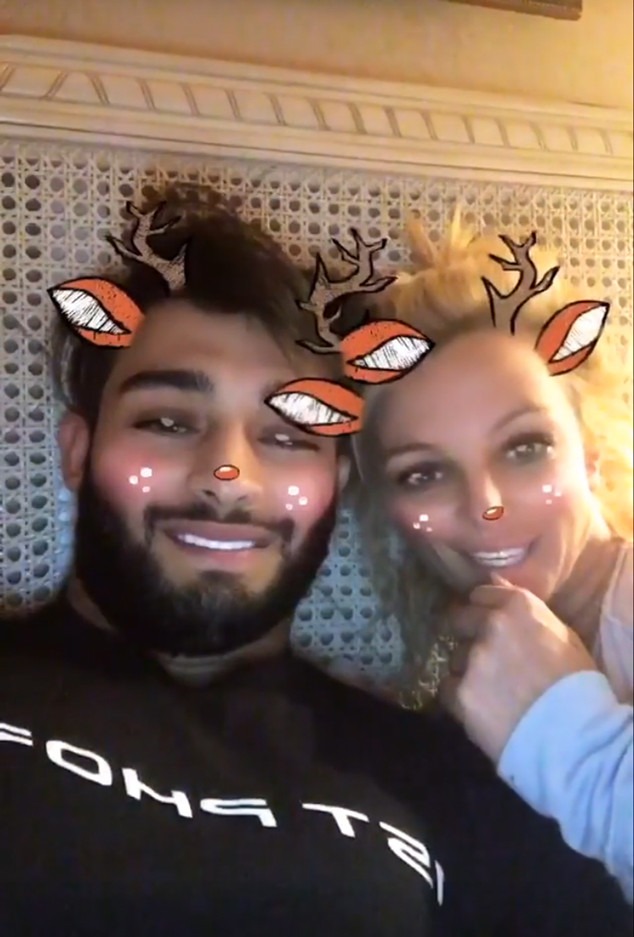 Snapchat
Britney Spears had a slumber party with a very special someone on Christmas.
The songstress and rumored boyfriend Sam Asghari cozied up in bed together Sunday night and wished Ashgari's followers a very merry Christmas on his Instagram story. Brit Brit and Sam used the reindeer filter to alter their voices, making for a very cute message for their fans. The maybe couple appeared on Sam's Instagram one other time when he shared a screenshot from the "Slumber Party" music video in which they both appeared.
The male model and personal trainer later deleted the picture, causing many to speculate that the two are an item.
A source later told E! News that the romance is nothing serious, but it could lead to something down the line. "They went on a few dates," the source said. "It's not as big as people think it is, but you never know. Who knows what will happen in the New Year?"
Britney has had a thing for people working in the entertainment industry before, as she was previously linked to television producer Charlie Ebersol and engaged to her agent Jason Trawick. Although the mom-of-two has been single for a while, she told Marie Claire UK that her fame doesn't make her immune to heartache.
"I've been single for ages and had a date with a guy I liked. I was getting anxious, worrying he wouldn't like me. We went to the movies, but I could tell right away it wasn't working. It was sort of awkward," she shared with the magazine. "So after the movie I came home and that was it. It just didn't work…He just wasn't that into me. I liked him. He knew that. But he definitely didn't feel the same.
"It happens to everybody. Being famous doesn't make you any different."