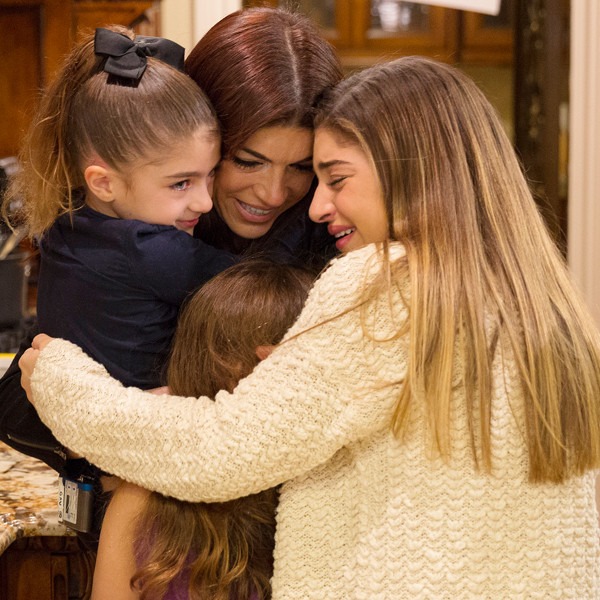 Bravo
It's been a year since Teresa Giudice was released from prison, and a tough one at that.
While getting out of prison after serving what was originally supposed to be a 15-month sentence must have been a great relief, the year ahead would prove to be tumultuous. Only three months after getting out, Teresa's husband, Joe Giudice, would begin his 41-month sentence. Now that it has been a year since Teresa re-entered the real world, E! News is looking back on how the Real Housewives of New Jersey star rebuilt her life.
Coming home in time for Christmas with the family was a big help. The Giudices spent part of Christmas 2015 with Teresa's brother and wife, Joe Gorga and Melissa Gorga. Although Teresa and Melissa's relationship has been tempestuous in the past, Teresa and Melissa let bygones be bygones so they could get through their hard times together.
Watch:
Teresa Giudice Reveals Family's Christmas Plans
"All the girls, they've been attached to me since I've been home," Teresa told E! News' Catt Sadler in an exclusive sit-down interview. "Audriana, my baby, gives me kisses every second. It's like the best feeling."
But Teresa couldn't overlook the fact that her husband would soon be going away to serve his sentence. "Thank God we have those three months together," she said. "I feel bad for my daughters just having to go through this again. That's what breaks my heart."
So Teresa made sure to be a rock for her daughters and make lemonade out of lemons. Part of that, however, included resuming (her) normal everyday life. The Bravolebrity started slowly, making her first public appearance with Gia at the opening of Melissa's clothing store.
"I'm feeling great," Teresa told E! News exclusively that evening. "I'm happy to be here to support my brother and my sister-in-law Melissa..."
And Joe and Melissa repaid the favor by supporting Teresa at the release party for her book Turning the Tables: From Housewife to Inmate and Back Again. "It's back to normal," said Joe with a smile. "It's back to grade A. It's back to day 1."
Melissa agreed, saying things were "great" between her and Teresa. "It's how it should be," she said. 
In order to get through prison, Teresa focused heavily on her health and wellness. She opened up about running on the track and practicing yoga. After her release, Teresa kept up with yoga and told E! News she wanted to get certified. Eventually, she made good on that promise. "With Erin Barry #nirvana #TeacherTraining2016 #adjustmentworkshop #authenticisthenewspritual," she captioned an Instagram picture.
Teresa's official foray into yoga instructing came several days after her husband checked into prison to begin serving his 41-month sentence. She and her daughters spent the Easter holiday dyeing eggs, maintaining some normalcy during a trying time. As the old adage says, a mother's work never ends.
Over the past year Teresa has put her family first. Instead of attending major public events, the RHONJ star has made everything a low-key affair, including her first birthday since her release. Teresa spent part of her 44th birthday working and then celebrated at home with her and Joe's four daughters, Gia, Gabriella Giudice, Milania Giudice and Audriana, as well as her mother Antonia Gorga, brother Joe and his wife and kids.
"It was a small, loving family affair," a source told E! News.
Perhaps prison made Teresa realize that some dramas are worth letting go, as she also shocked fans when she reunited with former cast member with Danielle Staub and not one table was flipped. The reunion, which took place at the most zen of places—a yoga studio, even left Andy Cohen stunned.
"WOWZA," he responded to a picture Teresa posted of her and Danielle going to yoga together.
(Teresa is still very serious about pursuing yoga.)
While Teresa spent a lot of time making amends, she also tried to "cut the cancer out" of some of her relationships, which meant confronting Kathie Wakile and Rosie Pierri. "Kath, listen, not that I don't want to be your family. You guys are always going to be my family. We have the same blood," she said on the show. "I just want to be left alone, really. I don't want to be hurt anymore."
Teresa continued to clean out her life by essentially cutting ties with Jacqueline Laurita because she admitted to thinking either Jacqueline or Caroline Manzo called the feds on her and Joe. "We don't have to be friends, we don't have to go deep, we don't have to do any of that…from this moment on, I won't utter a bad word about you," Jacqueline said to Teresa during the RHONJ reunion.
Don't let the onscreen drama fool you, though. Despite what's playing onscreen, Teresa has been living a happy and drama-free life off screen. Teresa has embraced her passion for cooking, making appearances to promote her favorite recipes on behalf of Turning the Tables, as well as teaming up with nutrition companies to promote shakes, vitamins and more.
But with Christmas right around the corner, Teresa will be with her family full-time. It's her very first time spending the holiday away from her husband Joe, who remains in prison, so she won't be hosting a party this year.
"I'm not hosting Christmas Eve this year," Teresa told E! News at the Brooklyn Rocks Fashion Show. "I'm going to my brother's again, because it's just us," she said, referring to sibling Joe. "Being home is just kind of going to be sad, so I didn't want to be home."
Teresa added that she and her daughters would spend Christmas Day with her husband's family. 
"It's nice to spend the holidays with family, because we don't get to see them that much," Teresa explained. "The girls like to be with their family. They have a lot of cousins. Joe's sister has four girls; Joe's brother has three girls. So, there's a lot of girls—plus my four girls. There's all girls in Joe's family. Then on my side, there's [Melissa]'s three kids, and then my four."
With Joe away, Teresa will continue to be in mommy mode. "I'm so busy—thank God—just running around working and [raising] the kids," she told E! News. "They have all their activities."
And Teresa has her family.