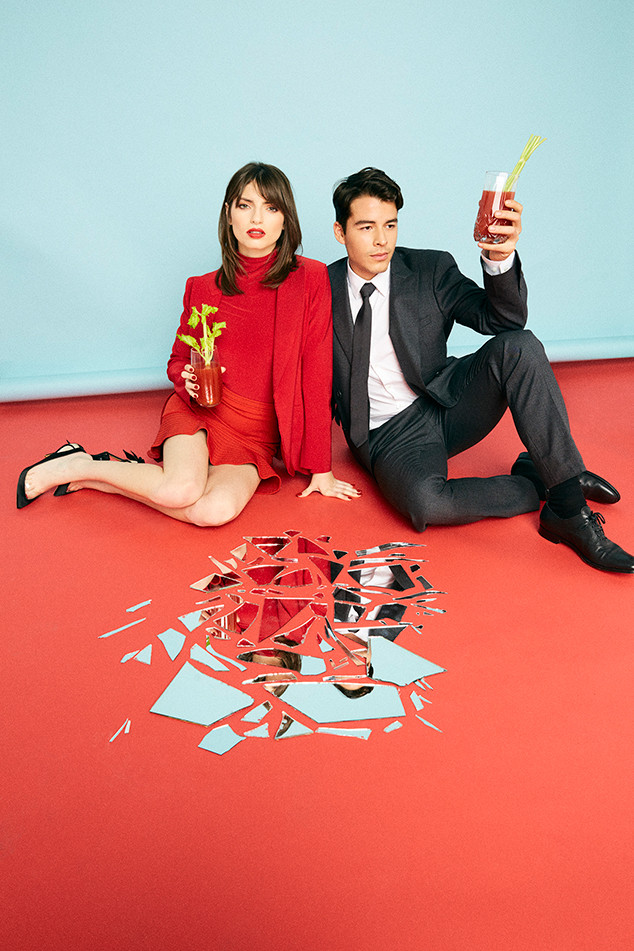 Jimmy Marble / Paper magazine
Sofia Vergara's only child is turning heads himself these days and is following in his mom's footsteps.
The Modern Family star's smoking hot 24-year-old son, Manolo Gonzalez Vergara, makes his modeling debut in a photo spread for Paper magazine's latest issue, inspired by the films of Spanish director Pedro Almodóvar.
In one photo, Manolo wears a black suit and model Stevie DeFelice sports a red top, skirt and blazer as they sit on the floor in front of a shattered mirror, holding Bloody Marys.
"Thank you to @papermagazine and @jimmymarble for including me in this months Pedro Almodovar spread!" Manolo wrote on Instagram. "And for allowing me to sit next to Stevie DeFelice. I hope she wasn't too traumatized. #PaperMagazine #Outspoken #IShoweredAndEverything #WhomeverBrokeTheMirrorGetsSevenYearsOfBadHair #ThankfulItWasntMe."
Jimmy Marble / Paper magazine
Sofia, 44, had modeled for years before she moved from her native Colombia to the United States to concentrate on an acting career, even taking part in some risqué photo shoots.
Manolo has also dabbled in acting and appeared with his mother in a Head & Shoulders commercial in 2014.
Sofia gave birth to Manolo when she was 20 years old. His father is her ex-husband Joe Gonzalez. The two divorced in 1993, a year after he was born, and the actress raised Manolo as a single, working mother.
Sofia married Magic Mike star Joe Manganiello, 39, last year in Florida. She told Ellen DeGeneres that her son "was very excited" to give her away at the wedding.
In 2012, Manolo posted a public Mother's Day tribute video to Sofia, which showed home videos of the two, including footage of them at first communion.
"Is my mother a good mother? Yes, she's the best," Manolo says. "She's Latin, of course, which means she's very loud, very overprotective…She's a loud Latin mother who calls my name repeatedly!"