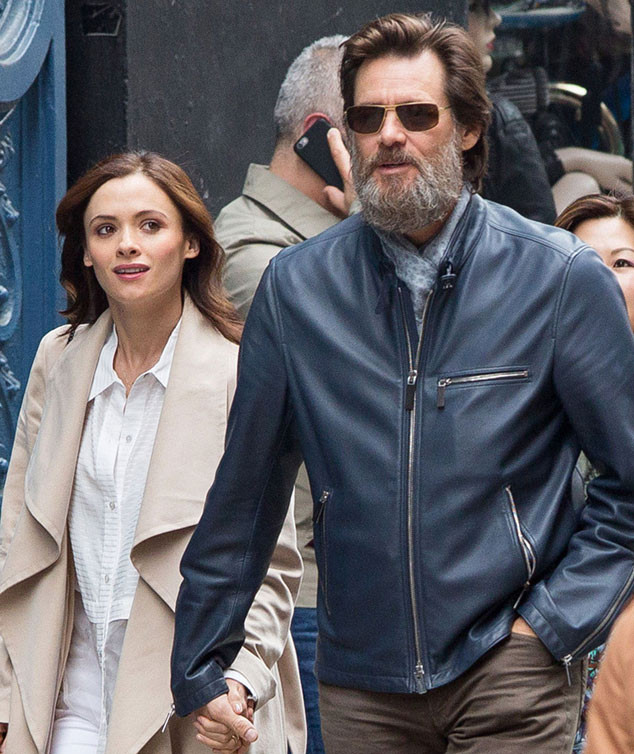 MaxNY/FAMEFLYNET PICTURES
UPDATE: Earlier today, Brigid Sweetman, the mother of Jim Carrey's late Irish girlfriend Cathriona White, and Mark Burton, White's estranged ex-husband, have filed a formal amended, consolidated complaint against the actor for the wrongful death of his ex-girlfriend.
In documents obtained by E! News, Sweetman's second amended complaint against the 55-year-old actor calls for Burton and Sweetman's separate lawsuits to be combined into one joint wrongful death lawsuit. White's mother and her estranged husband are listed as co-petitioners against the star.
Michael Avenatti, attorney for Sweetman and Burton, told E! News: "We look forward to Mr. Carrey being required to explain to a Los Angeles jury why he gave Ms. White three STD's, lied to her about it, demeaned her and then ultimately provided her with the drugs she used to take her own life."
Avenatti says the legal team anticipates the trial, which is slated for April 26, 2018, lasting 20 days.
The lawyer said that the next big event in the Truman Show actor's case will be his deposition in August. His video-taped deposition will take place in Los Angeles attorney's office.
—————
Jim Carrey has dropped his request for the mother of his late ex-girlfriend to pay $372,000 in the wrongful death case.
In court documents obtained by E! News, the actor withdrew his motion with prejudice. We've also learned that the parties are not working on a settlement. In fact, the case is expected to go to trial in April 2018 with Jim possibly testifying.
—————
Jim Carrey is firing back at allegations made in a wrongful death lawsuit filed against him by the mother of Cathriona White, his late Irish girlfriend.
The hair and makeup artist, who dated the actor on and off since 2012, committed suicide last year by overdosing on prescription medications his lawyer says she had stolen from him.
In October, White's mother Brigid Sweetman sued Carrey, blaming him for her daughter's death. She claimed he "knowingly" gave her "three sexually transmitted diseases" "without warning her," then "lying to her about it, dumping her out of concern for saving his own public image, calling her a 'whore' and shaming her, and then using his high-priced Hollywood lawyers and 'fixers' to intimidate and threaten her in an effort to silence her."
This week, Carrey filed papers in response to Sweetman's lawsuit, seeking to strike "numerous irrelevant, false and improper" allegations she had made.