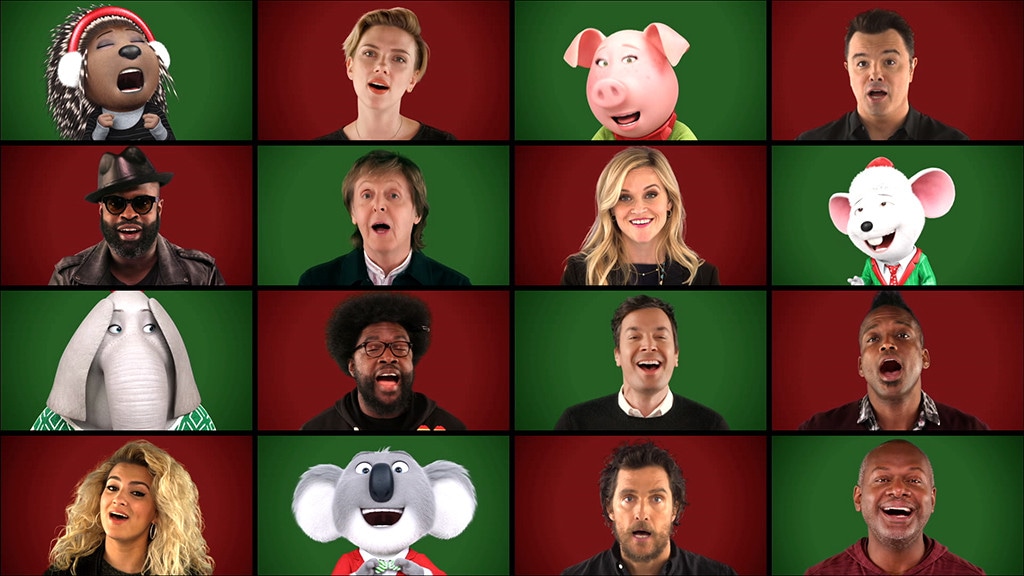 NBC
They're simply having a wonderful Christmastime!
Jimmy Fallon gathered Paul McCartney, The Roots and the Sing cast to perform "Wonderful Christmastime" a capella on The Tonight Show. Matthew McConaughey, Reese Witherspoon, Scarlett Johansson, Seth MacFarlane and Tori Kelly warm up their vocals and perform in the Brady Bunch-like grid with red and green backgrounds.
While McCartney's version of the classic Christmas tune will forever be a favorite, these stars (with the help of their film characters) make it an incredibly cheery alternative. Wearing scarves, hats and other winter wear, the A-list actors-singers will have you counting down the remaining days until Christmas with even more fervor. 
Sing centers around a koala named Buster Moon (McConaughey) who is at risk of losing his theater. In a last-ditch effort to save his prized possession, Buster hosts a singing competition similar to American Idol. Animals from far and wide are attracted to the opportunity and sign up to compete for the cash prize.
Other cast members include Jennifer Hudson, Taron Egerton, John C. Reilly and Nick Kroll.
And even though McConaughey has a starring role, the actor admitted to E! News' Marc Malkin that his kids couldn't get enough of the other characters and their voices. "My daughter's [Vida] already got a crush on one," the actor revealed. "You'll see. It's the gorilla. Wait until you hear the gorilla's voice."
(Egerton, the man behind the gorilla, has a British accent).
Press play to get a sneak peek of the Sing cast at work!
(E!, NBC and Universal Pictures are all part of the NBCUniversal family.)