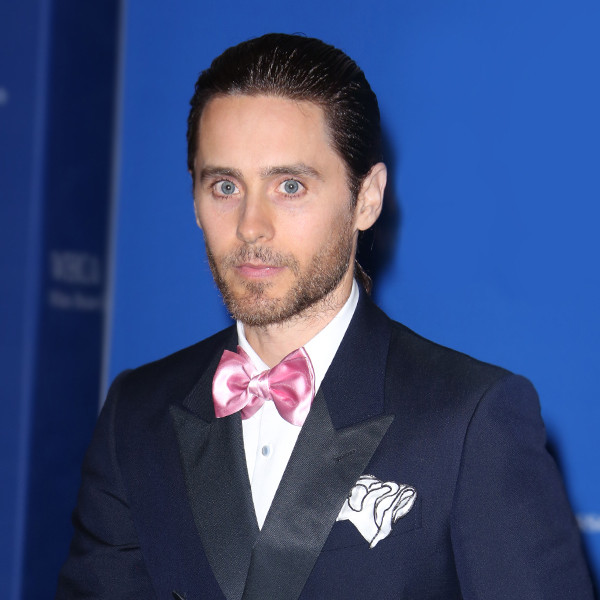 Matt Baron/REX/Shutterstock
Happy birthday, Jared Leto, you sneaky Hollywood vampire, you.
For real, how else do we explain the now 45-year-old actor's face, which has remained remarkably unchanged since he first sauntered down the hallway of our dreams in My So-Called Life?
Not that he looks exactly like the baby-faced 24-year-old he was when he played Jordan Catalano, but years of weight loss and gain for movie roles; life on the road with 30 Seconds to Mars (did this man never go to sleep without washing off his eyeliner?!); living in Los Angeles, where there's a lot of sun...
We give up. Not one of those things has aged this man like a normal human being. So in honor of Leto's birthday today, we give you the gift of this game to prove our point.
Simply pick which photo out of each group of pictures is the most recent. Answers at the bottom—but no peeking!
We're starting you off with an "easy" one.
Hmm... (and no Googling when he had which hair color!)
It's all right if you haven't been paying attention because you've been busy swimming in those pools of blue. Scroll back to the top, the answers will still be here for you.
He's a leather man for all seasons.
Jared must be able to shave in his sleep by now since his go-to scruff preferences haven't changed a hair.
Bare chin or bearded chin, those cheekbones remain sharp as ever.
Ready to find out which Jared Leto is the oldest Jared Leto?
Getty Images/E! Illustration
Row 1: 2016, 1999, 2008, 2015
Row 2: 1998, 2015, 2000, 2007
Row 3: 2004, 2016, 2009, 2013
Row 4: 2000, 1995, 2012, 2016
Row 5: 2004, 2016, 2014, 2011
Row 6: 2015, 2010, 2005, 1997
So, how did you do?!
Leto's given us a few clues in recent years, aside from the tacit nod to his genetic code, as to where this freak-of-nature quality comes from.
The face of Gucci's Guilty fragrance told Rolling Stone he's a "cheagan," as in, he doesn't eat meat but the occasional egg in the form of a freshly baked cookie from mom will sneak its way into his pristine system.
Moreover, Leto, who battled substance abuse issues years ago, lives clean and he's always on the go—often upwards, as he's a big fan of climbing, both hills and mountains.
Theo Wenner/Rolling Stone
As for his glorious hair, which he chopped off to play Joker in Suicide Squad, apparently he does what all of the shampoo companies have told us exactly not to do.
"Soap and water," he told Harper's Bazaar this fall. "I use Ivory, Palmolive, or Clorox. I wash my hair every day—I'm squeaky-clean—and dry it naturally, with a little L.A. smog."
Free radicals and sulfates, got it. Meet the Oscar winner who's truly using the elements to his advantage. He's another year older today—and while age should be but a number for everyone, that old adage applies to Jared Leto just a little bit more than most.