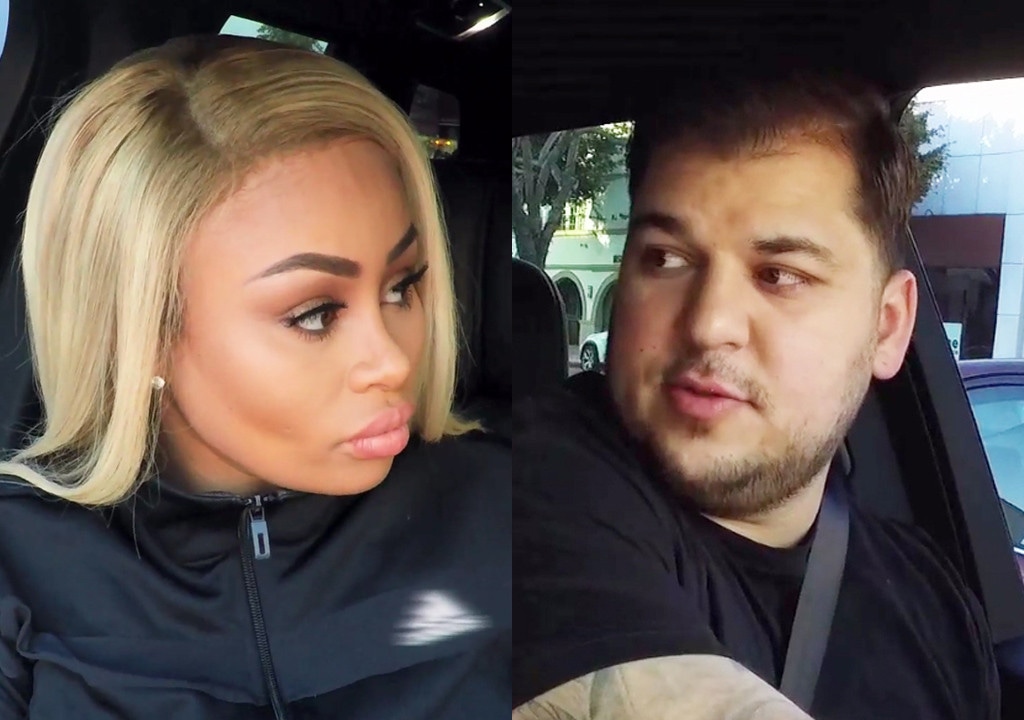 E!
Blac Chyna and Rob Kardashian's relationship might be in a world of hurt. 
The E! reality star created a new Instagram account Saturday afternoon, claiming via video shared on the page as well as on her Snapchat, that her main account was being hacked by someone "really, really, really, really mad."
In the moments that followed, upwards of 18 screenshots of alleged conversations between Chyna and her lawyer, Jaden Smith as well as rapper Young Thug and a friend were shared to the account, painting a less-than flattering image of Rob's fiancé. 
The mother of two calls Rob "lazy," "fat," "insecure" in one alleged exchange, later writing, "Imma give Rob 1 year to get it together. Or I'm gone."
Meanwhile, Rob took to Snapchat and Instagram with his own take on the situation. Taking followers on a tour of his home, the Keeping Up With the Kardashians fixture tells the camera that Chyna left with their newborn daughter, Dream Kardashian, and emptied both her and King Cairo's room. 
He later wrote on Instagram, "Sorry to be so open but I'm not feeling so good after seeing @blacchyna messages about me and what her plans were. I have never been this heartbroken in my life. I don't mind being so open or if anyone thinks I'm being weak but I don't play when it comes to Family and Chyna was my Family and thought we were getting married. I treated her as a Queen. My baby girl is 1 month old and Chyna took her and left this beautiful home that I just bought for us. Right before Christmas. Someone I have given my all too."
"I Loved every inch of that woman and loved everything that came with her," he added. "I truly loved Angela. I gave everything I owned for her. Didn't know I was just part of her plan. I really believed she was in love with me the way that I was with her and I am so hurt and never felt this before."
"It's different when you have a kid with someone. And after reading Chyna's messages to her best friend she was going to drop me after a year. She didn't even make it to that. I am so broken. This is a woman I fought my entire family for. I was in love with this woman to the fullest and I was none of that to her," Rob concluded the lengthy message. 
Before this, the hacker uploaded a separate conversation between Chyna and her lawyer alluding to the ongoing controversy surrounding her future sisters-in-laws' legal teams attempting to block the businesswoman from copyrighting what will become her married name, Angela Renée Kardashian. 
Chyna allegedly tells her attorney she's "not going to ask Kris" for permission to trademark her name until after the wedding, which according to the texts, is set for July 7, 2017. 
The 28-year-old also allegedly spoke to Young Thug about wanting to "stunt" together, and then agreed to have a conversation with Will Smith's son about the "emotionally strenuous" situation that was her relationship with Kylie Jenner and ex Tyga. 
Chyna then fired back with her own since-deleted response to Rob's statement, writing on her new Instagram account, "I'M DONE ! This entire year I have done nothing but help Rob! It's so SAD & PATHETIC how low he'd stoop to cover up HIS PERSONAL ISSUES! Rob is mentally ill & refuses to seek help! He self medicates which makes it worse."
She continued, "I have done nothing but help & loved him from the beginning! It's Chy here I got my own!!! I was doing swell before I got with him! I got him out of khloe's house, helped him lose all that f--king weight for him to do nothing & gain it all back! Rob asked for all of this! Rob begged me to have Dream!"
Chyna then goes on to discuss her tumultuous road to baby, going as far to claim that Rob was abusive at times: "He stressed me out my ENTIRE PREGNANCY!!! Accusing me of cheating, going crazy on me with massive text blast daily! being an absolute lunatic & then cover it up with gifts! I was verbally abused every other day. I was still there with nothing but high hopes for us!"
"I had to beg him to cut his hair, To take his braces of, and To get more into his businesses! I shouldn't have to tell any grown ass man sh-t! Not to mention Just brought him a brand new 2016 Range Rover! I PUT MY PRIDE ASIDE & I GAVE UP MY HOUSE TO MOVE INTO KYLIE'S HOUSE WITH HIM TO BE WITH A MAN!! We weren't together in that house 2 whole weeks before he starting calling me all types of bitches & hoes! AND I NEVER NOT ONCE CHEATED ON ROB! EVER! I gave him the passcode to my phone I have nothing to hide," she added.
"He refuses to do anything! Eat healthy, work out, work, anything positive, he does nothing! Those Messages OLD AF! He only did this because when he went through my phone he couldn't find anything to be mad about! He's on snapchat acting hurt but he's yet to come see Dream yet! He knows where we are! Honestly it's only so much a person can take. Everyone has tried to help Rob. I've gone beyond to help & so has his family! He's been diagnosed and clinically depressed for 4yrs."
In the end, Chyna expressed being out of options when it comes to helping Rob.
"I'm done with the situation until he gets help," she wrote. "I have no longer have time to feed into Robert's shenanigans I have 2 children & myself to fend for. What hurts the most is watching him do this to me knowing my last situation and promising to never put me through it. Especially after our child is only 1 month. I hope he gets the medical help he needs. If you have ever dealt with a bipolar/depressed person you [understand.]"
Watch the Rob & Chyna Baby Special Sunday, December 18 at 8 p.m., only on E!