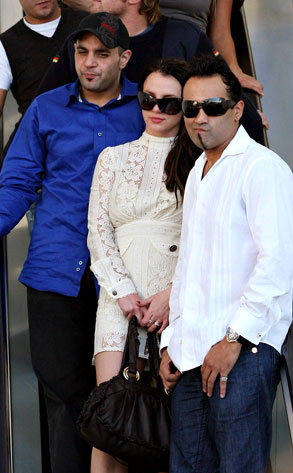 Fame Pictures, Inc
Britney Spears is looking to put a more definable amount of distance between herself and her past.
The resurgent star's conservatorship obtained a temporary restraining order Friday against Spears' former manager Sam Lutfi and her onetime paparazzo boyfriend, Adnan Ghalib, both frequent companions of hers during the period she was known more for meltdowns than catchy pop melodies. (View the order.)
A hearing for is scheduled for Feb. 23 to review the matter. Britney's parents, Lynne and Jamie Spears, and her two sons, Sean Preston and Jayden, are also included under the umbrella of protection.
Ghalib and Lutfi, who hasn't been welcomed at casa Spears or anywhere else Britney can be found for some time, couldn't immediately be reached for comment. The order is also in place against attorney Jon Eardley, who early last year was enlisted by Lutfi to work on getting Britney's conservatorship overturned.