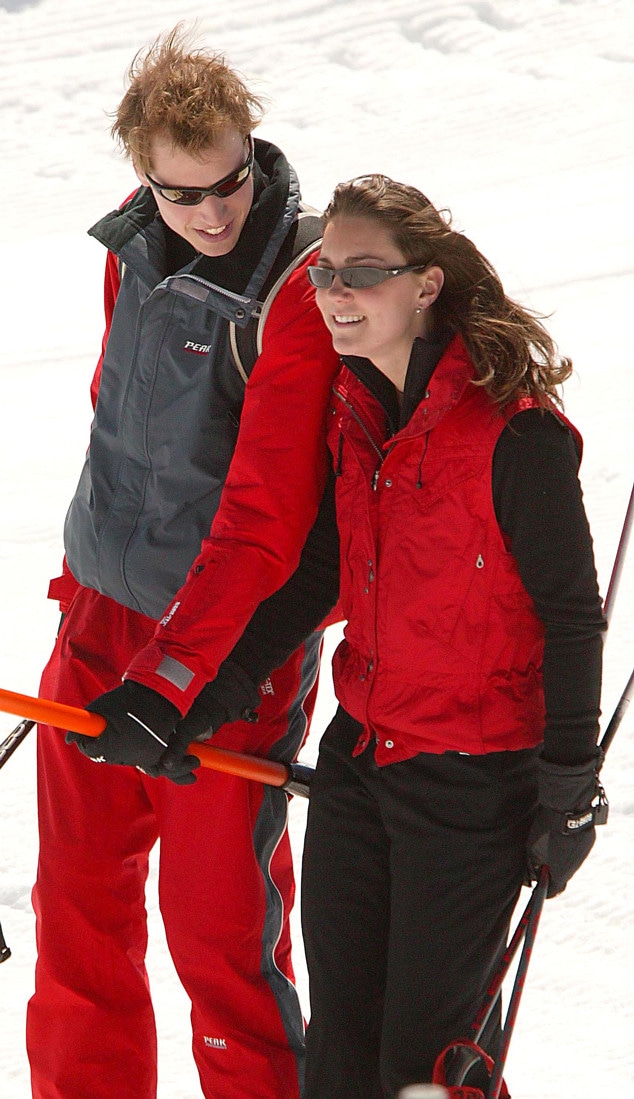 ELIOT PRESS/BAUER-GRIFFIN.COM
It has been more than 12 years since Prince William and wife Kate Middleton's relationship was confirmed publicly, as in, with pics—because it did happen.
And while there was no drama surrounding his little brother Prince Harry's recent first public photos with girlfriend Meghan Markle, which shows them walking together in London, the Royal family did implement a Royal punishment on those who dared expose the now-Duke and Duchess of Cambridge's romance.
William and Kate reportedly began their relationship in 2003 when they were students at the University of St. Andrews in Scotland. A year later, on April 1, The Sun newspaper's front page featured what was touted as a "world exclusive" first published photo of the couple (seen above). 
ELIOT PRESS/BAUER-GRIFFIN.COM
The pic showed the prince gazing at his then-girlfriend lovingly as they boarded a ski lift in the Swiss resort of Klosters, a longtime favorite family vacation spot for William, who was also accompanied by Harry, their father Prince Charles and friends during the trip.
The headline: "Finally...Wills Gets a Girl." The newspaper also included an article and more photos of William and Kate, which was dubbed the prince's "first serious girlfriend".
The Royal family was furious.
Buckingham Palace accused The Sun of breaching a media agreement to leave William alone following an official photocall with his father, despite the fact that the photo was taken by a paparazzo who was not a member of the newspaper's staff. The palace imposed on the newspaper a temporary ban that prohibited their journalists from covering the Royal family at their events. Officials also refused to confirm or deny the couple's romance.
A spokesperson for The Sun defended the decision to publish the photo and its article, saying the outlet's story is "100 percent true, therefore there is a strong public interest in publishing these delightful photographs."
The paparazzo who took the photo has not commented. He is a seasoned British celebrity photographer who used to photograph William and Harry's late mother, Princess Diana.
The Sun later reiterated in an op-ed that the photos of William and Kate were published in the public interest.
"One of William's girlfriends could become Queen one day," the newspaper stated. "Her subjects will be entitled to know all about her."