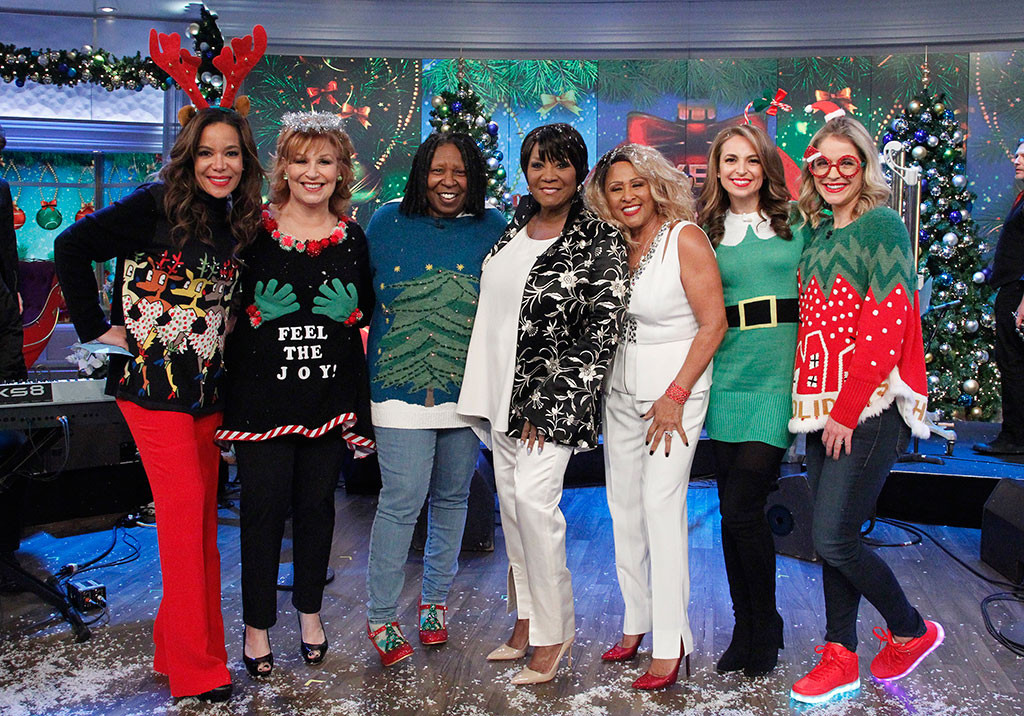 Lou Rocco/ABC
As the ladies of The View gear up to take their seats at the table for the last time in 2016, the panel is in flux—but the show must go on. 
On Friday, Whoopi Goldberg, Joy Behar, Sunny Hostin, Sara Haines and Jedediah Bila will throw on their most festive sweaters in honor of the show's signature holiday episode. This year, segments will feature Patti LaBelle cooking her famous peach cobbler and Darlene Love's annual performance of "All Alone on Christmas."
"We love Darlene Love and we have fun and we sing," Behar told E! News. "I'm a backup singer for her—it's fabulous."
While the stage Friday will be festive and full, there will be two View ladies missing—Raven-Symoné and Candace Cameron Bure. The former Disney star announced her departure from the show in late October and Bure signed off on Dec. 9. While the panel is down two women, questions are bubbling around whether or not those posts will ever be filled at the already-packed table. 
"I don't know that there will be new additions because we have six people with five chairs," Hostin told E! News, referencing fellow co-host Paula Faris. "So, with the sixth person, it allows us all to do other projects. I feel that we all like each other, really like each other. We're all friends."
"Well, we all make jokes about how many people there are, so I wouldn't guess that they're trying to add more," Haines echoed. "I like the way it looks now."
Still, for 20 seasons, the show's concept has been based around having a balanced group of co-hosts with varying political perspectives—something Bila hopes to maintain moving forward. 
"My hope for the show is that we have a balance at the table always," she told E! News. "It's called The View and I hope everyone around the country can say that person just spoke to me, for me a little bit. So I hope we continue to have the balance we've always had."
Still, the absence is felt by the women who remain. 
"Raven, I miss. I know she's always had bigger projects that she's wanted to do, but I tell her all the time, 'Please come back,'" Haines told E! News. "Candace, I'm going to miss. I got the honor of working with her and anyone who's ever met her knows she's one of the sweetest people...I remember her talking at times about how she's such a family first person and I remember when we first started, we had a heart-to-heart once and I said to her, 'I don't know how you do this.' And she said, 'I don't know how long I'll be able to do it.' And it was such a heavy burden for her. When she left, I said, 'I'm sad, selfishly, to see you go, but I'm so happy for you.' She needs to be with her family."
"It's always hard when the dynamic at the table changes," Bila added. "It's always an adjustment. I've been watching both Raven and Candace for years as actresses so I used to tell them, 'I feel like I'm part of a sitcom.' It's always hard, but I'm excited to see what they're doing next and I'm a firm believer where your heart takes you, you gotta go."
Leave it to the show's 20-season veteran, Behar, to put it all in perspective. 
"This show has always been a rotating cocktail party as far as I'm concerned," she told E! News. "I've been here for many years—they come, they go, they sit, they leave, they have bigger careers, they have smaller careers…it's like, whatever."
The View airs weekdays on ABC at 11 a.m. ET.