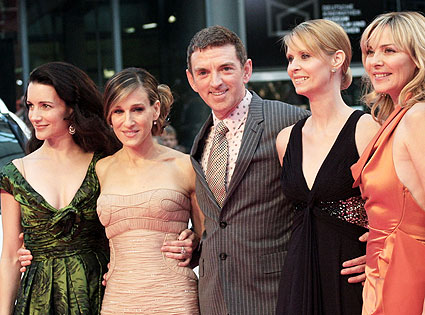 Anita Bugge/Getty Images
A script for the Sex and the City sequel isn't even written yet, but one thing that we probably won't be witnessing again is something as dramatic as Carrie being left at the altar.
"In the last movie, I thought [the fans] wanted to see an epic and violently tragic love story, and drama, but I don't think you go to that candy store twice," the film's writer and director, Michael Patrick King, said last night during a Writers Guild Foundation panel discussion in L.A. "You can't try to do what you did already, so you come up with a different tone that you like."
While all four leading ladies—Sarah Jessica Parker, Kim Cattrall, Kristin Davis and Cynthia Nixon—have agreed to return, it's still unclear whether Jennifer Hudson will do the same.
The Oscar winner joined the cast to play Louise, Carrie's assistant, who marries and moves back to her native hometown of St. Louis.
King revealed that he had to fight for Hudson: "It was originally supposed to be Isla Fisher, but I didn't agree with that at all."
Why? Because diversity in Sex and the City, King explained, was long overdue.
"It can't be called Sex and the City without a little color—it's just wrong," he said to applause. "Women are very nice when they figure out who I am. And the only negative comment I ever got about the series was every now and then, some woman of color—whether it'd be Latina or an African-American—they'd stop and say, 'Where are the sisters?' in my ear, and I was like, 'Yeah, where are they?' "
—Additional reporting by Dahvi Shira