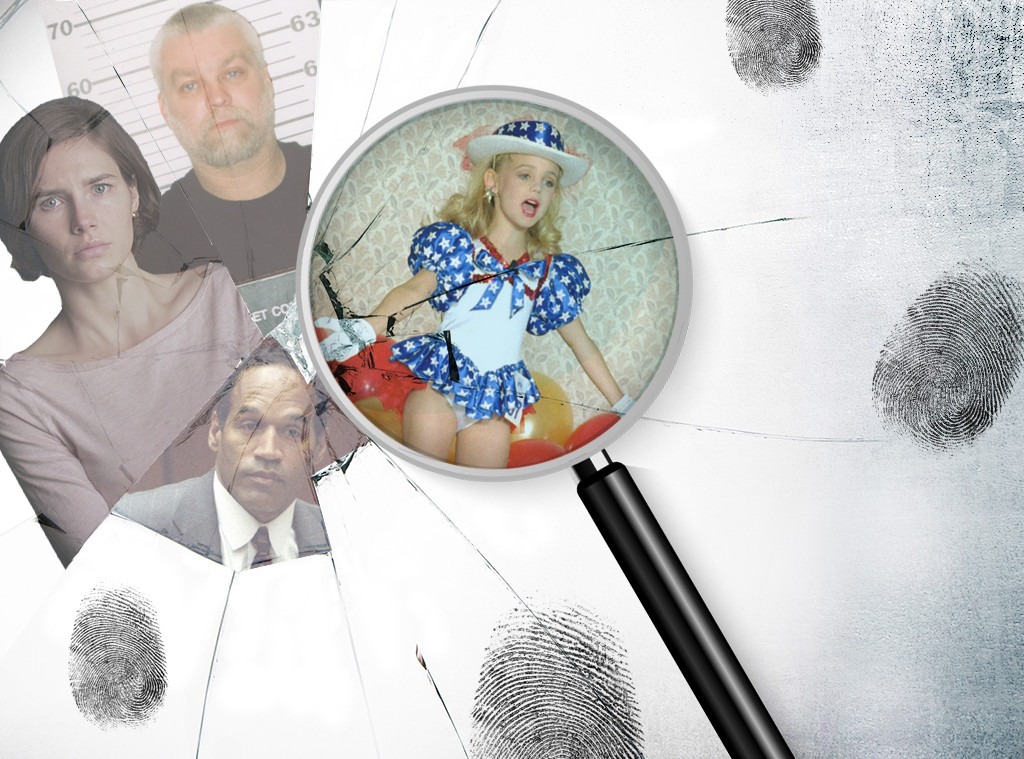 E! Ilustration
Let's talk true crime. 
Society's unwavering obsession with understanding, dissecting and chronicling each and every detail behind humanity's most reprehensible acts is certainly nothing new. And lucky for pop culture fanatics, the genre has undoubtedly become stitched into the very fabric of the entertainment word. 
And while some would say doubting prosecutions, rehashing evidence and asking a victims' loved ones to relive their pain day after day is callous and exploitative, millions of television viewers can't stop tuning in.
More than ever before, we've seen a resurgence in the popularity of cases involving figures like O.J. Simpson, JonBenét Ramsey and Amanda Knox over the past year. So why wait any longer? Read on for the six most intriguing true crime investigations of 2016:
O.J. Simpson and the 1994 Murder of Nicole Simpson:
It's considered the trial of the 20th century, and more than two decades after the NFL star was acquitted for the murder of his ex-wife, O.J. Simpson's fall from grace continues to captivate his longtime followers.
Critically-acclaimed television guru Ryan Murphy tapped into the public's fascination with The People v. O. J. Simpson: American Crime Story, a scripted FX series starring Cuba Gooding Jr. and Sarah Paulson that went on to dominate the 2016 Emmys and stands to win five more accolades at next year's Golden Globes. ESPN also developed its own five-part miniseries, O.J.: Made in America, which traced the upbringing and career of the controversial figure at the epicenter of Nicole's tragic death in a never-before-seen light.
When it comes to following the recipe for true crime perfection, Simpson's story is a textbook case.
Steven Avery Murder Trial: 
Netflix blew its subscribers out of the water with Making A Murderer, a documentary series with a popularity factor sustained far past its Dec. 2015 release date.
For those strictly riding the Hulu train, Making a Murderer explores the failures of the criminal justice system in its relation to Avery, a Wisconsin man who was exonerated on DNA evidence after serving 18 years on a rape charge. Four years later in 2007, Avery—and his young nephew Brendan Dassey—found himself back behind bars for the murder of Teresa Halbach, a frameup he saw as retribution for filing a $36 million civil lawsuit against Manitowoc County.
But Steven and Brendan's story is far from over. In September a judge overturned Dassey's conviction (he still remains imprisoned during the appeals process), and just last month, Avery's legal team won their request to test new evidence in the case. 
Season 2 anyone?!
20th Anniversary of JonBenét Ramsey's Death:
If one case swept the true crime genre in 2016, it's the unsolved murder of this 6-year-old beauty queen. The Ramsey family's story was reimagined for the small screen not once this year, but five times. And no, you weren't the only one asking why television execs still refuse to let JonBenét rest in peace...
A&E attempted to unearth new facts about her tragic death in The Killing of JonBenét: The Truth Uncovered, to not much avail. Then Discovery took a stab at the story with a three-part special, JonBenét: An American Murder Mystery, followed by Dr. Phil's attempt to prove (or disprove) a longstanding theory pegging JonBenét's older brother, Burke Ramsey, to the crime. 
It all came to a head when CBS unveiled The Case Of: JonBenét Ramsey which, despite touting smoking gun-esque evidence, pretty much panned. Enter Lifetime's admittedly cringe-worthy film Who Killed JonBenét?, and it's time we leave this true crime topic behind come 2017. Moving on. 
Amanda Knox Murder Investigation:
After spending eight years at the mercy of an Italian judicial system, Amanda Knox partnered with Netflix to discuss her involvement in the 2007 murder of British student Meredith Kercher, who she lived with while studying abroad in Perugia. The harrowing documentary revisits Amanda's infamous fight for freedom her perspective, as well as ex-boyfriend Raffaele Sollecito, a Daily Mail journalist who reported on the original case and the Italian prosecutor who tried it.
In March 2015, Italy's highest court vacated Knox and Sollecito's convictions, citing "stunning flaws" in the investigation. 
So many factors make this true crime one of the juiciest yet: Amanda and Raffael's suspect behavior within the investigation's first hours, the media's misogynistic coverage of "Foxy Knoxy," and the unnerving notion that Kercher's memory was pretty much lost amidst the hoopla of it all. 
1989 Abduction of Jacob Wetterling: 
If Serial was a master class in podcasts, In the Dark is its apprentice.
For 27 years, the Wetterling family blindly followed lead after lead linked to the disappearance of their 11-year-old son. Jacob, his younger brother and a friend were riding their bikes back from a convenience store on the night of October 22, 1989 when a masked man stopped the boys, threatened to shoot them and took Jacob with him. What followed is a devastating tale, detailed across In the Dark, about Minnesota authorities' inability to find the perpetrator right under their noses. 
Earlier this year, Danny Heinrich confessed to one of the most notorious child abduction cases in U.S. history, ultimately leading police to the sight he buried Wetterling's remains after sexually assaulting and murdering him. True crime gold. 
Sexual Assualts of Audrie Pott and Daisy Coleman: 
Netflix's Audrie & Daisy unearths the darkest corners of social media within the millennial world through the eyes of two teenage victims of sexual assault.
Just a week after photographs of 15-year-old Audrie's rape surfaced online, the high schooler committed suicide. Three teenage boys ultimately admitted to sexually assaulting Pott while at a party, and in settling the wrongful death suit filed by her parents, agreed (among other stipulations) to speak on the record for the documentary.
Similarly, Daisy, who was 14 at the time, endured an onslaught of cyberbullying after a 17-year-old was arrested for sexually abusing her. The controversy reached a new high after prosecutors dropped felony charges against Coleman's attacker, whose grandfather was a prominent political figure in Missouri.