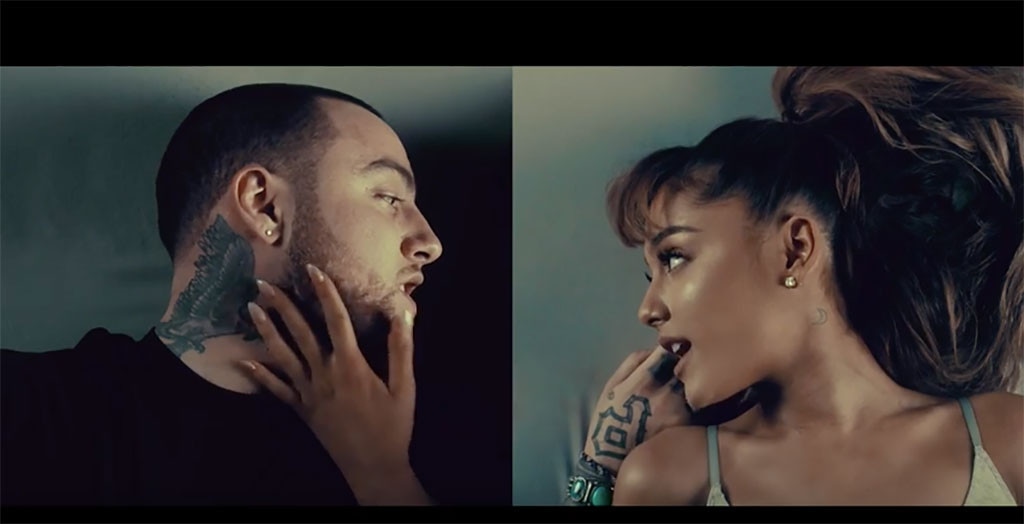 YouTube
The romance between Ariana Grande and Mac Miller is heating up from side to side—of a wall. 
The real-life couple are the subjects of the rapper's newest music video for his track, "My Favorite Part." In the visual, the two star as strangers who happen to live next door to each other in an apartment building. 
One rainy night, he helps Grande as she fumbles with some groceries in the rain, the two exchange a few come hither looks and then retreat to their separate homes. However, the flames bubbling up between the two are not about to burn out once they are divided by a wall. 
Instead, the two immediately start daydreaming about each other in unison, going as far as to imagine caressing each other's faces while together on the floor. 
The make-believe PDA  gets so steamy, they need imaginary rain to cool their sparks. 
Fortunately, all the flirting comes to a head when Miller decides to knock on her door and make a move. However, Grande is already a step ahead, waiting for him with open—and eager—arms. 
The songstress summarized the project best.
"That time I dropped my groceries, had a bowl of Cheerios& fell in love w my neighbor through the wall telepathically," she tweeted. 
Meanwhile, though they may be real-life lovebirds, Miller is focused on keeping business and pleasure separate—at least in the public eye. 
"I'm here to talk about music and I happen to be in a fantastic relationship with someone I also enjoy making music with," he said during an interview on Power 105's The Breakfast Club. "So, those lines can get blurred very easily on what I am here trying to do."