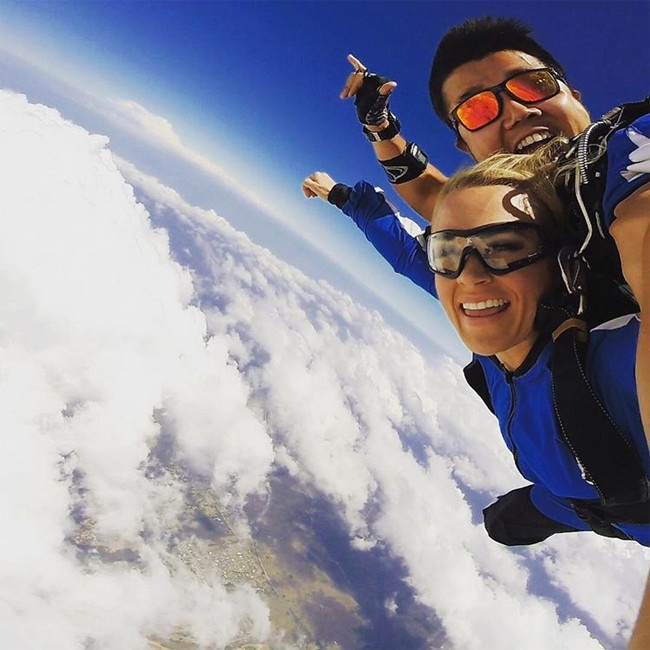 Instagram
It's a bird, it's a plane, it's...Carrie Underwood!
The 33-year-old country star recently jetted to Sydney, Australia, where she is set to perform two concerts this week as part of her Ripcord world tour, and made a pit stop over the weekend to do something unusual and exhilarating for herself; She decided to go skydiving.
Underwood chronicled her death-defying adventure on Instagram, starting with a montage of selfie videos of her on the ground, lip-synching songs to get her in the mood (and likely try to calm her nerves), such as the 1969 hit "Leaving on a Jet Plane" by the late John Denver, the Pointer Sisters' 1983 song "Jump" and of course, Tom Petty's 1989 anthem 'Free Fallin."
"What are we doing today?" she wrote.
"Still can't believe I did this! #skydiving #sydney," Underwood wrote, alongside a photo of her with her skydiving instructor preparing for their jump inside a small plane.
"Ok, one more because this filter makes us look like superheroes! #sydney #skydiving #freefalling #ItsABird #ItsAPlane," Underwood wrote, alongside a photo of them freefalling.
After her jump, Underwood was presented with a certificate bearing her married name—Carrie Fisher. Underwood is married to NHL star Mike Fisher.
"What just happened?" Underwood asks a female friend in another selfie video.
"We went skydiving," the woman replies.
"We did," Underwood says. "That just happened. It was awesome."
"It was amazing - 14,000 feet," the friend says.
"Very cool," says Underwood. "I didn't cry at all."
"I didn't pee my pants!" her friend replies.