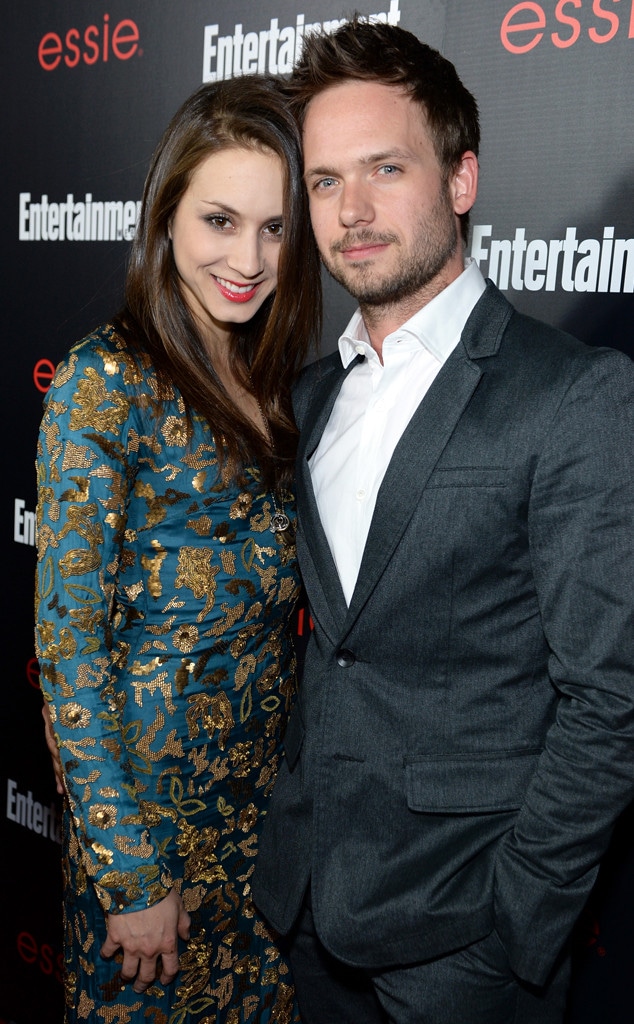 Dimitrios Kambouris/Getty Images for Entertainment Weekly
Congrats to Troian Bellisario & Patrick J. Adams!
The 31-year-old Pretty Little Liars actress and the 35-year-old Suits star got married Saturday, E! News can confirm.
The two tied the knot in a rustic ceremony near California's central coast in front of family and friends. Guests included Bellasario's co-stars such as Lucy Hale, Ashley Benson, Tyler Blackburn and Lulu Brud and Keegan Allen and Adams' co-star Brendan Hines, as well as actors such as Chris Pine and Dallas reboot actress Alex McKenna.
Allen shared a heartwarming photo of the newlyweds, dressed to the nines in their own bohemian-inspired ensembles, sharing a kiss in front of the ocean.
The latter actors also performed with the couple onstage at their rehearsal dinner during their wedding weekend, which was also a camping trip, as seen in multiple Instagram photos and videos.
Most of the guests slept in small white tents during their trip. Some brought along their pets.
The bride wore a sleeveless white wedding gown and golden crown, as seen in multiple photos posted on Instagram by their friends, including Pine's Star Trek co-star Zachary Quinto.
"o inspired by my dear friends consecrating their love with grace and style. deeply moved by their commitment to truth and to each other," he wrote. "May their road ahead be full of joy and peace and freedom. loving @halfadams and @sleepinthegardn hard... #fortday2016."
"My sweet sister. I love you. You had me in tears tonight. Congratulations @sleepinthegardn @halfadams," Benson wrote on Instagram.
"Thank you @sleepinthegardn and @halfadams for allowing me to be a part of last night. I'm left feeling inspired and filled with love. Congratulations!" Blackburn wrote on his Instagram page.
"The most stunning location & wedding. Congratulations @sleepinthegardn and @halfadams. Your love for each other was a beautiful thing to witness," Hale wrote on Instagram.
This will be the first marriage for both Bellisario and Adams.
The couple began dating after co-starring in the play Equivocation in 2009 and made their red carpet debut at the 18th Annual Screen Actors Guild Awards in 2012. They got engaged in 2014.
"We've been together for eight years so we're excited to actually be married," Adams told Page Six at the ATX TV Festival in Austin in June.
The actress had celebrated her bachelorette party in Capri, Italy in September with girlfriends, including fellow Pretty Little Liars co-stars such as Benson and Shay Mitchell, who missed the wedding. She penned a sweet Instagram note to Bellisario.
"As I sit here thinking about our friendship and journey I am reminded of how much I love, cherish and admire you," she wrote. "I know you and Patrick will have the most special day and I can't wait to celebrate you two as a married couple."