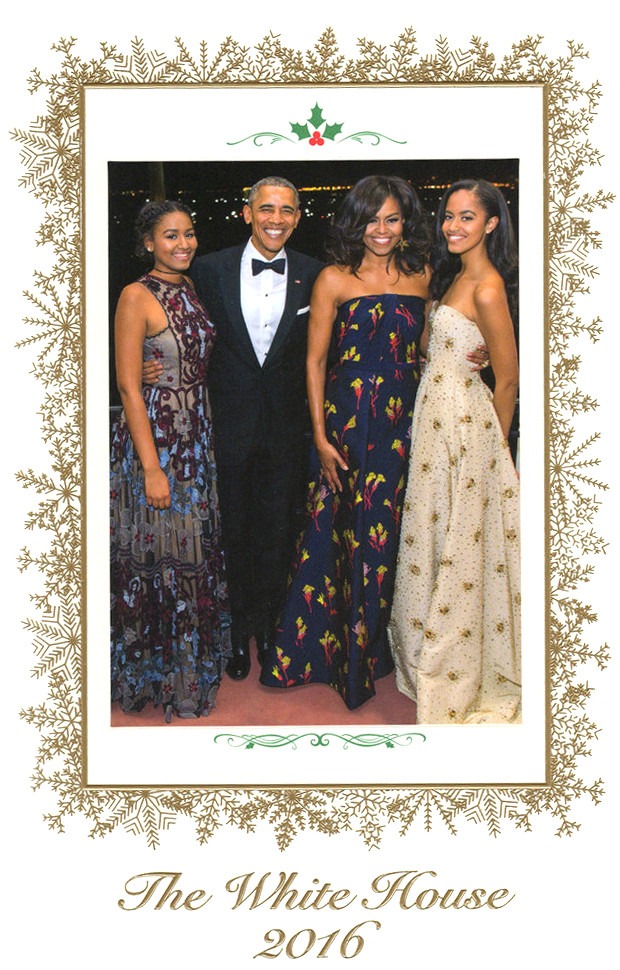 The Obama Family
This card totally deserves two paws up.
As President Barack Obama prepares to say goodbye to the White House, Americans are getting a look at his family's final holiday card in office.
In the official photo just released—and possibly coming to your mailbox soon—the president is seen wearing a sophisticated suit and bow-tie while wrapping his arms around his family.
As for the ladies, it's all about elegant dresses that will have several fans oohing and awing. Malia Obama and Sasha Obama were sporting embroidered gowns from designer Naeem Khan that are each worth nearly $20,000.
"As our family reflects on our many happy years spent in the White House, we are grateful for the friends we've made, the joy we've shared, and the gifts of kindness we've received," the family wrote. "We wish you and your loved ones a joyous holiday season and a wonderful new year."
The card is signed by the president, First Lady Michelle Obama, Sasha, Malia and the family's two dogs named Bo and Sunny. Listen, we told you it deserves two paws up.
As 2016 comes to an end, both Barack and Michelle were recently asked about their proudest moments.  As you may have guessed, the couple had a little fun with their answers.
"There's so many proud moments. I could say one: We survived! It's a miracle we're here! We're standing up," Michelle shared in People magazine. "When I came in, we talked about not wanting to just do symbolic things, that we wanted to move the needle on the issues that we took on. And we have."
Barack also joked, "Our kids aren't crazy."
Happy holidays, Obama family.