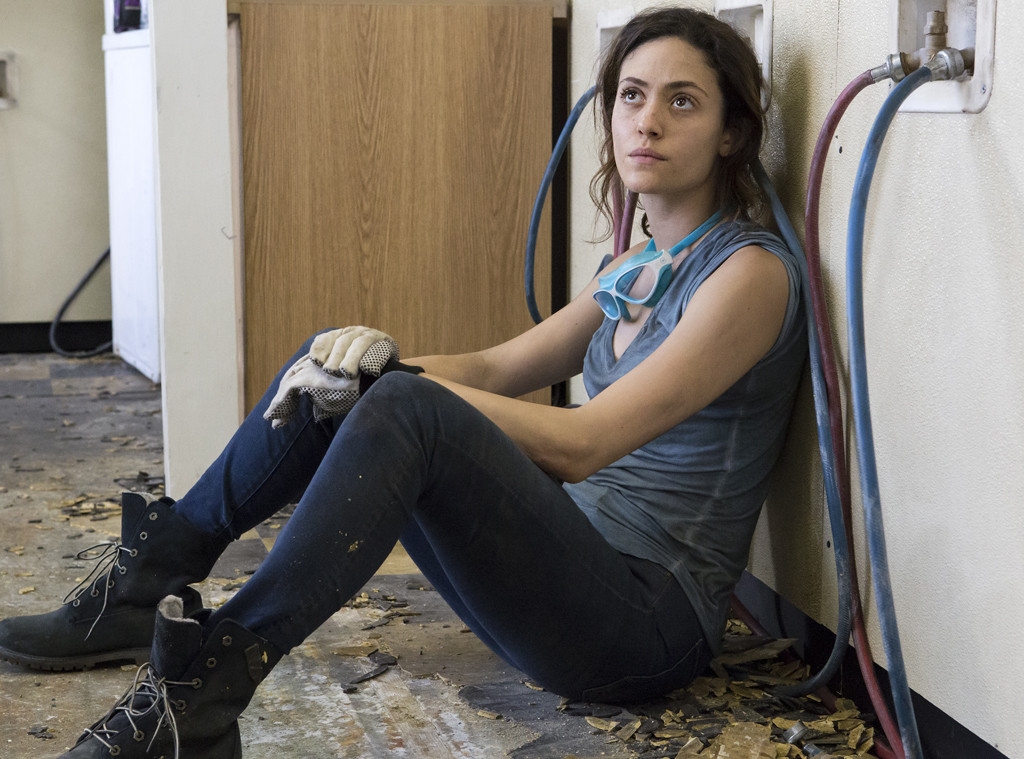 Paul Sarkis/SHOWTIME
UPDATE: On Wednesday, Emmy Rossum announced she had resolved her contract dispute. "Playing Fiona Gallagher has been one of the great privileges of my life," she tweeted. "I'm so happy to continue w my SHAMELESS family! Back to work in May!"
___________________________________________________________
Emmy Rossum reportedly has a bone to pick with her Shameless bosses. 
According to the The Hollywood Reporter, not only has the 30-year-old actress demanded equal pay for her work ahead of the show's Season 8, she is also allegedly looking to be paid more than co-star William H. Macy after years of being paid less. 
For seven seasons, Rossum has portrayed Fiona Gallagher, the oldest daughter and figurative matriarch of the dysfunctional clan on the Showtime comedy-drama. Most recently, she tried her hand at directing for an episode in the seventh season.  
As THR reported, Oscar nominee Macy recently renegotiated his own contract and allegedly scored an A-list raise that Rossum is looking to mirror. However, his higher profile and additional award wins and nominations for his performance on the show have been cited as contributions to such wage. 
Equal pay has certainly been a hot button issue for actresses in recent years after the 2014 Sony hack revealed the salaries of Hollywood's most prominent stars, including Jennifer Lawrence, Bradley Cooper, Christian Bale and Amy Adams—co-stars in that year's American Hustle. Lawrence took the issue to task in a personal essay she penned for Lena Dunham's Lenny Letter in October 2015.
"When the Sony hack happened and I found out how much less I was being paid than the lucky people with dicks, I didn't get mad at Sony. I got mad at myself. I failed as a negotiator because I gave up early," she wrote at the time. "Jeremy Renner, Christian Bale, and Bradley Cooper all fought and succeeded in negotiating powerful deals for themselves. If anything, I'm sure they were commended for being fierce and tactical, while I was busy worrying about coming across as a brat and not getting my fair share."
Dozens more female stars, including Jessica Chastain, Kate Winslet, Emma Watson and Sharon Stone, have weighed in on the subject since. During her Oscar acceptance speech in 2015, Patricia Arquette made an impassioned plea to women all over the country to demand monetary parity. 
"To every woman who gave birth to every taxpayer and citizen of this nation, we have fought for everybody else's equal rights," she said at the microphone. "It's our time to have wage equality once and for all and equal rights for women in the United States of America."
(Originally published on Friday, Dec. 9, 2016, at 9:41 a.m. PDT.)