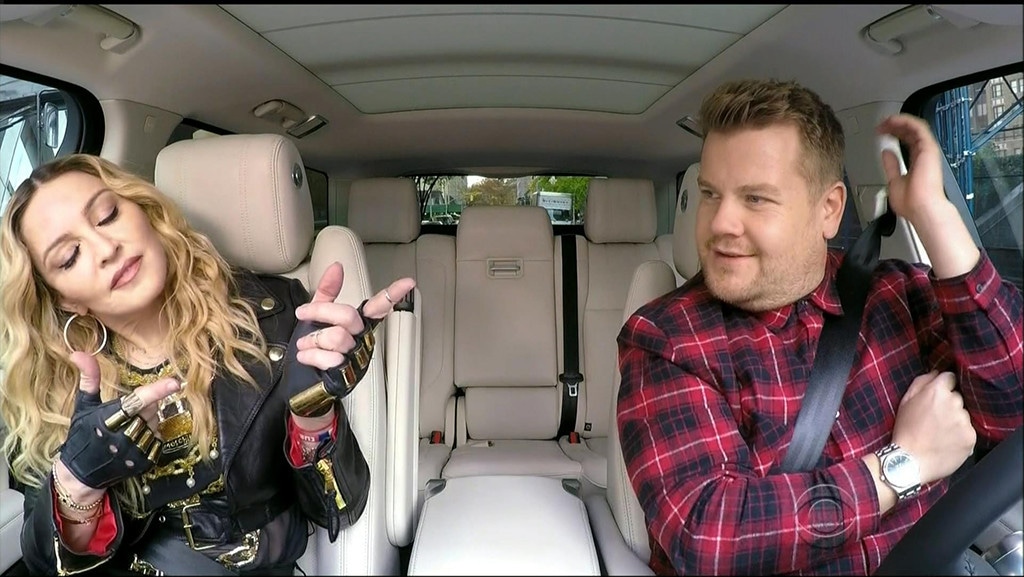 CBS
There's no denying that Madonna absolutely killed it on James Corden's Carpool Karaoke Wednesday night. The iconic pop star busted out some of her biggest hits, including "Vogue" and "Papa Don't Preach," while The Late Late Show host tried to keep them safely on the road.
But because most viewers were probably so entranced by their performances, they might have lost sight of the little things that stuck out during this particular installment of Corden's hit segment.
Prepare to watch the video all over again, because you're going to want to look out for these five things you might have missed:
1. Madonna and Corden's rendition of Evita's "Don't Cry for Me Argentina" is the first time in Carpool Karaoke's short history that a singer performed a capella.
2. If you listen very carefully during "Vogue," Corden's SUV begins to make beeping noises, but it's not the horn. It's probably just a warning beep—hazards are probably turned on anyway for safety—but it definitely sticks out.
3. Like other Carpool Karaoke segments, Corden and his company tend to drive in circles. Madonna and Corden tend to stick around Lincoln Center on NYC's west side, giving viewers quick glimpses of Alice Tully Hall and Julliard. 
4. Near the 5:20 mark while discussing nuns, The Vatican and more, Madonna subtly switches into a British accent, which is something she has done before in real life. Perhaps it was just the British host's influence!
5. At the 10:20 mark Madonna pretends to try to buckle her seatbelt, but she doesn't actually do it. Mere seconds before, however, she's completely buckled in and isn't filmed taking it off. Editing mishap alert.
Is there anything else you noticed? Sound off in the comments!