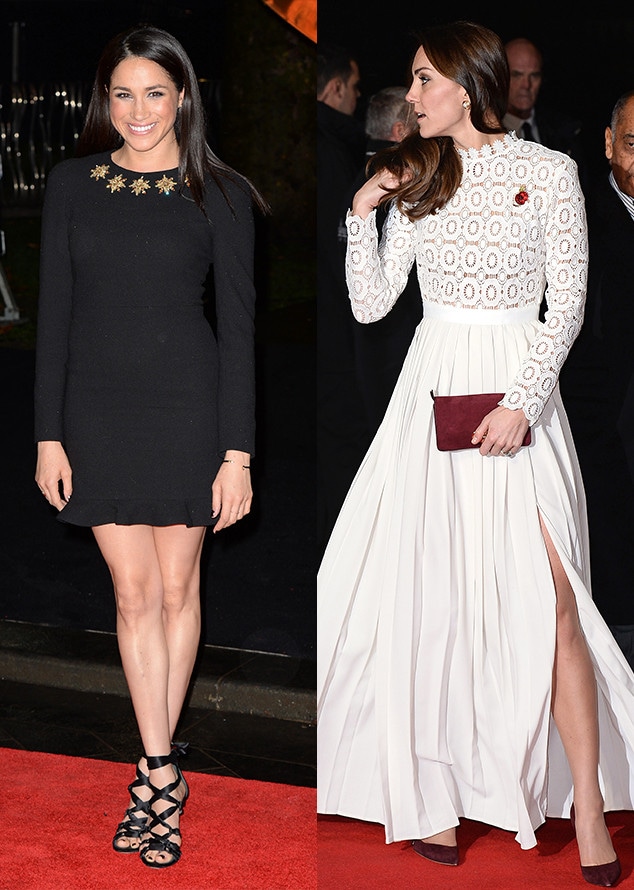 Getty Images
If Meghan Markle's relationship with Prince Harry progresses, people—if not several entire nations—are going to expect her to be just like Kate Middleton.
Not because that's fair, reasonable or what's right, but because that's how it is.
Kate has set the modern gold standard for the very uncommon mission she chose to accept by marrying Prince William, the man second in line to the throne in the U.K., and those who have become her biggest fans have no reason to want anything different down the road.
Of course, because Harry is in all likelihood not going to be king, there wouldn't be quite as much required of Meghan as there is of Kate, who gave birth to the children who are third and fourth in line to the throne, but the 32-year love affair that Britain has been having with Harry is going to ensure that the spotlight is turned up to X-ray mode on whomever he ends up with.
Lucky for Meghan, presuming she gets along with Kate she'll have a wellspring of expert tips and tricks of the trade to draw from as she navigates the unfamiliar landscape of being courted by a member of Britain's royal family. Actually, not just a member, but the member who's considered one of the most eligible bachelors in the world.
And it's not as if it's a bad thing to have stuff in common with the Duchess of Cambridge. Kate doesn't have a bunch of fans just because she's pretty (though her impeccable style does qualify as an admirable trait). She seems like a really great person, a soul mate and best friend type for William, and just because she met her literal prince at an early age, she enjoyed her own pursuits and hobbies in the years between "sure, I'll go for a pint with you" to "I do."
Moreover, Harry has always been a great admirer of Kate's, so it would make sense if he was interested in meeting a woman who reminded him of his sister-in-law.
So let's start with the basics.
The Early Years
Catherine Middleton was born in Berkshire, in the south east of England, and grew up in the village of Chapel Row. She's the eldest of three kids and grew up in upper-crust fashion. Parents Carole and Michael Middleton are still married after 36 years and own a successful mail-order party supply business. They're close to Kate and Will and have been regular babysitters for their grandchildren, Prince George and Princess Charlotte. The family reportedly has ancestral ties to the royals that originate back to King Edward IV, who ruled in the 1400s.
Kate actually went to preschool in Amman, Jordan, while her dad was based there while working for British Airways, but spent most of her school years in England. She started dating William in 2003 when they were both students at St. Andrews University in Scotland, where Kate graduated from in 2005 with an art history degree. She also studied abroad in Florence, Italy.
ROBERT PERRY/EPA-EFE/REX/Shutterstock
Meghan was born in Los Angeles to Doria, a yoga instructor and clinical therapist, and Thomas Markle, who won a couple of Daytime Emmys as lighting director of General Hospital and was director of photography on Married...With Children, giving his daughter an early glimpse at life on a TV set.
She attended a private Catholic high school and graduated from Northwestern University in Evanston, Ill., which considered one of the best colleges in the country, with a double major in theater and international business.
Her mom is black and her dad is white, and Meghan has talked about some of her experiences being of mixed race and what her heritage means to her. "'What are you?' A question I get asked every week of my life, often every day," the actress wrote in an essay for Elle UK in August 2015.
Post-Grad Life
Kate worked for a year as an associate accessories buyer for British clothing brand Jigsaw before joining her family's party supplies business in 2007.
Meghan helped support herself in between acting jobs by working as a calligrapher (perhaps doing some party invitations along the way...?), but she's been working pretty steadily for the past decade. Her first series role on IMDb is a spot on General Hospital in 2002, and since then her credits include parts on CSI: NY, CSI: Miami, Without a Trace, 90210, Knight Rider, Fringe and The League. She also appeared on the big screen in Horrible Bosses, Remember Me and Get Him to the Greek before scoring the starring role of Rachel Zane on Suits—her biggest splash to date.
Relationship History
William legendarily first laid eyes on a lingerie-wearing Kate when she walked in a fashion show at St. Andrews in 2002.
Kate and William broke up in 2007 but were back together before anyone had the chance to really blink, much less form serious ties to anybody else. That being said, dating the prince for the better part of a decade still won the future duchess the tabloid nickname "Waity Katy" because of course. Making everyone, ever, very happy, they married on April 29, 2011, at Westminster Abbey in a ceremony watched by roughly 2 billion people around the globe.
Amanda Edwards/Getty Images
Ironically, Meghan married her boyfriend of nearly seven years, Trevor Engelson, a producer and talent manager, on Sept. 10, 2011, barefoot on the beach in Jamaica. The couple quietly separated two years later and divorced in August 2013, and Meghan has never talked much about it.
And while "divorcée" isn't exactly high on the queen's list of desirable qualities for a potential addition to the royal family, Prince Charles divorcing William and Harry's mum, Princess Diana, and remarrying the also-divorced Camilla Parker Bowles pretty much blew that old concern out of the water. Charles didn't have to abdicate his right to the throne as Prince Edward, the Duke of Windsor, did when he married the twice-divorced American Wallis Simpson in 1937.
Meghan met Prince Harry in May in Toronto, where Suits is filmed, when he was in town for the Invictus Games, one of his royal patronages. Word is that Harry wooed Meghan with text messages until they reunited in July and they embarked on a romance. We're guessing he had her at "hello."
Meanwhile, Meghan is three years older than Harry—and Kate is five months older than William. At 29, she was the oldest-ever royal bride.
PDA M.O.
Kate and William can only be so romantic in public, but they are truly a modern couple, looking very much in love but not all Facebook-braggy about it. Their public affection unfolds in a classy way, Will laying an affectionate hand on Kate's back or giving her a tender kiss on the cheek, or the two sharing an intimate look. And, of course, they sealed their I-dos with a kiss from the balcony of Buckingham Palace on their wedding day, much to an adoring planet's delight (minus that one little girl).
Meghan and Harry have yet to be photographed together, and before the prince swooped in to visit her in Canada this week, he had been in the Caribbean on an official trip (and he's quite often somewhere on royal business). So the only visuals of their relationship things like this Instagram post of two bananas spooning, and Meghan wearing a necklace boasting the initials "M" and "H." Hmmm... 
Stop the Presses!
Once Kate and William graduated from university in 2005, the press really picked up the pace on their coverage of the couple, by whatever means necessary, prompting Kate to hire a lawyer to try and get media outlets to stop with what her team deemed unwarranted scrutiny.
Chris Jackson/Getty Images
"We are pleased that News International has agreed to stop using the paparazzi pictures," a spokesman for William said in 2007 after they got the biggest tabloids to agree not to publish photos taken by paps massed outside Kate's house on her 25th birthday. "What Prince William wants more than anything is for the paparazzi to stop harassing her."
Presumably with Princess Diana not far from her mind, Queen Elizabeth II, William's grandmother, sicced her lawyers on the media's intrusive ways. The result: mass engagement speculation, and Kate filed privacy claims against two photo agencies and won damages (which went to charity) and a public apology in March 2010 over pics taken of her during the previous Christmas holiday. (And in October 2010, Will and Kate announced their engagement.)
Six years later, the first official confirmation that Harry and Meghan were an item came in a statement from the palace that, one, referred to the actress as the royal's girlfriend and, two, lambasted the media for grossly invading Meghan's privacy.
The statement, which also took trolls to task for racist and sexist comments being made about Meghan, was heralded as unprecedented and quite the public move on Harry's part—but obviously William's family had to go to bat for Kate's privacy, too, back in the day.
Causes Close to Their Heart
Philanthropy and giving back is a major part of being a royal and Kate has a number of causes that she advocates for, including mental health education and treatment, the plight of homeless teens and prison conditions for women. Her official patronages include Action on Addiction, East Anglia Children's Hospices, The Scout Association and Place2Be, which provides emotional and therapeutic services to school children.
Humanitarian work has already played a major role in Meghan's life. In 2014 she worked as an advocate for the United Nations Entity for Gender Equality and the Empowerment of Women and traveled to Afghanistan that December to visit American troops on a USO tour. Earlier this year she traveled to Rwanda for the Clean Water Campaign as a Global Ambassador for World Vision Canada.
The Style Story
Equal parts what she wears and who she is, Kate Middleton, who's 5-foot-9, is perennially named one of the most stylish women in existence. Everything she puts on that is in any way attainable to civilian women sells out and she's boasted the profile of a number of British designers by wearing their looks. Her Sarah Burton-designed wedding dress was perfection, she's not too high-fallutin' for Zara skinny jeans and her hair is what you want in a blowout. So, she's already secured her place in the history books.
Meghan, who's 5-foot-7, seems like your average well-dressed celebrity so far—and it's just one of those serendipitous things that she was twinning with Kate from across the pond in a version of the same Diane von Furstenberg Zarita dress that the royal wore at a gala. Her Instagram account is well-curated, as befitting a stylish young woman in Hollywood, and she has her own lifestyle site, The Tig. She also recently launched an "accessible" clothing line at Canadian department store Reitmans, which Meghan has described as "totally an extension of my personal style."
Gilbert Carrasquillo/FilmMagic; Chris Jackson - WPA Pool /Getty Images
Normal Girl Cred
Kate played field hockey in school, she enjoys photography (part of her job for mom and dad was snapping pics of the products they had to offer), she cooks, she's a Downton Abbey buff and supposedly she and William were big One Tree Hill fans back in the day. 
Meghan counts Mad Men, Girls and The Newsroom among her recent favorite shows; she's a foodie; she's a big reader; and, according to what she told Esquire, she sounds like a gal you can hang out with. Talking about hanging out in Canada with her Suits cast mates, she told the mag, "off-camera, there we are just playing Apples to Apples and drinking Scotch into the wee hours of the night."
Anthony Devlin - WPA Pool/Getty Images
The Woman in the Pictures
Because Kate started dating William when she was so young, privacy has been paramount for over a decade. There are no in-depth interviews that she's given herself that give more insight into her character or what her childhood was really like, or how she gets along with her parents and siblings. It's all based on commentary from people who knew her—or, more commonly, knew of her or crossed paths with her at some point. Being a proper royal is to be the most private of public people.
In her first solo TV interview since marrying William, for the 2016 ITV special The Queen at Ninety, she reminisced about her first official appearance with the ruling monarch and the ins and outs of doing the job of Duchess of Cambridge.
"I went without William, so I was rather apprehensive about that," Kate recalled. "I think there is a real art to walkabouts. Everyone teases me in the family that I spend far too long chatting. So I think I've still got to learn a little bit more and to pick up a few more tips I suppose. [The queen] was very supportive. The fact she took the time to make sure that I was happy and looked after for that particular occasion, which probably in everything that she's doing is a very small element, it shows just how caring she is really."  
MediaPunch/REX/Shutterstock
Meghan, however, is a Hollywood actress and has been free to do as she pleases for the entirety of her adult life. So whatever she's been comfortable opening up about, we can read about.
At the One Young World Conference in Dublin in 2014, for instance, she revealed during a talk about gender equality that she objected to Suits scenes where her character was scantily clad for no apparent reason other than to show audiences some skin.
"In the show, for example this season, every script seemed to begin with Rachel enters wearing a towel and I said 'No, I'm not doing it anymore, I'm not doing it'," Meghan said, per Ireland's Independent.
"So I rang the creator and I was like, 'It's just gratuitous, we get it, we've already seen it once.' So I think at a certain point you feel empowered enough to just say no. I think it's a challenging thing to do if you don't know your worth and your value for wanting to speak up. When you're an auditioning actress years ago, so hungry for work, of course you're willing do things like that.
"For me, speaking up and being able to say I'm not going to do that anymore, has been a big shift for me personally."
And in her Elle UK essay about how her ethnic background has shaped who she is, she opened up about a number of disturbing experiences (including hearing her mother called the n-word) and the ironies of being considered "not white enough" or "not black enough" for roles.
"It's either ironic or apropos that in this world of not fitting in, and of harbouring my emotions so tightly under my ethnically nondescript (and not so thick) skin, that I would decide to become an actress," she wrote. "There couldn't possibly be a more label-driven industry than acting, seeing as every audition comes with a character breakdown: 'Beautiful, sassy, Latina, 20s'; 'African American, urban, pretty, early 30s'; 'Caucasian, blonde, modern girl next door'. Every role has a label; every casting is for something specific. But perhaps it is through this craft that I found my voice."