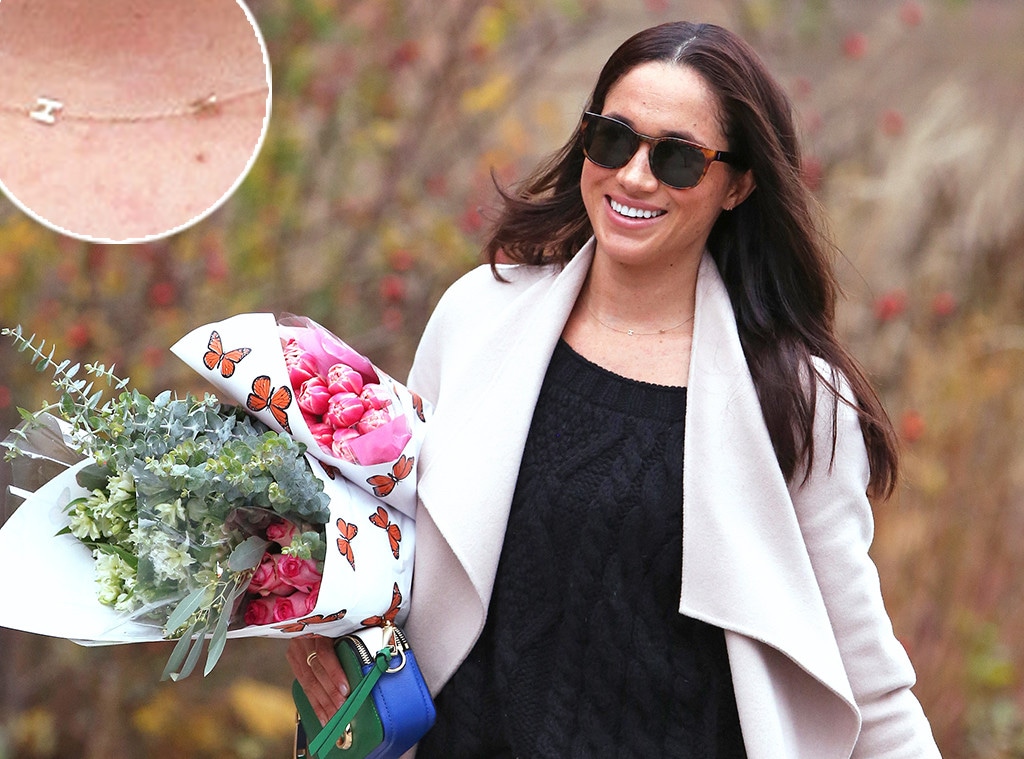 Splash News
Some wear their hearts on their sleeves, while others wear it around their necks.
Earlier this week, everything was coming up roses for Meghan Markle when she was spotted carrying bouquets of tulips while out and about in Toronto.
But as it turns out, the Suits star was wearing a special piece of jewelry that went unnoticed, until now.
E! News can confirm Meghan sported a Maya Brenner gold necklace valued at $240 during her afternoon outing.  The romantic touch, however, comes once you learn the letters around the chain. How do the initials M and H sound?
Perhaps it's safe to assume that H refers to Prince Harry who has been able to enjoy some "private time" with his girlfriend before the Christmas holidays.
E! News has learned that the couple wanted to have time alone and to be together in Toronto following Harry's travels to the Caribbean and after Meghan finished filming a season of Suits.
"Harry has been traveling and wanted to make time to see Meghan," a source shared with E! News. "They wanted their time together to be private."
While Meghan and Harry have yet to be photographed together ever since their romantic relationship was confirmed, royal watchers have been given a taste of the actress' passions. In a recent essay for Elle UK, Meghan opened up about balancing fame and her philanthropic passions.
"With fame comes opportunity, but it also includes responsibility—to advocate and share, to focus less on glass slippers and more on pushing through glass ceilings," Meghan wrote. "And, if I'm lucky enough, to inspire."
We think the royal family would approve. 
—Additional reporting by Holly Passalaqua