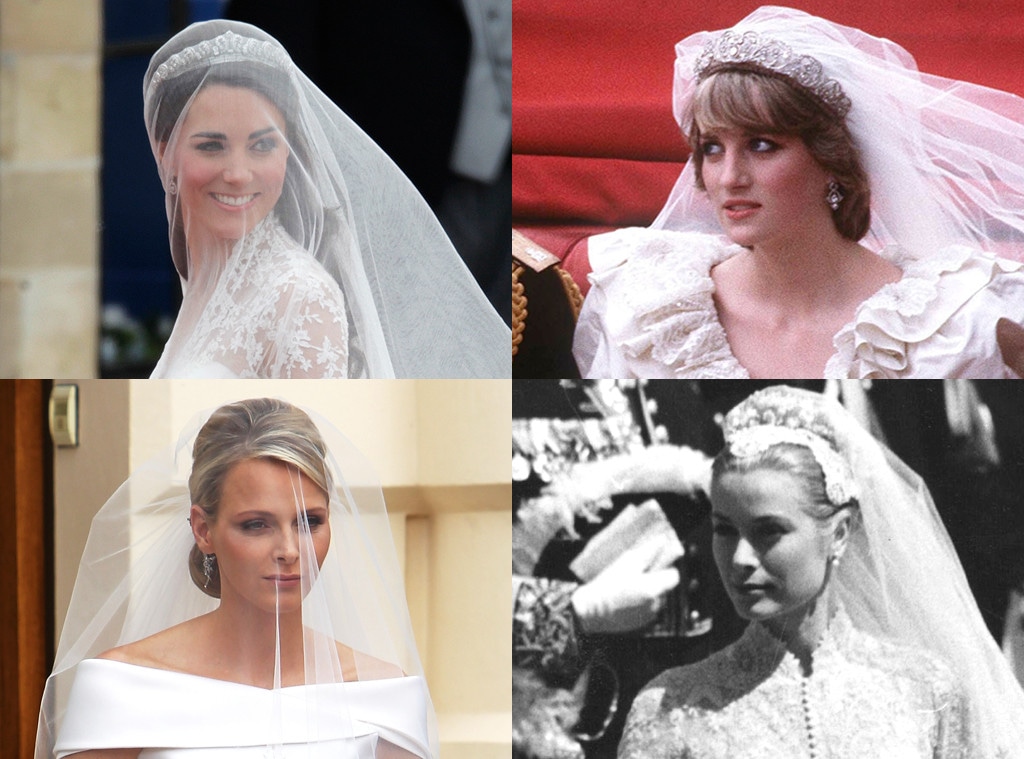 AP Photo/Gero Breloer, Anwar Hussein/WireImage.com, Dan Kitwood/Getty Images, Joseph McKeown/Getty Images
Kate Middleton never knew her mother-in-law.
Princess Diana died in a car crash in 1997, when her son Prince William was only 15, and he didn't meet his eventual bride until five years later at university.
If Diana was an international celebrity in life, she became an enigmatic object of obsession in death. She was honored the world over, with an estimated 2.5 billion people tuning in to watch her funeral. But at the same time, everything she ever said was then posthumously picked apart for clues and everyone she ever knew was pumped for details. Already the subject of a dozen books and TV movies, the machine hasn't stopped churning to this day, cranking out, to name a few, Lifetime's The Murder of Princess Diana in 2007, Tina Brown's The Diana Chronicles, the 2013 "tell-all" The Real Diana and Naomi Watts playing Diana on the big screen.
Yet perhaps it's the almost ridiculous amount of scrutiny and the intrusiveness that seemingly hastened Diana's tragic demise that prompted a gentler treatment of Kate. While she too is a subject of global fascination and tabloids can't get enough of her, somehow there's something more reserved and, shall we say, less hungry about the way the press covers her. (At least it's been that way since the queen's lawyers told the press to ease up before William popped the question, anyway.)
That being said, if Kate hasn't exactly had to exist in Diana's shadow, there have been so many events and milestones in the Duchess of Cambridge's life—from her televised wedding and the public presentation of her babies to her various trips abroad—that were first experienced by Diana, that the comparisons are inevitable. They would've occurred if Diana had been alive, and so they still occur in her memory. How did Kate stand, what did she wear, her philanthropic endeavors, what approach is she taking with the children... Whatever can be compared has been compared.
We may never know if any of this weighs on Kate and, if so, how she deals with it. She and William are two of the most private public people around. Class acts and willing to abide the unspoken royal code that mandates composure at all times. Plus, they have each other to lean on when the going gets rough, very unlike the situation William's mother had with his father, Prince Charles.
Press Association via AP Images
But while Kate (or the world) might feel that she's in a singular position, she's actually not.
About 900 miles away lives a former commoner who married into the royal family who knows exactly what it's like.
Princess Charlene (née Wittstock) married Prince Albert II of Monaco in 2011, the same year Kate married William. Born in Rhodesia and twenty years Albert's junior, the statuesque blonde was an Olympic swimmer for her adopted home of South Africa. She first met the prince in 2000 at the Mare Nostrum swim competition in Monte Carlo.
They didn't become a public item until 2006; they got engaged in 2010 and married on July 1, 2011, in a civil ceremony in the palace's Throne Room, wearing a Karl Lagerfeld suit in a shade the press quickly dubbed "Charlene blue." A lavish, televised religious ceremony in the palace courtyard followed on July 2, for which the bride wore Giorgio Armani and more than 4,000 guests were in attendance. She and Albert now have two children together.
On her wedding day, Charlene shared a kiss with her new husband and greeted the public from the palace balcony—the first time a sovereign princess had greeted the public from that balcony since Charlene's mother-in-law did so 55 years beforehand.
Her mother-in-law having been Grace Kelly, of course.
Pool Interagences/Gamma-Rapho via Getty Images, AP Photo
Kelly's legend is split right down the middle, between impossibly beautiful star of Hollywood's golden age and the second half of her life as the Princess of Monaco—a role she abandoned her acting career to take.
Her star remains so big from her acting days, which included an Oscar win for The Country Girl and forever status as a Hitchcock blonde, that it's easy to forget she only made 11 films. She retired at 26 to marry Prince Rainier III of Monaco, whom she met at the Cannes Film Festival in 1955.
In the 1960s Kelly would return to the stage for dramatic readings and she narrated some TV specials, but the only acting she ever did again was in a short independent film with Rainier. Before they could shoot more scenes, she had a stroke at the wheel and was killed in a car crash in 1982, when she was only 52, and the footage was never released. Princess Diana, who had only been married to Charles for a little over a year at the time, was among the mourners at her funeral, as was Cary Grant and U.S. first lady Nancy Reagan.
Though not tinged by as much scandal as Diana was, Kelly too proved fairly unknowable in life, particularly once she became a royal—and she's remained a subject that continues to be probed to this day, most recently in the star-crossed biopic Grace of Monaco that starred Nicole Kidman.
Albert was 24 when his mother died and he wouldn't marry for another 29 years—prompting decades' worth of chatter from the people of Monaco about his bachelor status. In the meantime, his father, Prince Rainier III, passed away in 2005 and he assumed the throne (having also fathered two children with two different women).
Keystone/Getty Images, RAJESH JANTILAL/AFP/Getty Images
But even though so much time had passed, when Charlene became sovereign princess, there were all the images of Grace doing the same things—getting married, greeting crowds, traveling, on outings with her children, wearing...anything at all, be it a gown or a swimsuit. 
She resides in the family palace, showed off her babies on the same balcony...
Pascal Le Segretain/Getty Images
AP Photo/Lefteris Pitarakis; Anwar Hussein/Getty Images
As her mother-in-law did, Charlene busied herself with philanthropic work after joining Monaco's royal family; as a former athlete, the Special Olympics became her primary cause.
Like Kelly, the current princess is also making a name for herself as one of the most stylish women in the world, always looking impeccably put together.
Just as Prince William has expressed his regret that Diana never got to meet her grandchildren, Albert has said that his mother would have been a wonderful grandmother. And such as is the case in Britain, Albert does most of the talking for him and his wife, at least as far as media interviews go.
After the birth of their twins, however, Charlene did give an interview to Paris Match—a publication that had featured Grace Kelly on its cover many times in the past, including with Prince Albert as an infant in 1958.
"I think a very strong protective instinct was born in me at the same time as them," the princess said, per an English translation from the original French. "A strong bond unites us, they are my responsibility in the coming years. And I will do my best to guide them, raise them and teach them the values ​​that my husband and I share. This is an exciting mission and we will give the best of ourselves to achieve it. For now, we are enjoying every moment."
But while Kate Middleton has, at least by now, won over any critics who may have initially wondered if she was "right for the job," Charlene was compared far less favorably in the tabloid press to her predecessor, whose elegance, poise and glamour are the stuff of legend.
"She is isolated and sad. She has no friends. She will crack in the end," a rather off-putting pessimist told The Daily Beast about Charlene in 2014. 
Fast-forward to almost 2017 and she and Albert remain the busy, still-married, still very visible parents of twins—and none of that doom and gloom has come to pass.
"He's an excellent father," Charlene told Paris Match last year in a joint interview with her husband on the occasion of him marking 10 years on the throne. "He loves his children and is very affectionate with them. Family life is very important to him." Also during the weekend of celebration, the princess gave a speech in French, calling Albert "the Prince of Hearts, of my heart."
"I can't wait to be a sister to them and watch them grow up," Jazmin Grace Grimaldi, Albert's daughter with Tamara Rotolo, said about her twin half-siblings in what was her first-ever major interview last year, in Harper's Bazaar. "They have these beautiful, big blue eyes—and they are both already so well behaved!"
A rather striking young woman herself, Jazmin also talked about her own endless fascination with her late grandmother, who died a decade before she was born.
"I love the pictures where she's quirky and smiling. There's one of her wearing a bathing suit, holding an orange on a stick, with these excited eyes," the aspiring actress and singer said. "She seems so natural and carefree."
In 2014, Prince Albert remembered his larger-than-life mother to People as a very "loving and caring hands-on mom."
"Coming to live here and having to behave in a certain way must have been hard for her at first," he said. "But I never heard her complain."
And so Princess Charlene continues in Grace Kelly's stead to this day.