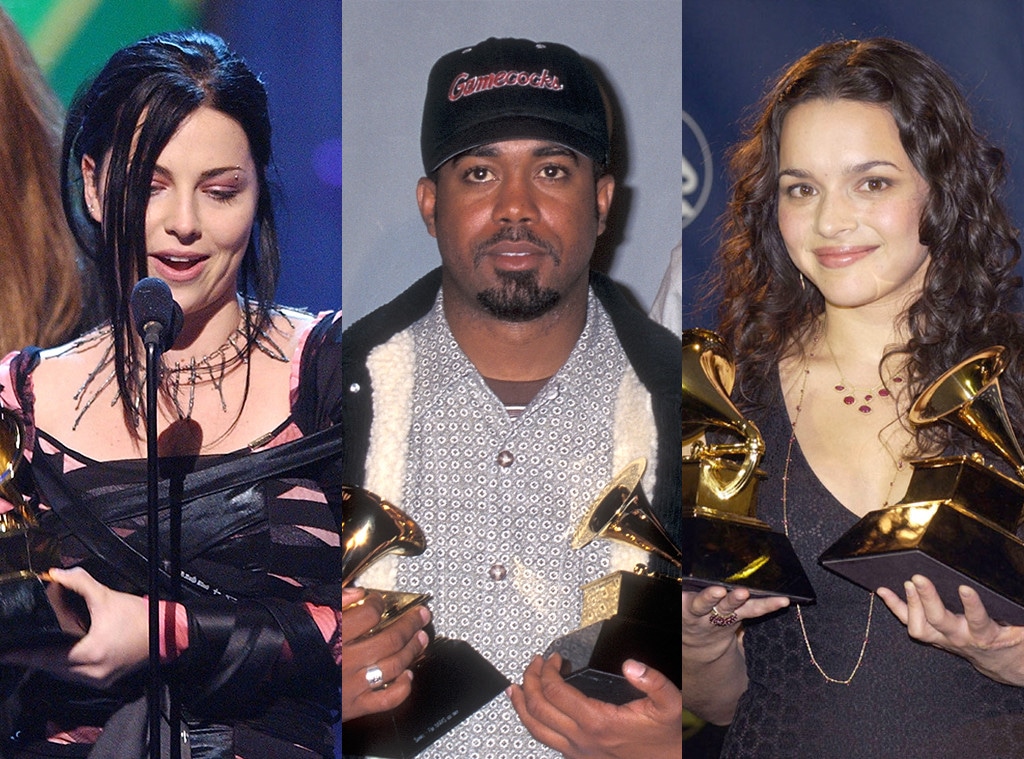 A Grammy win in the Best New Artist category is the ultimate validation for music rookies.
Call it a curse or just Hollywood superstition, but there's a growing number of past newbies who never quite joined the ranks of their predecessors, and instead settled for an admittedly unfortunate Best One Hit Wonder accolade. 
No, we're not including Best New Artist winners-turned-megastars Christina Aguilera, Alicia Keys, Maroon 5, John Legend, Carrie Underwood, Adele and others in this club. We're talking some of the most forgettable, head-scratching, WTF artists that fell down the rabbit hole of obscurity post-Grammys night.
Let's reminisce about a few of those artists below, shall we?
Ron Galella, Ltd./WireImage
Artist: Bruce Hornsby and the Range
Year Won: 1987
Who They Beat: Glass Tiger, Nu Shooz, Simply Red, Timbuk3
Where Are They Now?: The multi-genre frontman went on to lend his talents to multiple projects with artists like Ricky Skaggs and the Grateful Dead. In more recent years, Hornsby has performed with the Grateful Dead on their farewell tour and even endowed a creative music program in his name at the 
University of Miami. 
Sonia Moskowitz/IMAGES/Getty Images
Artist: Jody Watley
Year Won: 1988
Who They Beat: Breakfast Club, Cutting Crew, Terence Trent D'Arby, Swing Out Sister
Where Are They Now?: Watley continues to release new music, with Billboard magazine recognizing the R&B artist with a Lifetime Achievement Award in 2008. Her talents have since crossed over to the dance music world, and Watley's 2013 single "Nightlife" peaked at No. 18 on the U.S. dance charts. 
Artist: Marc Cohn
Year Won: 1992
Who They Beat: Boyz II Men, C+C Music Factory, Seal, Color Me Badd
Where Are They Now?: Throughout the early 90s, everyone enjoyed "Walking In Memphis" alongside the folk rock singer-songwriter. Cohn went on to add seven more solo albums to his discography, and in 2005 he survived a near-fatal carjacking incident. The father of four split from ABC journalist Elizabeth Vargas earlier this year.
Archive Photos/Getty Images
Artist: Arrested Development (And no, Jason Bateman was not the lead singer)
Year Won: 1993
Who They Beat: Billy Ray Cyrus, John Secada, Kris Kross, Sophie B. Hawkins
Where Are They Now?: Three years after their Grammy win, the hip hop alternative group split, but later reunited in 2003 to sue Fox's popular sitcom of the same name. Turns out Arrested Development is stilling releasing new music and touring internationally to this day!
Ron Galella, Ltd./WireImage
Artist: Hootie & the Blowfish
Year Won: 1996
Who They Beat: Alanis Morissette, Brandy, Shania Twain, Joan Osborne
Where Are They Now?: The rock band's lead singer Darius Rucker has carved out quite a solo career for himself since splitting from the Blowfish in 2008. Rucker won a Grammy in 2013 for country classic "Wagon Wheel," so suffice to say he's left those oh-so-90s cargo shorts and polo tees in a past life.
TIMOTHY A. CLARY/AFP/Getty Images
Artist: Paula Cole
Year Won: 1998
Who They Beat: P. Diddy, Hanson, Erykah Badu, Fiona Apple
Where Are They Now?: We have a lot to thank Paula for, namely the Dawson's Creek theme song. She now teaches at the Berklee College of Music, and continues to perform new jams, including her most famous hit "Where Have All the Cowboys Gone?," in front of live audiences. 
Artist: Shelby Lynne
Year Won: 2001
Who They Beat: Brad Paisley, Jill Scott, Papa Roach, Sisqó
Where Are They Now?: After the singer-songwriter bested Sisqó and the "Thong Song" (Yes, we're still mourning the snub), Lynne launched her own independent record label and starred as Johnny Cash's mother in Walk the Line.
Larry Busacca/WireImage.com
Artist: Norah Jones
Year Won: 2003
Who They Beat: John Mayer, Ashanti, Avril Lavigne, Michelle Branch
Where Are They Now?: Despite becoming a household name for her unique, jazzy sound, Jones' once-sparkling career dimmed in the years after she took home five Grammys, including Album of the Year and Record of the Year, all in one night. The notoriously private mother of two went on to release four more albums, but Nora's most recent project sold less than 45,000 copies. 
Artist: Evanescence
Year Won: 2004
Who They Beat: 50 Cent, Sean Paul, Fountains of Wayne, Heather Headley
Where Are They Now?: In between multiple hiatuses and band mate switch-ups, the heavy metal goth group reemerged in 2015 to headline a few festivals and tease the release of brand new music. For those still itching to hear "Bring Me to Life" on repeat, head to your nearest Hot Topic... probably. 
Artist: Esperanza Spalding
Year Won: 2011
Who They Beat: Justin Bieber, Drake, Florence + The Machine, Mumford and Sons
Where Are They Now?: One look at the Best New Artist nominees from the 2011 telecast, and it's not surprising to say the jazz singer's win sent a few shock waves through the music biz. Spalding has yet to reach her peers' level of mainstream stardom, but the young musical prodigy most recently released her fifth studio album in March and has collaborated with Bruno Mars and Janelle Monae.
Kevin Winter/Getty Images
Artist: fun.
Year Won: 2013
Who They Beat: Frank Ocean, Alabama Shakes, Hunter Hayes, The Lumineers
Where Are They Now?: The indie pop band saw chart-topping success with "We Are Young" and "Some Nights," but in early 2015 fun. announced they were taking some time off to explore solo projects. Lena Dunham's boyfriend Jack Antonoff is now the lead singer of Bleachers, while Nate Ruess released his debut solo album in 2015. 
(This story was first published Tuesday, Dec. 6, 2016 at 3:40 p.m.)