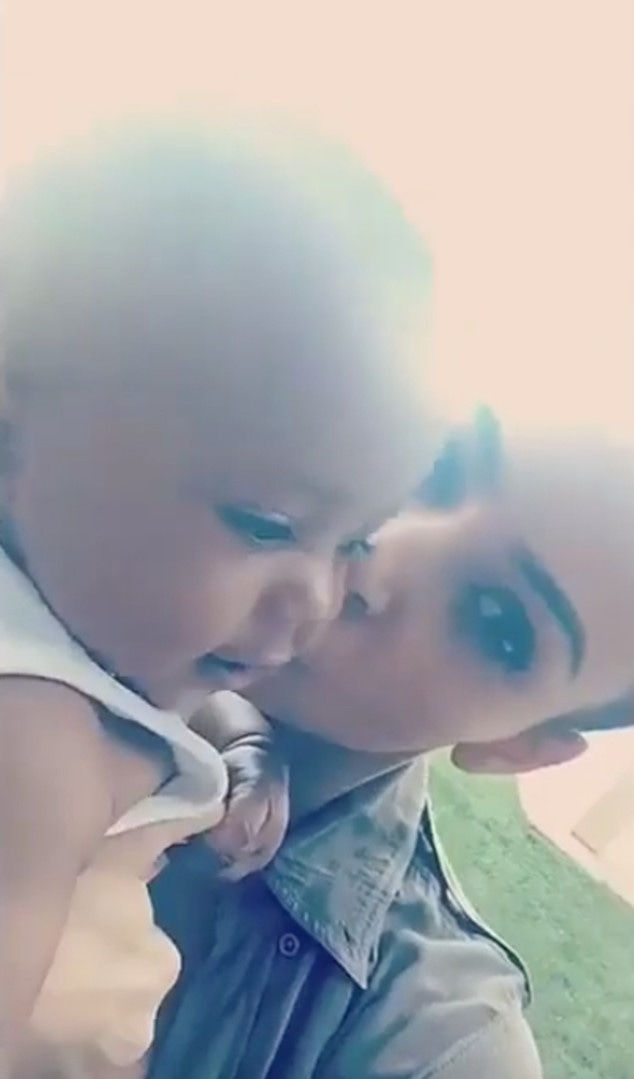 Snapchat
After everything that's happened in 2016, it's hard to tell if what we're feeling is disbelief that it's already been one whole year since Saint West was born, or if it feels as if he's always been a part of the family.
Either way, a very happy first birthday today to Kim Kardashian and Kanye West's son, who has been enjoying a relatively low-key time of it as he acclimates to life outside the womb. (Low-key as compared to some other members of his very famous family, that is. Not low-key as far as most babies are concerned.)
But though big sister North West definitely had the splashier debut, and now that she's 3 has become a little star all on her own, Saint is still living a fabulous lifestyle. There's plenty of privacy for diaper changes on private jets when the family travels; designer gifts have been pouring in from day one; and his aunties, uncle, cousins and grandma Kris Jenner have showered the boy with love and attention.
Not to mention, every picture of him is still a headline-worthy, awww-ensuring event, and his mom and dad couldn't be prouder.
Saint's very name is a reference to his existence being a blessing following Kim's tough pregnancy, and the first order of business upon his arrival was to ensure that mother and son were healthy and doing well. 
Once that was settled, it was time to celebrate.
"Kanye loves that there is a baby boy in the family now" and he's "already thinking of melodies for baby Saint," a source told E! News a little more than a week after Saint was born on Dec. 5, 2015.
And, naturally, "the amount of presents Saint has received so far is out of this world."
Those welcome-to-the-world gifts included a $300 Simone LeBlanc New Mom & Baby Gift Box stuffed with a Fog Linen Work Cotton Knit Blanket, cardigan and cap set, and booties (all in one of Kim's favorite colors—rich ivory) and goodies like body butter and a keepsake journal for mom.
By the time he was 6 months old, Saint had a closet to rival any stylish grown man, his wardrobe including a teeny Ralph Lauren jacket, a custom Unravel bomber jacket that matched his mom's, and, of course, a pair of Yeezy 350s.
"He said 'Dada' today, three times!" Kim gushed to E! News in July. And even though she would've preferred Saint to have figured out "Mama" first, she didn't seem to mind that her son was a total "Daddy's boy."
"And North is a Mama's girl, so we each have one," she smiled. (She was also secure in the knowledge that Saint was already turning into her mini-me. "We have the same eyes. def a good mix of both of us but he is more me, I think," Kim replied to a fan who commented on the resemblance on Twitter.)
Fatherhood couldn't be a more inspirational force for Kanye, who told E! News in August about the effect that becoming a dad has had on his work: "Everything that I do now is to make—I don't want to say 'better'...but fresher or doper," he smiled, "make a cooler world or something for my kids, and for everybody's kids. Just bring art to the front. That's my push into society."
And while Kim has been retooling her approach to publicity and social media since being the victim of a robbery two months ago, she had already made some conscientious decisions after Saint was born when it came to how much of her kids' lives she was willing to share.
"So truly, I was not posting about my son because I wanted him to be able to go to the park every single day like a normal human being and nobody knows who he is," Kim explained in August at the BlogHer16 conference in Los Angeles. "He's eight months old now, and people thought he didn't exist. People thought I had a whole fake baby and I made this whole thing up because I wasn't posting about it. And to me, that's so ridiculous."
As for when she'd be comfortable with her children having their own social media presence (remember, there are a bunch of very, very young celeb kids who have their own Instagram accounts—Kim and Kourtney Kardashian's kids do not), Kim laughed, "Never!"
"Just kidding," she added. "I think they'll have to ask me and we'll have a conversation about it... I also have heard stories of friends with kids that are early teenagers, like they totally catch their kids lying to them and they'll show up where they're at because they see them on Snapchat. So in a way I'll look at the positive knowing I could track their every move and I'll fully stalk them."
But until then, Mom gets to be the boss of all family photos. For his first Halloween, Saint was a mini Aladdin to go with Disney princess enthusiast North's Jasmine costume—and the result was maximum adorableness. (And according to Uncle Rob Kardashian, Kim busted out her old Princess Jasmine outfit to please her daughter.)
The family held a small early party for Saint on Friday but appear to be foregoing a bigger bash at this time while Kanye recuperates from mental exhaustion and Kim is doing everything she can to make him comfortable.
Meanwhile, the birthday wishes for Saint have been pouring in from the family and close friends, with Aunt Kourtney noting that she can't believe that he's already a year old.
Though funny enough, 1-year-old Saint West isn't even the baby of the family anymore.
That honor belongs to Rob Kardashian and Blac Chyna's almost 1-month-old daughter Dream; Kim took Saint and North to meet their infant cousin at Chyna's house last month, and Dream is also now the proud owner of a pair of teeny-weeny Baby Yeezys.