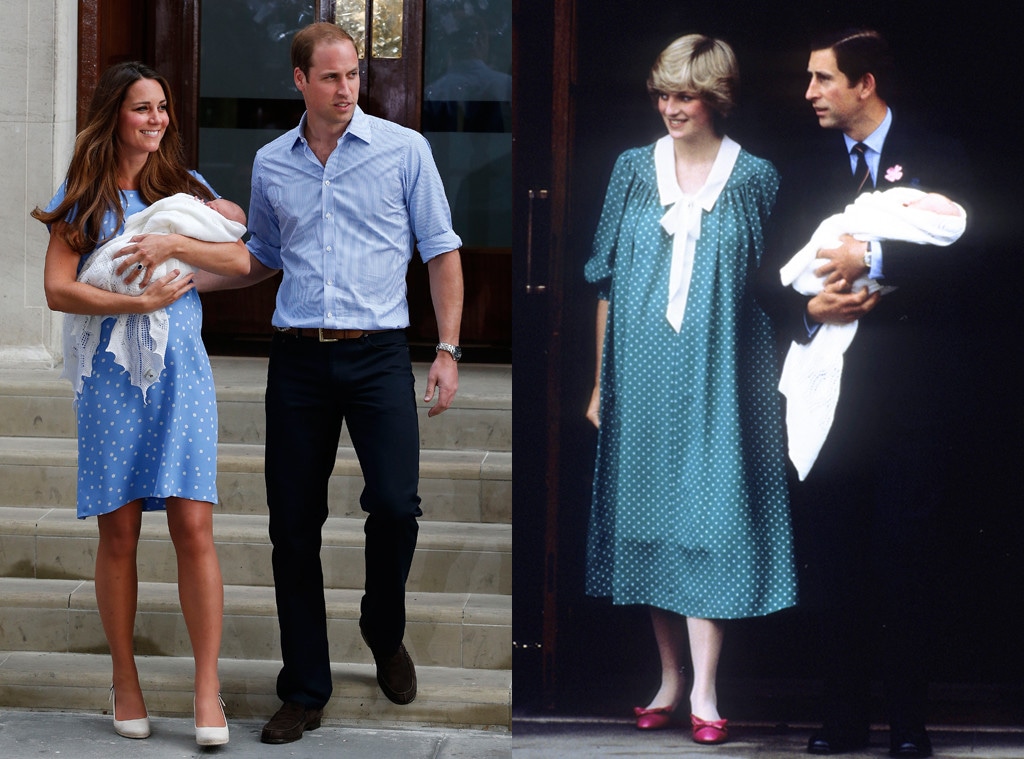 AP Photo/Lefteris Pitarakis; Anwar Hussein/Getty Images
The Royal family never goes out of style. 
And there's no better proof of their ironclad status in the fashion world than Princess Diana and her daughter-in-law Kate Middleton.
The Duchess of Cambridge was never able to meet husband Prince William's iconic mother, but her legacy undoubtedly lives on through the couple's two children and of course, Kate's enviable wardrobe. From Middleton's polka dotted, post-baby debut to her dazzling accessories at high-profile events, subtle style choices indicate that the late princess is never far, nor forgotten from the family's memory.
In honor of E! News' Royals Week, we've looked back at the pair's strikingly similar closet finds to reveal eight lessons Diana surely passed on to Kate:
Tim Gragam/Corbis/Chris Jackson/Getty Images
Family Jewels Never Lose Their Sparkle: Heirlooms are a timeless piece in any girls' jewelry box, regardless if said jewelry box resides in Kensington Palace. The 18-carat sapphire and diamond engagement ring was initially chosen by Diana after she became engaged to Prince Charles in 1981, and years later, Prince William asked Kate's father for her hand in marriage before popping the question with the stunning sparkler.
Anthony Devlin/PA Wire/Press Association via AP Images;
Jet-Set With a Purpose: Don't let stuffy airplanes and lack of sleep get in the way of looking radiant at all times. Both ladies make flying from country to country on official visits look too easy in their cherry read coats and chic pillbox hats. Not to mention Kate was a brand new mom toting around Prince George at the time. Emphasis on making it look too easy...
Keep it Modest, Never Stodgy: There's a fine line between staying on top of trends and honoring Royal tradition, so walk that line with confidence. Princess Diana's ensembles were considered daring (though not scandalous), and Kate has absolutely followed her lead when it comes to the red carpet and formal gatherings.
Dress to Bring Attention, Not Draw it: It's important to dress for the occasion, but never at the cost of downplaying an important cause. Take both women's identical choices for London's Remembrance Day Service in 1991 and 2016, respectively. Sophisticated, respectful and always conservative. 
Don't Be Afraid of Color: The world is your stage, so why not rock a pop of color every now and then? Diana breathed new life into the Royal family with her admiration for ensembles in every shade of the rainbow, and Kate has picked up right where she left off. We'll raise a toast to that!
Play With Patterns: Plaid is never easy to pull off, but it can be done with the right amount of precision. And sure, Diana's oh-so-1980s trench might not make our best dressed list today, but Kate updated the classic print with a pair of knee-high boots and loose waves. 
Hats, Hats and More Hats: Bad hair day? Throw on a hat! Great hair day? Still, throw on a hat! The over-the-top pieces might seem out of most fashionista's comfort zone, but Kate is happy to rock the accessory any day of the week... just like Diana. 
Designer Loyalty is Key: To put it simply, if it ain't broke, don't fix it. London-based designer Catherine Walker was Princess Diana's right hand woman when it came to creating custom pieces during her time in the palace. Middleton has since also taken a page out of her mother-in-law's fashion guidebook and worn Walker's designs on many occasions. As always, keeping it in the family!