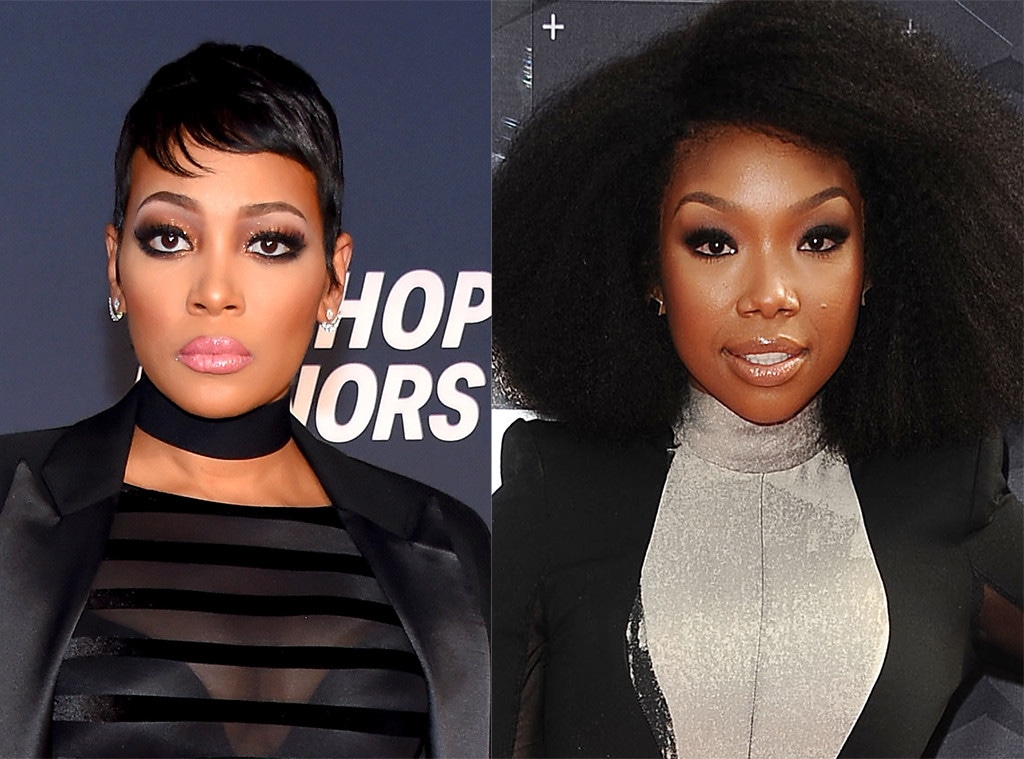 Getty Images
You need to give it up, had about enough...
Are Brandy and Monica feuding like it's 1998 all over again? Well, their fans certainly are.
The two are known for their Grammy-winning duet "This Boy Is Mine," which was released that year when they were teenagers and sparked rumors of a real-life feud.
The two later teamed up again for another duet, "It All Belongs To Me," released in 2012. That year, the two talked about their rumored feud on Angie Martinez's Hot 97 radio show. Monica admitted to getting into a physical altercation with Brandy "many years ago," adding no one was hurt and that she was sorry.
But this year, Brandy and Monica sparked more rumors of renewed bad blood between them and their fans have gotten all fired up about it.
This past September, Monica fans on social media took part in the #SoGoneChallenge, in which they posted their own renditions of her 2003 song, "So Gone."
A person asked Brandy if she would participate. Her response? "Chile bye."
"I'm not bothered at all," Monica said on The Real, when asked about Brandy's comment. "Honestly, the old me and the new me are two different things and this journey of self-progression and self-love and empowerment that I'm on, I can't go backwards. I think that that was just a test from God for me and I've always thought that she was one of the most legendary people and has one of the most amazing voices in her runs and riffs."
"I just think that some of it's been blown out of proportion to a degree but I can't tell my kids to do something that I can't do," she added. "So it was just a test for me to always just take the high road and know that in anything that happens in this life, if it's meant for you, it's yours and nobody can stop it or stand in the way of it. So, I wasn't bothered at all."
She also said she would be willing to work with Brandy again.
"It's never been an easy situation but the reason that I would do it is because we are from a special elite group. It was her, Aaliyah and myself and it was a very special time where each of us were individuals—we did our own thing and we all made our own mark...so yeah, I absolutely would."
The same day, Brandy posted on Instagram a post many have interpreted to be shade: "Hey Hey Hey, #IKnowTHEREALStoryThatEverybodyDoesntKnow #NewKeyOnKeyNewMeOnMe #MissSubstance #PositivityIsTheOneThingYouShouldNotFake."
Days later, Brandy dropped more hints about how she really feels, in a series of Snapchat videos.
"I have to stay so positive, I can't say what I really feel, because I have to be so...positive!" she said in a mocking tone, then adding, "Whew, back to normal...had to get that little...off my chest. I just felt so, um, attacked. But I've been erasing and deleting and starting over because these streets. Very, very lit."
"Oh my God, Oh my God, Oh my God, Is Brandy okay? Is everything fine?'" she continued. "Yes, everything is okay. I just know that my calling is higher. I will not take credit for that. That's all God, period. So I have to stay poised. I have to choose my battles. So I'm going to choose to inspire...just be the change you wish to see in the world. Don't be shady."
Amid the drama, Brandy and Monica's fans have been trading barbs on Instagram.
And last month, at the 2016 Soul Train Awards, Brandy appeared to address the social media wars.
While performing her song "Talk About Our Love," she changed the lyrics to, "Then your whole fan base jumps in, now the whole 'gram's buzzing."
The ceremony aired on BET this past Sunday. On Monday, Monica took to Instagram to praise singer Mary J. Blige and tout their friendship, which she called #RealLOVE." Her post sparked a new thread of comments about her and Brandy.
"Monica fans stay talking about Brandy... Smh no wonder she had to address yall! Cuz these disrespectful people aren't getting checked," one person wrote.
"Love that goes BOTH ways," Monica responded. "It's disappointing to leave ICU and come to my page to see the foolishness of the 90s ever so present amongst BOTH groups . I will forever respect the legend she is & the history we created. All of you guys do the same ??She's a vocal beast and we're both great in our own right!! ??This is her moment. She earned and deserves it . No mention or @ of my name needed !!"
Also on Monday, Brandy took to Instagram to pay tribute to her friend and Cinderella co-star, the late Whitney Houston. Monica had talked about her own relationship with the singer, who she called a "fairy godmother" to many people, on the Oprah: Where Are They Now? season eight finale, which aired the same night as the Soul Train Awards.
"Everybody wanted what we had/have and I am blessed enough to have been your friend, #FairyGodDaughter and make history with you as my #FairyGodMother -- and now you're my angel--- I wish that you were here in the physical to witness so much of my courage that you stayed on me about-- but I know you are watching and I know what you expect me to do. Our bond is unmatched... I love you Nippy," Brandy wrote.
"P.S. so many people liked my performance at the #soultrainawards , I think you would have too. #fingerscrossed," she added.
And then Brandy's mother got involved.
"No Whitney wasn't everyone's Godmother, i was there and i know," she commented under another Instagram post her daughter posted Tuesday.
Many of the fans told her off.
"Don't EVER come for my Mom!!!" Brandy wrote in response to one of them. "Problem with everybody is y'all don't anything about the streets.. but I have the guts to not hide shade in class, diamonds and pearls.. I tell the truth just like it is.. with a calculated vocal. I'm honored to be recognized for this beautiful award...but I will never allow another person to belittle me publicly and have the discernment to know that that's exactly what's being done and not use my voice to defend my position as person and a polished entertainer."
"This has been going on for a long time, I'm just no longer a punk and won't allow anyone to bully me," she said. "Like I said before I will choose my battles wisely but there are some I must fight! Call it what you want... petty??? I wouldn't go with that. Always know there is something deeper and some things I know that no one else does.