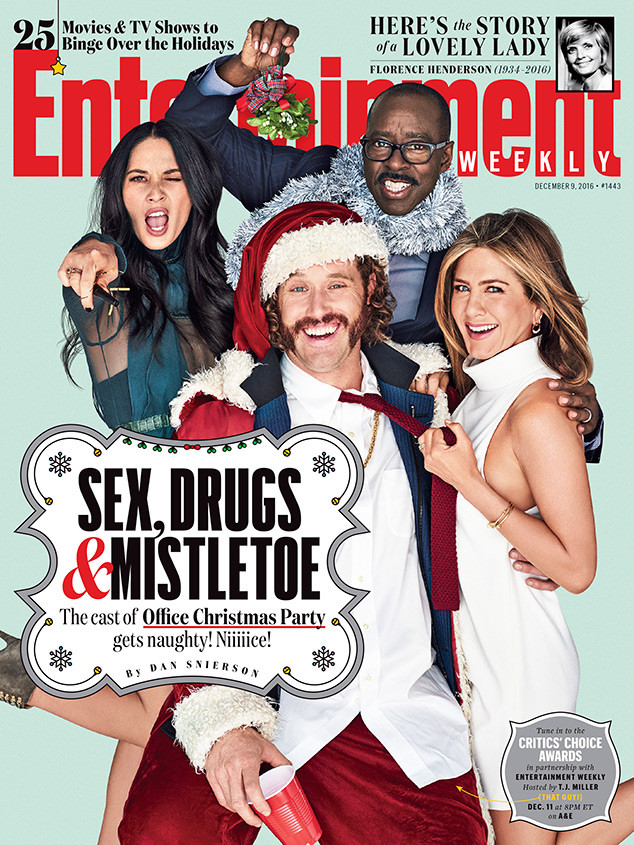 Eric Ray Davidson/Entertainment Weekly
Office Christmas Party is no ordinary holiday movie.
And Jennifer Aniston, who plays a joyless CEO, knows a thing or two about unconventional holidays. "When I was a kid, they used to make me belly dance. On Christmas Eve. My dad's side of the family is Greek, so I would dress up as a little Greek girl and then on Christmas, after taking belly-dancing classes, I would do that. It had nothing to do with Christmas, even," she recalled in Entertainment Weekly's Dec. 9 issue. "It was just, 'Let's humiliate Jen on Christmas.'"
Aniston—who joined her co-stars T.J. Miller, Olivia Munn and Courtney B. Vance for the Q&A—had similarly odd experiences on the set of the bawdy R-rated comedy. During her first day on set, for example, she was surrounded by 350 extras—many of whom were totally naked.