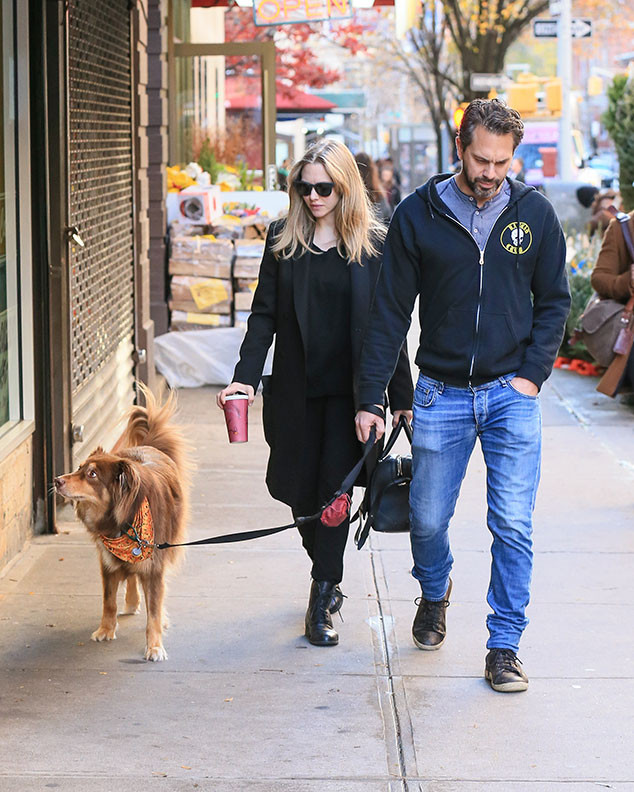 Mr. Snappy/AKM-GSI
Amanda Seyfried bundled up her baby bump in New York City Thursday.
Despite the unusually warm 55-degree temperature, the actress wore a wool coat as she and Thomas Sadoski left their apartment around 10 a.m. The outing marked the first time they've been seen together since Seyfried's rep told E! News the actress is pregnant and due next year. With her dog Finn in tow, the 30-year-old mom-to-be grabbed coffee, ignoring the paparazzi's questions regarding her due date and what she and Sadosky plan to name their firstborn child.
In the past, Seyfried has been vocal about her desire to become a mother. Now that she's actually expecting, a source says, "Amanda is very excited and happy! She's feeling really good."
In an interview earlier this week with Refinery 29, the mama-to-be revealed that her sense of smell has changed since becoming pregnant.
"I swear to god I can smell the TV. There's this static-y, metal-y scent. Do you know what I'm talking about?"
She added, "The only thing I can't tolerate is body odor. Normally it's fine—I know it'll pass or I can leave the room—but I cannot tolerate it anymore. I have a hard time with that."