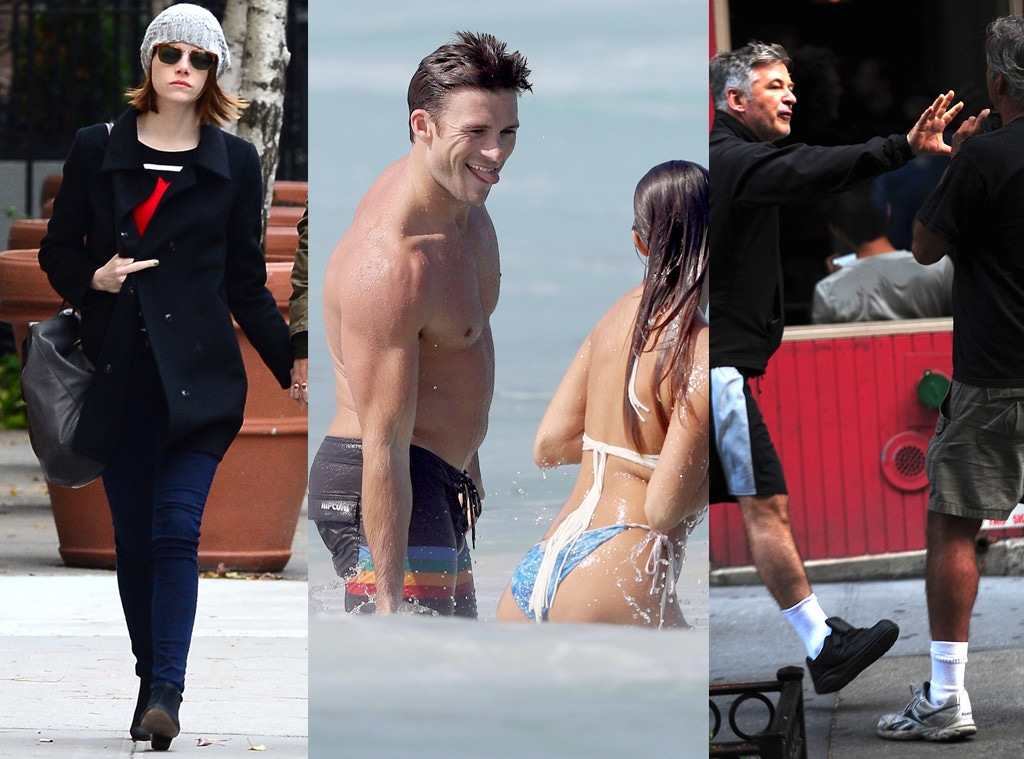 Splash; AKM-GSI
Over the weekend, Scott Eastwood called out some nosy paparazzi in Sydney after they snapped photos of him swimming around with a woman at the beach.
In the pics, the 30-year-old actor was caught sticking his tongue out as he appeared to splash her while she laughed and ran away.
"Thank you Sydney paparazzi for trying to capture my playful side, but instead making me look like a total creep," Eastwood joked on Instagram following the incident. "Can't a guy have an innocent splash fight in peace? At least let me put my tongue away next time." 
The hunky blonde is far from the first celeb to call out pesky photogs.
Check out more celeb run-ins with the paparazzi below:
FameFlynetUK/FAMEFLYNET PICTURES
Justin Bieber: The pop star has had quite a few nasty run-ins with the paparazzi, including several lawsuits that followed. 
For example, in 2012, the Biebs was accused of battery by a photographer who claimed he roughed him up and left him in need of medical attention after he tried to snap a picture of Biebs and then-girlfriend Selena Gomez. Then, in 2013, photos were captured of him lunging toward a man who verbally attacked him, having to be held back and lifted off the ground by his own security team.
Emma Stone and Andrew Garfield: Though the actress has been photographed flipping off the paparazzi before, she and her former boyfriend Andrew Garfield have also used photogs to their advantage.
In 2012, the pair held up up signs in promotion of two charities when they spotted paparazzi waiting to take photos of them outside a restaurant.
 "We just found out that there were paparazzi outside the restaurant we were eating in," the signs read. "So…Why not take this opportunity to bring attention to organizations that need and deserve it: www.wwo.org and gildasclubnyc.org. Have a good day!"
Alec Baldwin: Another on-going paparazzi offender, the actor hasn't been one to hold back when it comes to his frustration toward the photogs.
For example, in 2012, he was photographed getting into a physical altercation with the paparazzi as they shot him picking up his marriage license with Hilaria Baldwin. The paparazzo filed an assault complaint with the NYPD, charging the tempered 30 Rock after he punched him in the face.
Kristen Stewart: The 26-year-old actress stayed out of the spotlight for a while, mostly to avoid the continuous eye of the paparazzi, which she's been very vocal about despising.
In fact, in 2013, she was heard reportedly telling photogs that they "don't deserve to be breathing the same air" as her. That same year she was also photographed flipping the paps off. 
Britney Spears: During her troubled downward spiral in 2007, the Princess of Pop had a nasty public meltdown, which saw her violently attack a paparazzo's car with an umbrella. The next day, she checked into rehab.
Shia Labeouf: The Transformers star chased down a shutterbug in Washington D.C. in 2010 and then proceeded to hurl his cup of coffee at the photographer's back.
Jackson Lee / Splash News
Russell Brand: While on location in New Orleans in 2011, the funnyman approached a shutterbug who was photographing him with an iPhone. Brand then grabbed the phone and flung it through a nearby window. He was later forced to turn himself in after a warrant was issued for his arrest and was subsequently slapped with a charge of criminal damage to property.
Kendall Jenner: The supermodel was photographed leaving Paris nightclub L'Arc during Paris Fashion Week in 2016 when she was spotted getting a little aggressive with one pesky paparazzo. 
She later took to her app to explain that she had been covering her face as to not be photographed looking sweaty after her night out. When one photog took his camera and shoved it beneath her face into her "personal space," she pushed him out of the way.
"Violence is never my thing," she wrote. "I get that they have a job to do, too—but I'd love it if they gave me a break every now and then."
JUSTIN TALLIS/AFP/Getty Images
Cara Delevingne: Just like Kendall, the supermodel is never one to back down when it comes to her true feelings about the paparazzi.
She's often taken to social media to explain the many, er, aggressive things she'd do to photogs given the chance. For example, in 2015 she famously expressed her wish to pour "molten cheese" on the paps as well as egg them.
Kate Moss: While we're on the model train here, we might as well mention Moss' famous run-in with paparazzi in 2015.
The 41-year-old British supermodel was not pleased when a male photographer tried to snap a picture of her at a private Paris Fashion Week party inside Club Haussmann in March 2015.  Based on the pics, it appears she grabbed a hold of the paparazzo's jacket and pulled him towards the exit of the club.
Robert Pattinson: Similar to his ex, the former Twilight star is over dealing with the paparazzi.
In fact, when he stepped out with a group of friends in New York in 2015, one of his faithful gal-pals went to great extents to distract the photogs. She lifted her shirt and flashed the on-looking paparazzi, yelling, "Wait, take a picture of me. I'm so cute!"
Photo by Mark Davis/Getty Images
Woody Harrelson: The actor was making his way through the LaGuardia airport with his daughter after filming Zombieland and got into a reported smackdown with a shutterbug.
The cameraman ended up filing a lawsuit with the New York Port Authority Police, claiming the actor damaged his camera. A few days later, Harrelson compared the attention he gets from paparazzi to being "constantly under assault by zombies" and joked he was still in character during the run-in.
Sean Penn: The actor is known for his many spars with the paparazzi.
However, his most infamous run-in, reportedly occurred in 1986 while he was filming Shanghai Surprise in Macao.
Penn allegedly found a photographer hiding in his hotel bedroom. He dealt with the situation by dangling him from the room's ninth-floor balcony. He was then reportedly charged with attempted murder but fled the country before authorities could nab him.