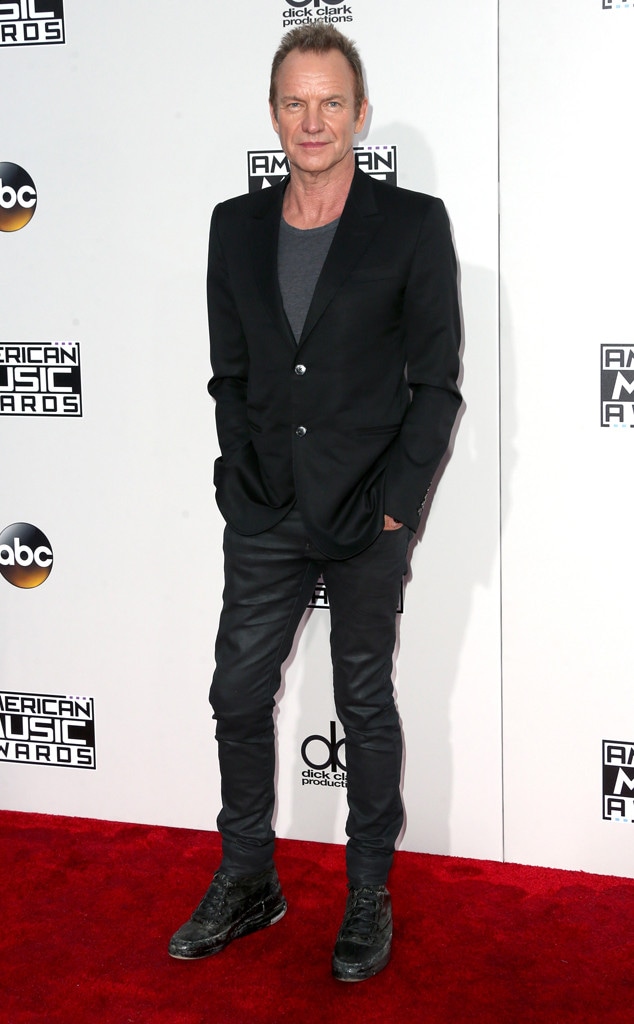 Frederick M. Brown/Getty Images
Robert Downey, Jr. was right: Sting really does like to give before he receives. 
The legendary (and still shockingly youthful) rocker was on hand at the American Music Awards to take home the 2016 Merit Award, but he just couldn't turn down the opportunity to give the people what they want: A Sting concert! After a great introduction by RDJ, he took the stage to perform a medley that included "I Can't Stop Thinking About You," "Message in a Bottle" and the irreplaceable "Every Breath You Take." 
The adoring crowd all got to their feet and bopped along, even the young stars like Selena Gomez; after all, it's impossible to have a bad time when you're listening to a Sting song. 
After he delivered the goods to all his fans, it was time to provide some wise (and non-lyrical) words. Sting decided to comment on the political climate in our country, and it was quite the subtle message of hope and love. 
"I'm deeply moved by this extravagant gesture," he started off. "It's important for me to acknowledge the very real debt I already owe to American music. After all, American music lit the spark in my young mind—this uniquely experiment, perhaps America's greatest and most influential export, rock and roll." 
He continued his poignant thoughts with what could hardly be read as anything but a thinly-veiled statement on the election.
"The doors were always open to all comers," he exclaimed. "And the spirit of welcome and inclusion is what made this country the greatest in the world. I thank you again for this honor, and promise you that while I may be an Englishman in New York, my musical soul is all-American. Thank you."
He walked off the stage to enormous applause, and with that, we are all in awe of Sting yet again.