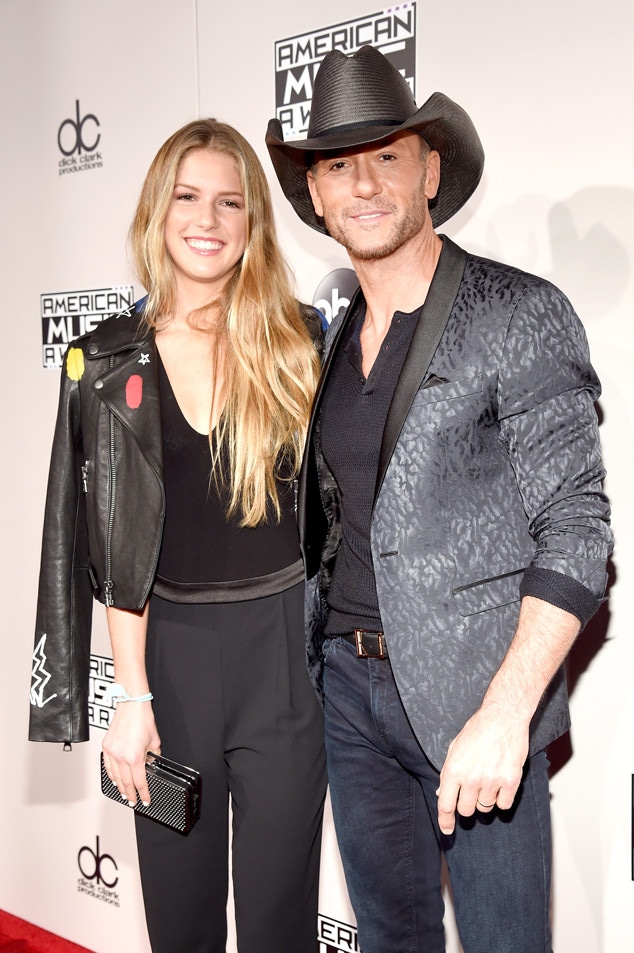 Kevin Mazur/AMA2016/WireImage
It's time for another special father-daughter night out.
Just a few short months after Tim McGraw brought his daughter Maggie McGraw to the CMT Music Awards, the family unit decided to come together for another unforgettable evening of music.
The pair traveled to the Microsoft Theater in Los Angeles Sunday night for the 2016 American Music Awards.
Before enjoying the music of Bruno Mars, Shawn Mendes and more artists, the "Humble and Kind" singer shared his enthusiasm about the evening with a selfie on Instagram.
"My date for the night!" he wrote before bracing the wet and rainy red carpet. "#AMAs #Maggie."
Once they arrived, the duo showed off their outfits that included a cowboy hat and boots for dad and a black leather jacket for Maggie.
The fun night out comes after Faith Hill recently documented her daughter's journey to college in a few unforgettable Instagram posts.
Over Labor Day weekend, the pair took a road trip where a familiar playlist was blasting in the car. How does a little "Bad Blood" by Taylor Swift sound?
While Faith and Tim have tried to keep their family life private, the Hollywood couple has gushed about their daughters on past red carpets. And after 20 happy years of marriage, this country pair is feeling nothing but grateful for their family life.
"We just think about how much we love our family, how much we love our life together, growing old together, once your kids grow up," Tim recently told E! News. "We feel pretty happy in the life that we've built together and the community we live in and the way we live our lives."
Watch E!'s live 2016 American Music Awards red carpet coverage at 6 p.m. ET/PT on Sunday, November 20th