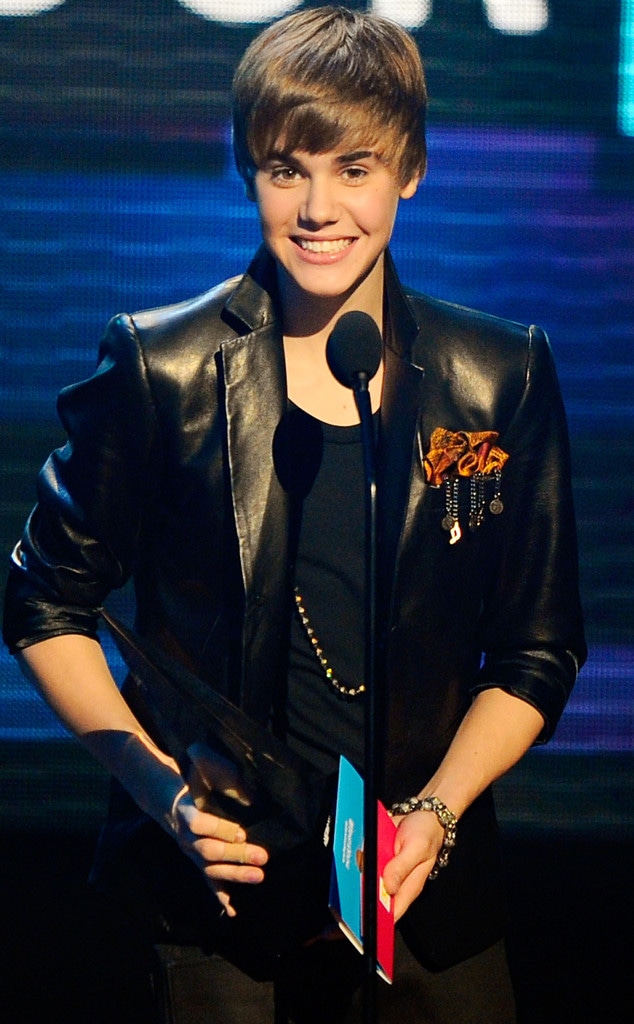 Kevork Djansezian/Getty Images for DCP
What do you mean Justin Bieber made history at his first American Music Awards?
With five nominations in his name for this year's award ceremony and eight wins already under his belt, the 22-year-old has seen incredible success at the annual show in recent years. 
However, there hasn't really been a time when the Canadian native wasn't a favorite at the event—and his first year nominated is concrete proof of that.
Rewind six years ago to 2010. The then-16 year old had transformed from an unknown Canadian YouTube singer to Usher's protégé. The teenager released his first studio album, My World 2.0, in January of that year after a string of chart-topping singles like "Baby" and "Somebody to Love" and a successful extended play. 
According to the sales, the fans were plenty in love with him as the record debuted at number one on the Billboard 200 chart. Immediately, Bieber launched into a press tour, popping up everywhere from The View and late-night talk shows to SNL and even CSI to further put a face and name to the voice.
Still, it was on the American Music Award stage that Bieber ultimately made his early mark on the music industry when he not only won all four categories he was nominated in, but also became the youngest performer to win the Artist of the Year Award in music history, beating out the year's top music stars Lady Gaga, Katy Perry, Eminem and Kesha for the award. To indicate just how fresh of a performer he was, Bieber had simultaneously won the New Artist of the Year Award. 
Kevin Winter/Getty Images
However, there was one fan in particular that he would not let go unacknowledged when he accepted the historic honor. "I really got this opportunity really about a year and a half ago and really was embraced by a man named Usher Raymond," he said at the microphone.
"I feel like he's had such an amazing career and it would be only right if I invited him up here to share it with me—not only my mentor, but my best friend and my big brother. I love you, man."
He went on to win the honor again in 2012 and is up for it this year along with Video of the Year, Favorite Pop/Rock Male Artist, Favorite Pop/Rock Song and Favorite Pop/Rock Album of the Year for Purpose.
If Bieber does take home the Artist of the Year statue instead of his fellow nominees—ex-girlfriend Selena Gomez, Ariana Grande, Carrie Underwood and Rihanna—he will tie Taylor Swift for the most wins in that category ever with three wins each. 
Never say never—right, Justin?
Watch E!'s live 2016 American Music Awards red carpet coverage at 6 p.m. ET/PT on Sunday, November 20th