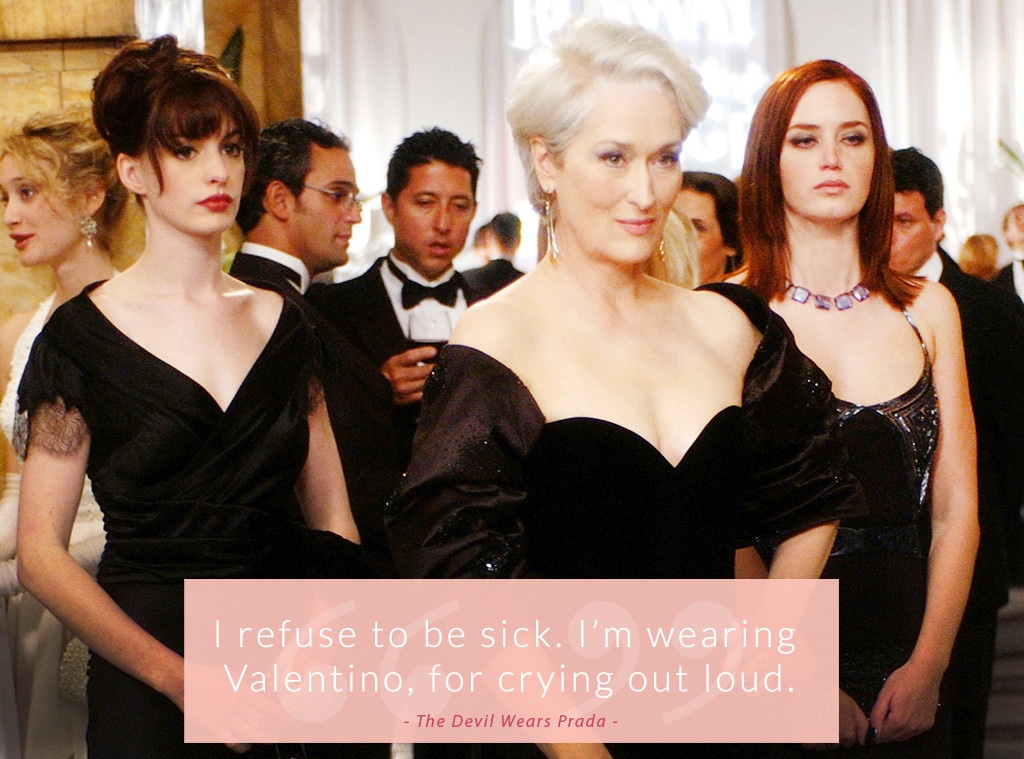 20th Century Fox
Flu face is real.
You can't help the swollen eyes, sensitive skin or red, raw nose—it's that time of year, after all. Even if you aren't feeling 100 percent, there are ways to look like your normal, healthy self…should you need to muster out of bed for some all-important occasion (like Emily Blunt's character in The Devil Wears Prada). If not, keep your germs home!
Even professional makeup can't always cure the blob our visages often become during a bout of sickness, so we turned to Dr. Haleh Bakshandeh, Medical Director of Kate Somerville Skin Health Experts Clinic, and Dr. Elizabeth Tanzi, Founder and Director of Capital Laser & Skin Care in Washington D.C., to keep the appearance of fatigue, congestion and other flu-like symptoms to a minimum.
"Tired, droopy eyes can be remedied by plumping up dehydrated skin cells with a Hyaluronic Acid serum," suggested Dr. Bakshandeh. "Hyaluronic Acid holds 1000x its weight in water. Try Kate Somerville's DermalQuench Liquid Lift, which combines Hyaluronic Acid and oxygen to instantly plump, brighten and refresh skin."
Kate Somerville DermalQuench Liquid Lift Advanced Wrinkle Treatment, $95
"To treat a red, raw nose, use an emollient barrier like Avene Cicalfate," said the Kate Sommerville expert. "It speeds up healing with active ingredients like Zinc, Copper and Sucralfate and prevents further injury by sealing the skin. First trap moisture in and keep irritants away, then you can safely cover any residual redness with makeup if needed.
"Aquaphor Healing Ointment has been around for decades and will help soothe the skin quickly," recommended Dr. Tanzi.
Aquaphor Healing Ointment, $3.11
"All that congestion that comes with a head cold can lead to water retention and an overall puffy look," explained Dr. Haleh Bakshandeh. "Look for creams with caffeine, like Glytone Antioxidant Eye Cream, or even a good DIY tea bag face mask can help get rid of the bogginess.  For the tea bag mask, steep a tea bag in warm water, squeeze out extra water and apply where needed on face for 20 minutes. Also, try sleeping with an extra pillow under your head to allow gravity to help diffuse any extra fluid."
Finally, it may seem super simple but get that heart rate up. "Exercise!" recommended Dr. Tanzi. "Even a little bit, such as 5 minutes, of movement will help reduce the bloat in the face. A solid 5 minutes of huffing and puffing will help."
Bring it on, winter cold!