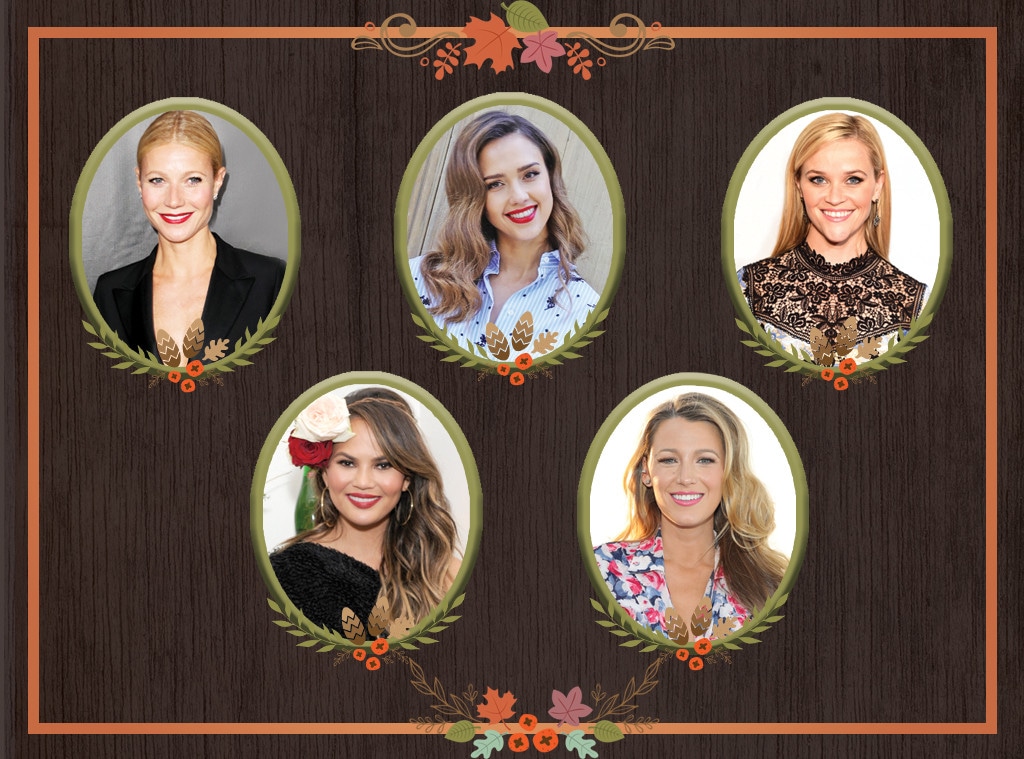 Melissa Hebeler / E! Illustration
Thanksgiving's official raison d'etre might be gathering family together and sharing gratitude for all the good things in life (or the blessing of the harvest, if you're from 1750), but everybody knows that it's really an opportunity for hosts everywhere to make all their guests feel guilty and inadequate in the face of an extravagant (and extravagantly decorated) meal.
In today's world of Pinterest and Instagram, the stakes could not be higher to throw a holiday that impresses. If we live by a philosophy of pics or it didn't happen, then we don't need to warn of the potential consequences of hosting your nearest and dearest in an environment that isn't perfectly aesthetically or palate pleasing. 
(Total and utter shame and a likelihood of never having anyone over to your house for a holiday again. There, we said it.)
This is why we turn for help to our patron saints of throwing a kickass Thanksgiving: The barons of celebrity lifestyle brands. Companies like Goop or Draper James or Chrissy Teigen LLC seem to exist solely for the purpose teaching the rest of us how to do everything better, whether it be cooking a meal or washing our children's onesies or carrying tote bags or steaming our vaginas. Sometimes it can be overwhelming to process all of these constant suggestions that we could always be more inspired, but over the holidays it is a goddamn miracle.
That's because we definitely want to be more inspired over Thanksgiving, but we also definitely don't want to think of anything ourselves. So we look to Blake and Chrissy and Gwyneth and Jessica and Reese for guidance on impressing our in-laws and getting us more Instagram likes. Of course each of these lifestyle brands aren't perfect for everybody: You're either Goop or Honest Company...you can't be both. Not on Thanksgiving. So before we tell you how to copy these lovely ladies this holiday season, you must first take our handy-dandy quiz to find out exactly which lovely lady's essence you'll be stealing. 
Follow the map below and then read on for your step-by-step instructions to a better you Thanksgiving.
Melissa Hebeler / E! Illustration
If You Got Gwyneth Paltrow:
Congratulations, you care about your health more than anyone else taking this quiz! But, not at the risk of jeopardizing anyone's good time. GP and her Goopsters know the importance of gathering loved ones together to enjoy a hearty meal, whether it's all easy or all good. To channel Paltrow on this high holiday, you must first picture yourself in the backyard of an 18th-century seaside home in the Hamptons, sitting around an also 18th-century farm table, wrapped in warmth from perfectly manicured trees and professionally-strung Edison bulbs, for we know that this is the setting of the actress' favorite kind of entertaining. 
In this scenario, artisanal soy candles are burning as guests pass around heaping wooden mixing bowls full of the freshest salads, sipping crisp white wines all the while. If you are unsure how to paint this mental picture, just ask yourself, did it happen in a Nancy Meyers movie? Good, now you've got it. 
Your Gwyneth-inspired Thanksgiving would do best with a roast chicken as its centerpiece—something ever-so-slightly unconventional and also quite a bit healthier than a turkey basted to high heaven with butter. Instruct your guests to arrive with minimal makeup and outfits constructed out of Goop Label. Prepare a playlist of Coldplay's greatest hits, and start your morning of cooking off with a green juice for good measure. 
Will your Thanksgiving ever come close to something that the legendary Paltrow would put together on even her laziest day? Absolutely not. But everybody has to start somewhere, and trying this dinner is certainly easier than the vagina steam.
If You Got Jessica Alba:
Organic, organic, organic. And organic and organic. In fact, you can probably cook whatever you freaking feel like, so long as you know the exact origin of every ingredient. You don't want to run the risk of a pesticide sneaking into the mix on this most important of days. Begin by doing all of your shopping at the local farmers market, and please, if you do nothing else, wear your best casual farmers market outfit. Overalls, a chic Breton shirt and those metallic Birkenstocks at the very least—does Jessica not deserve that? If you have two beautiful children to tag along with you it's all the better, but no judgment if you don't. This is last minute after all. 
After you've researched the origins of your produce, spend several hours perusing the ingredient list on your dry goods. Then wash your table linens in sulfate-free detergent and place a bulk order through The Honest Company. Get one of everything: fruit and veggie wash, dish soap, bubble bath, dryer cloths, hand wipes. Your guest shouldn't walk through a room without being absolutely sure that everything in it is non-toxic. We also highly recommend the vitamins; set them out in a decorative bowl with your appetizer spread to encourage friends and family to ensure a healthy future while they gorge on roasted cashews. 
If You Got Reese Witherspoon:
Get thee to the Draper James online store, stat. Reese is perhaps the easiest celebrity essence to steal this holiday season, because we not only know exactly how she likes to entertain but you can literally buy her clothes to dress exactly like her. While prints are a nonnegotiable, might we suggest going with a lovely sheath dress? If you prefer pants, make sure that at least one piece of clothing is floral. 
Next up: Tea. Serve it early and serve it often. And definitely, definitely serve it with those adorable striped paper straws. Once you've secured the day's tea lineup, focus next on the tablescape. Bigger is better here: You don't want to see one speck of antique wood (or whatever material your table is...but seriously, it should be antique wood) peeking through the array of place mats and napkins (with Southern-themed napkin rings—you're not an animal) and votives and decorative pumpkins and decorative gourds and decorative maize and probably some pine garland for good measure. 
You should also ensure that your cutlery shines like the top of the Chrysler building and that all (we repeat: all) of your glassware matches and that your service plate stands out but doesn't overshadow your dinner plate. As for the food...well, who cares. Honestly, go ahead and order from your favorite caterer, so long as butter is the main ingredient in everything and you have at least one dish with the word "cornbread" in the name. After all, as even Reese herself says, "It only has to look like you spent all day in the kitchen."
If You Got Chrissy Teigen:
You better acquaint yourself with carbs! The theme of your Thanksgiving is Treat Yourself, Because It's a Special Occasion and You Deserve to Eat Like a Queen. Good luck fitting that onto your Paperless Post. 
Hosting a Chrissy-themed party is easy, because although she doesn't own a lifestyle brand per se, she does have a phenomenal cookbook and she shares almost every aspect of her enviable life on social media. One can simply crack open a copy of Cravings: Recipes for All the Food You Want to Eat and pick out the recipe of their choice. Sure, there are a few dishes that don't exactly belong at a harvest-themed holiday, like fish tacos or Dutch pancakes or Sriracha Caesar salad, but honestly who cares? You run this show and you'll serve fish tacos if you want to.
(Except you probably shouldn't).  
For this dinner party, there's really no need to worry your pretty little heads about things like decorations or place settings and the like. Make sure your house looks nice and maybe burn a seasonal candle, sure, but the food is the main event. You'll want to prepare yourself a grocery list because there's a good chance that your cart is going to look somewhat different than the norm. It will probably be something like this: Butter, sugar, brown sugar, flour, more butter, heavy cream, a deep fryer, cheese, butter again, and several different types of breads for good measure.
Then, make sure your smoke detectors are in tip top shape (the deep frying...duh) and get ready to experience palate pleasure like never before. 
If You Got Blake Lively:
Just because Preserve shuttered over a year ago doesn't mean that you can't celebrate its spirit over the holidays. To capture the very essence of Preserve is simple: Just repeat the mantra "Artisanal" at the top of every hour for the week leading up to the big day. Then put on your best Aztec prints and floppy fedora (in an autumnal color!) and get to work. Begin with the crafting—carefully arrange decorative gourds, glue glitter onto sprigs of wheat, make yourself a banana, oat and honey face mask (okay, that part's just for you). 
The next step is baking; the cornerstone of a Blake Lively Thanksgiving is the baked goods. Biscuits, muffins, pies, cookies, scones...you need some of everything. If you have time, head upstate (in whichever state it is you happen to live) to pick fresh berries for all these aforementioned pastries. Trust us, your guests will know whether you trekked through a farm or whether you just went to Whole Foods.  
We know what you're thinking here: Bread is great, but unless one of my guests is Oprah Winfrey, aren't they going to want something else to eat? Possibly, but why serve the same boring mashed potatoes when you could serve a mixed berry shortcake with hand-clotted cream? Exactly. 
And if you ever lose your way on the path to throwing this dinner party, simply steer yourself back by picturing yourself taking a brisk fall walk through the leafy streets of the idyllic Bedford, New York with Ryan Reynolds at your side. He'll guide you.