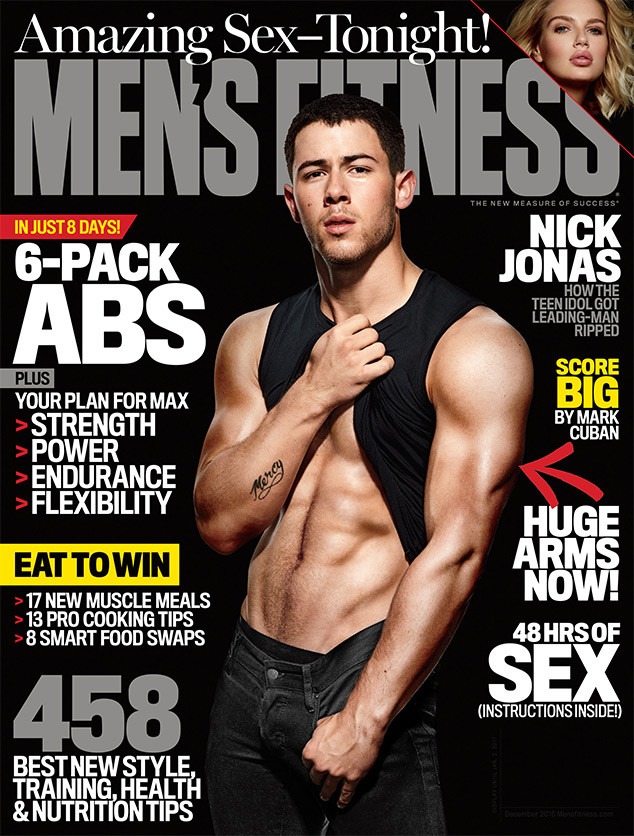 Men's Fitness
Nick Jonas has us in chains for his six-pack.
The "Jealous" crooner and his washboard abs appear on the December cover of Men's Fitness, and we might never be the same. Sure, we've seen Nick's gym-toned torso quite a few times over the years, but a little more Jonas eye candy couldn't hurt anyone, right?!
In the snapshot, the 24-year-old lifts his black muscle tee to reveal a bod that just won't quit, in addition to his bulging pair of biceps. Nick also rocks a pair of skintight jeans and exposes a tattoo of the word "Mercy" on his forearm. Happy hump day, y'all!
Looking to get ripped like Nick? His advice is fairly simple: "It's important to stay in your lane. One philosophy [trainer] Gregg [Miele] teaches that I really appreciate is that everybody's got a different approach to fitness. No one way is wrong. Being competitive is good, but it can also leave you sore and struggling to recover."
Jonas added, "Your body feeds off that recovery time, so don't push yourself so hard just to do better than the guy next to you in the gym." Noted. 
Back in April, the musician spoke to E! News' Marc Malkin exclusively about his fitness and nutrition regimen. 
"Today was a cardio day—a sauna suit under layers of sweat suits to get cut up a bit and weight training," Jonas revealed, adding that he hits the gym three times a week. "I do a circuit of high heart rate exercises and building muscle."
As for his diet, Nick said that although he's known to fall off the wagon every now and then ("Cake is really great"), Jonas' menu has got to be chock-full of leafy greens and protein when you've got a bod like that. 
For more from the Hollywood hunk, check out the current issue of Men's Fitness on newsstands later this week.