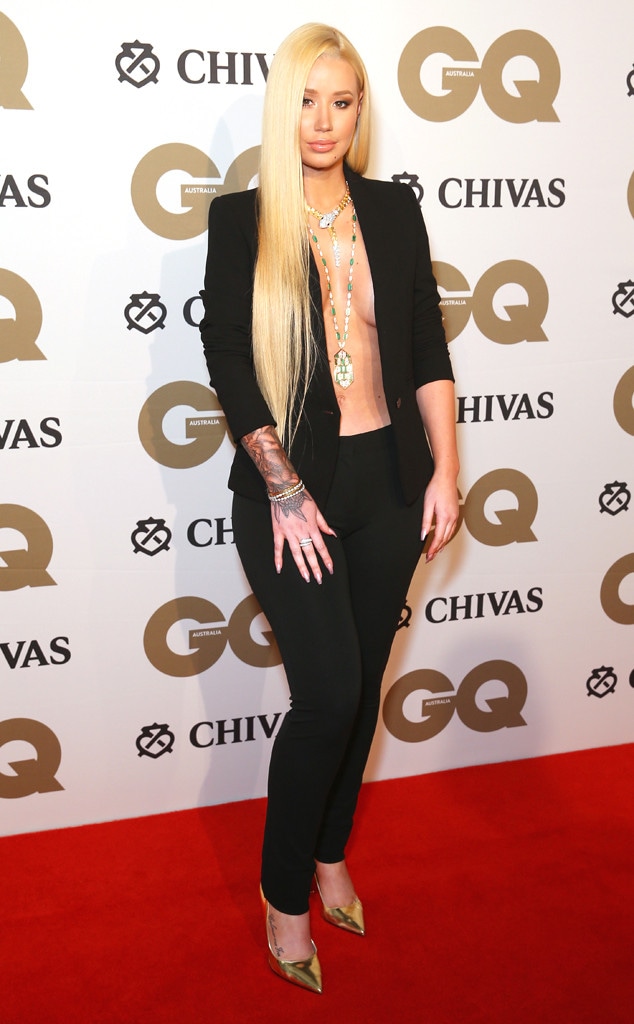 Don Arnold/WireImage
Iggy Azalea is proud of her body.
After being crowned Woman of the Year at GQ Australia Men of the Year Awards Wednesday, the rapper celebrated her body instead of her award. "I've got the best vagina in the world," she told The Daily Telegraph after accepting her trophy. "I have won a lot of awards over the last few years but this one means the absolute most to me because I can finally say I have an award-winning vagina."
In addition to speaking so candidly about her lady parts, Iggy left little to the imagination when it came to her ensemble. Although she was covered up down there, the "Black Widow" performer nearly bared all in her blazer. Iggy went completely topless and braless underneath her unfastened jacket, putting her cleavage and stomach on full display.
Watch:
Iggy Azalea Dishes on French Montana and X Factor
Iggy accessorized her bare chest with two gorgeous pieces of jewelry: a Bulgari snake choker and a diamond and emerald necklace that draped down to her navel. She also wore two diamond tennis bracelets and a diamond ring on her middle finger.
Fortunately, Iggy didn't suffer any wardrobe malfunctions.
Although she wore her risqué outfit with confidence, Iggy revealed last year that she doesn't always feel that strong.
"I don't know. Some days I just think I want to crawl into a cave because I don't feel confident at all, and then other days I feel great," the Aussie pop star admitted to Today Australia. "I think it's like that for all human beings, not just young women. I think feeling confident or 100 percent every day is something to aspire to, but I don't know if it's humanly possible for anybody. And I think it's just having that honest moment with yourself and other people and almost admitting and embracing your flaws or the things that you sometimes feel bad about can empower your own self."