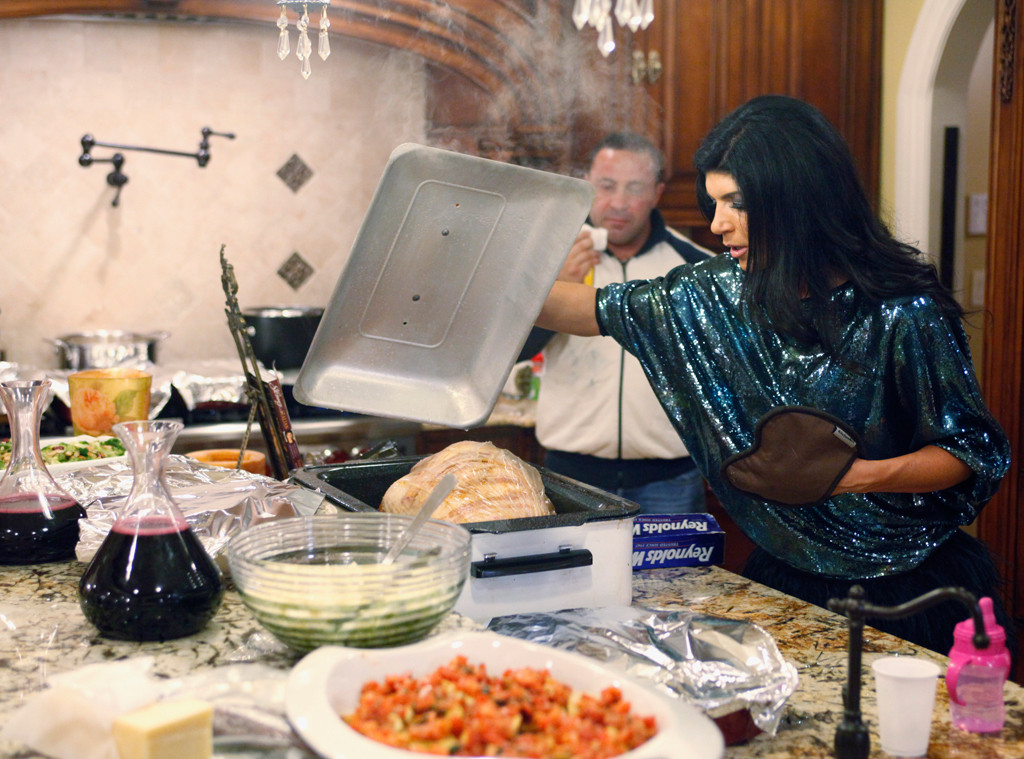 Heidi Gutman/NBC/NBCU Photo Bank via Getty Images
When it comes to the holidays, the Giudice's turn to an Italian classic. 
Whether it's Christmas Eve or just a regular night for her family of six, Real Housewives of New Jersey reality star Teresa Giudice channels her roots to feed her famous clan. 
"As you know by now, Joe and I like things spicy," she wrote in her cookbook, FABULICIOUS: Teresa's Italian Family Cookbook. "This is one of our favorite meals—great for the entire family or just a romantic dinner."
The dish is devil shrimp with angel hair pasta in an arrabbiata sauce. To add ease to taste, the recipe only calls for a few simple ingredients, makes enough to feed six and only entails four steps. Basically, you'll be done in the time it takes to say buono!
Without further ado, let's begin:
The ingredients needed include:
two tablespoons of extra virgin olive oil
one pound medium (21 to 25 count) shrimp, peeled and deveined
two garlic cloves, minced
three cups of Snappy red sauce
1/2 teaspoon of red pepper flakes, or more to taste
1/4 teaspoon freshly ground black pepper
one tablespoon freshly squeezed lemon juice
salt
one pound angel hair pasta
1. Bring a large pot of lightly salted water to a boil.
2. Meanwhile, heat one tablespoon of oil in a large saucepan over medium-high heat. Add the shrimp and cook, turning once, until it turns opaque, about three minutes. Transfer to a plate.
3. Add the remaining tablespoon of oil and the garlic to the saucepan and stir until the garlic is softened but not browned, about 30 seconds. (The pan will be hot, so be careful not to burn the garlic.) Add the tomato sauce, red pepper flakes, and black pepper and bring to a boil. Reduce the heat to medium-low. Return the shrimp to the sauce pan and stir in the lemon juice. Cook just to heat the shrimp through, about one minute. Season the sauce with salt, and add more red pepper flakes if you want the sauce really devilish. Remove from heat. 
4. Meanwhile, add the pasta to the water and cook according to the package direction until al dente. Drain well. Transfer the pasta to individual bowls and top with the shrimp and sauce. Serve hot.