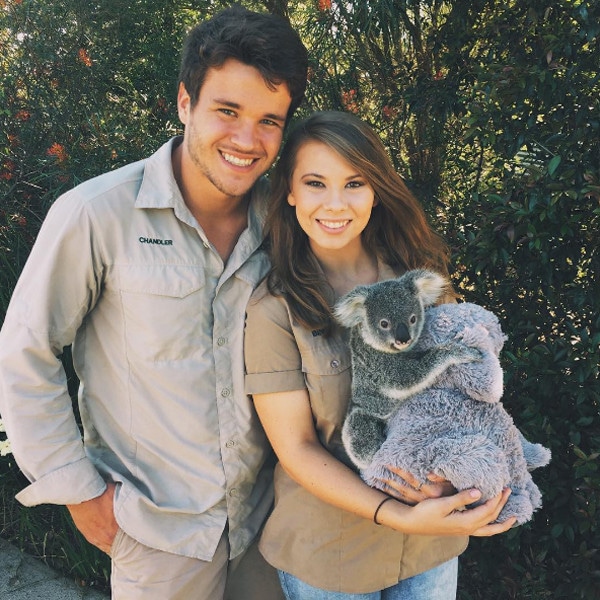 Instagram
Bindi Irwin is in love and she doesn't care who knows it!
The Dancing With the Stars winner and her boyfriend Chandler Powell are together and going strong. The couple celebrated Powell's 20th birthday over the weekend, and both took to social media to gush about each other. Sharing a picture of her, Powell and an adorable koala bear, Bindi wrote, "For 20 years you have brought endless amounts of light into this world. I am thankful every day to have you in my life. We've travelled the world together and had some of the most extraordinary adventures. I'm so excited to continue on this beautiful journey with you."
The 18-year-old star added, "Your kindness and strength is inspiring, and your smile will always be my favorite. Happy birthday my sunshine, you're amazing." 
Although it was the professional wakeboarder's birthday, he also took the opportunity to give his girlfriend a heartfelt shout out. "20 years old will definitely be the most difficult age for me to get used to thus far...I couldn't have asked for a better way to spend it than living in the middle of nowhere for a few days with my girl @bindisueirwin," he wrote. "She sure knows how to give me an amazing birthday."
The happy couple spent Powell's birthday hiking the Great Dividing Rage and then settled in to watch the supermoon rise high into the sky.
Bindi and Chandler also planned on spending Steve Irwin Day together at the Australia Zoo. In May, Bindi opened up to E! News about her boyfriend. 
"I'm really lucky. I have the best boyfriend," Bindi gushed. "Chandler is still with me, and we've been together quite a few years now, and I'm lucky."
Her mom, Terri Irwin, also weighed in on what Steve would've thought. "I think because Chandler's a nice person and really kind to Bindi that he'd be very happy," Terri expressed. "What's kind of ironic is I was talking to Chandler's mother, and he was an avid Crocodile Hunter fan when he was little. So he used to put on the big khaki shirt and go to school when he was in first grade and pretend to be Steve."