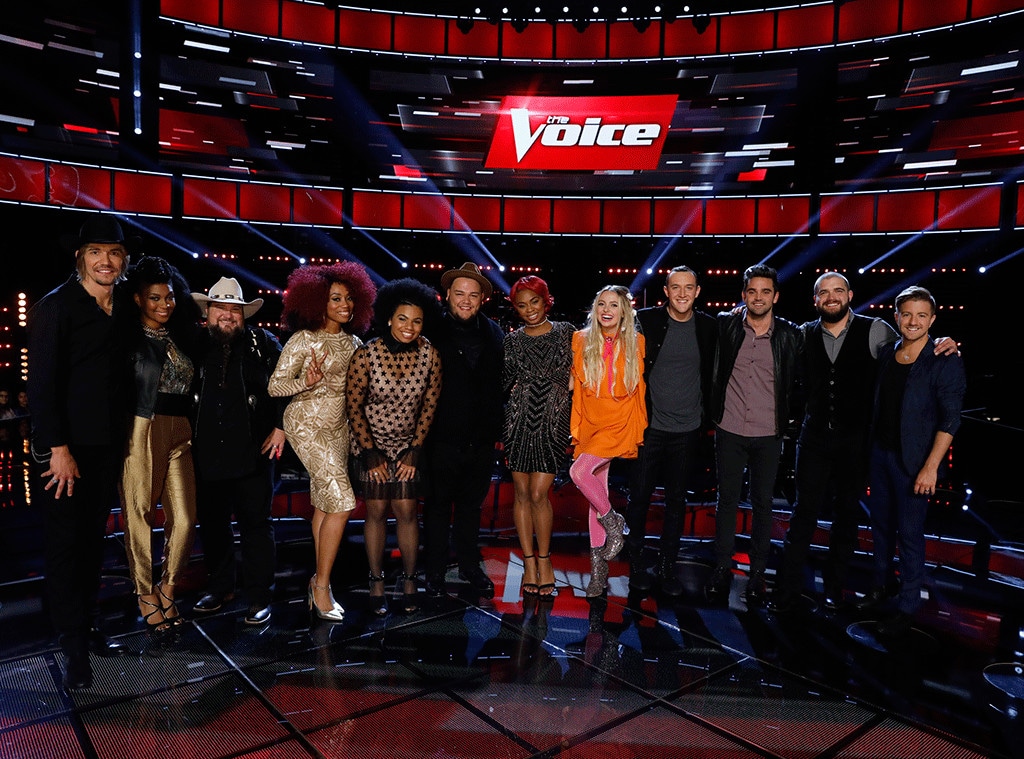 NBC
The Voice finally narrowed down its talented crop of contestants in last week's brutal Live Playoffs, knocking the field down from 20 to 12 in a rushed live vote that gave us real-time results on Election Day eve. Sorry, West Coast, if you didn't agree!
If you haven't been watching through the Blind Auditions, the Battle Round, the Knockout Round and finally the Live Playoffs, it's okay—we've rounded up one of the best performances from each of the remaining singers so you can preview all of them before tuning into the first live competition tonight.
Going into the Top 12 show, who has your vote? Who do you think should be first to go home? Leave your thoughts in the comments below!
Brendan Fletcher, 26, Brooklyn, New York
The New York City bartender sang a song called "Jolene" that wasn't the Dolly Parton one, which is a real shame. But he grew stronger throughout the next few rounds. The sexy singer and his gritty voice won his Battle Round with the Marc Broussard tune "Home."
Josh Gallagher, 25, Cresson, Pennsylvania
Adam Levine stole this country singer from Blake Shelton after Team Blake's Top 12 finalist Sundance Head beat him in the Knockouts. But there's a reason he's still around—and that the public voted him through the Live Playoffs for his cover of Zac Brown Band's "Colder Weather."
Billy Gilman, 28, Richmond, Rhode Island
You might recognize this seasoned singer—and not from his nearly flawless cover of Adele's "When We Were Young" in his Blind Audition. Gilman was a pre-teen country star who toured with Billy Ray Cyrus in the early '00s and is a true threat to win. Just take his cover of Roy Orbison's notoriously difficult "Crying" from the Live Playoffs—he's one to watch.
Christian Cuevas, 20, Orlando, Florida
This young singer grieving the recent loss of his father to cancer closed out the premiere Blind Audition episode, and his emotional rendition of "How Am I Supposed to Live Without You" was a lovely tribute to his dad, who was also a singer.
We McDonald, 17, Paterson, New Jersey
We saw this sweet teen in the sneak peek episode of The Voice that aired after the Rio Olympics Closing Ceremony, but it's worth reliving her transformation from upbeat high-schooler to powerful belter with a rich, deep voice on "Feeling Good." After a four-chair turn, We wisely chose fellow teen phenom Keys as her coach.
Sa'Rayah, 28, Chicago, Illinois
You could honestly pick any one of Sa'Rayah's performances as an example of her talent, since she's so consistently good, but we're partial to her absolute incredible Knockout Round performance of Chaka Khan's "Ain't Nobody."
Austin Allsup, 32, Fort Worth, Texas
This country singer is radio-ready—just take his cover of John Fogerty's "Bad Moon Rising" from the Battle Rounds, where he beat Nashville native Preston James.
Sundance Head, 37, Porter, Texas
This Texan singer is no stranger to reality singing competitions—he memorably competed on season six of American Idol. His soulful country voice was an unexpected but perfect choice for his Knockout Round cover of coach Miley Cyrus' "The Climb."
Courtney Harrell, 36, Los Angeles
Shelton chose this R&B singer to be his third top 12 finalist—a departure from his other two contestants. Harrell is an experienced songwriter who put her own singing career on hold when she got pregnant as a teenager—and if you listen to her killer Knockout Round performance of "River Deep, Mountain High," you'll know it's her time to be in the spotlight.
Aaron Gibson, 25, Atlanta
The gravely-voiced crooner has a tinge of Phillip Phillips in not only his voice but his penchant for '90s tunes. Check out his "Losing My Religion" audition and see for yourself.
Ali Caldwell, 28, Brooklyn, New York
This sultry version of Ariana Grande's "Dangerous Woman" got all four coaches to turn around in the Blind Auditions.
Darby Walker, 17, Burbank, California
This teen has had her ups and downs through the first rounds of competition. Certainly the Live Playoff round was not the best for the singer with a very Florence Welch-esque tone, but watch her Blind Audition of "Stand By Me" to remember why Miley chose her in the first place.
The Voice airs Mondays and Tuesdays at 8 p.m. on NBC.
(E! and NBC are both part of the NBCUniversal family.)