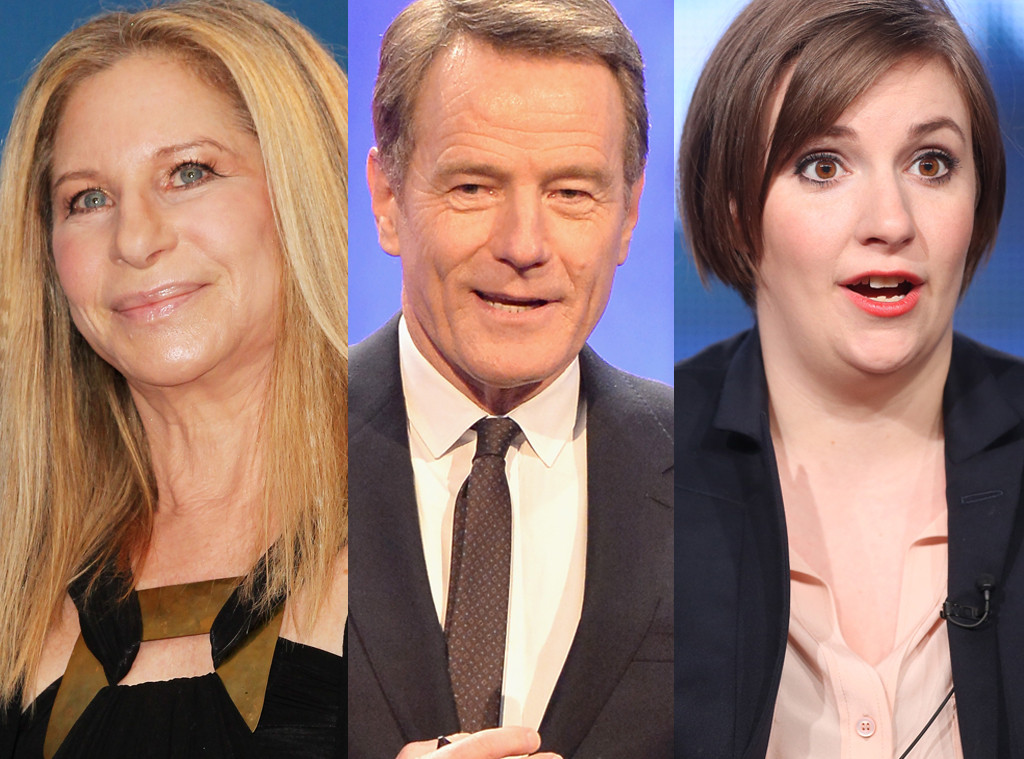 Getty Images
Is Canada poised to become the next Hollywood? Perhaps, if these stars stick to their promise. 
Donald Trump will become the 45th president of the United States, a victory for the GOP that's been met with strong reaction from both Republican and Democrat A-listers. Ahead of Tuesday's Election Night and in the aftermath of finding out poll results, celeb voters who presumably weren't in support of a Trump presidency spoke candidly about ditching Tinseltown for our neighbors to the North. 
Canada has reportedly braced its borders for an influx of Americans, though no word yet on how Justin Bieber and Drake will welcome fellow actors, musicians and comedians into their native country. Take a look at nine celebrities who claim they'll trade green juice for maple syrup and beachfront properties for greener scenery below: 
Rex Features/ZUMAPRESS.com
Bryan Cranston: When asked if Vancouver seemed like a viable four-year retreat, the award-winning actor told told The Bestseller Experiment podcast, "Absolutely. I would definitely move. It's not real to me that that would happen. I hope to God it won't. It wouldn't be a vacation. I'd be an expatriate."
Cranston, who also exclusively revealed to E! News playing the now-president elect is his dream role, added, "There will be books written, movies made. I'm telling you, there will be theatrical productions about Donald Trump because of the anomaly that he presented."
Jemal Countess/Getty Images
Lena Dunham: An outspoken Hillary Clinton supporter, the Girls star told audience members at the Matrix Awards in April, "I know a lot of people have been threatening to do this, but I really will. I know a lovely place in Vancouver and I can get my work done from there."
Kevin Mazur/Fox/Getty Images for Fox
Ne-Yo: The R&B artist didn't hesitate to express his Canadian-inspired plans when he told TMZ, he will  "move to Canada straight away" if Trump wins, adding, "Me and Drake gonna be neighbors if Donald Trump becomes president. The unfortunate thing about this planet is that we are in no shortage of ignorance. I mean the fact that anybody supports [Trump] at all is ridiculous to me." 
Theo Wargo/Getty Images for Tony Awards Productions
Barbra Streisand: The Broadway legend shared her reason for wanting to buy a one-way ticket to Canada in an interview with an Australian journalist where she revealed, "He has no facts. I don't know, I can't believe it. I'm either coming to your country, if you'll let me in, or Canada."
Raven-Symoné: Now that Trump is headed to the White House, the actress and former View fixture might have to rethink her plans to reboot a That's So Raven spinoff. "My confession for this election is if any Republican gets nominated, I'm going to move to Canada with my entire family. I already have my ticket," she told her fellow talk show co-hosts back in February. 
Symone even partnered up with ABC News for a recent segment about what life would really be like living in Vancouver, hockey and lumberjacks included. 
Alberto E. Rodriguez/Getty Images for A&E Network
Josh Gad: As the chances for a Clinton presidency grew slimmer, the Frozen actor took to Twitter with a request regarding his next venture. "Looking for a great realtor in Canada," Gad wrote, later tweeting, "Goodnight America. I hope I'm wrong about what we did tonight. I hope I'm wrong about the consequences. But we have to stand together united."
Sonia Moskowitz/Getty Images for Kenzo
Chloe Sevigny: "Nova Scotia" is where the actress has set her sights, a simple answer to a question posed by Vanity Fair. 
Buchan/Rex Shutterstock via ZUMA Press
Keegan-Michael Key: For the comedian, the prospects of moving to Canada is an "easy" decision. "It's like 10 minutes from Detroit and that's where I'm from," Key told TMZ in early 2016. 
Larry Busacca/Getty Images
Neve Campbell: The Scream star claimed she'll head back to her hometown of Guelph if Trump were to succeed, because as she admitted to the Huffington Post U.K., "I'm terrified. It's really scary. My biggest fear is that Trump will triumph."
"I cannot believe that he is still in the game. I cannot conceive of how that's possible," Campbell added.