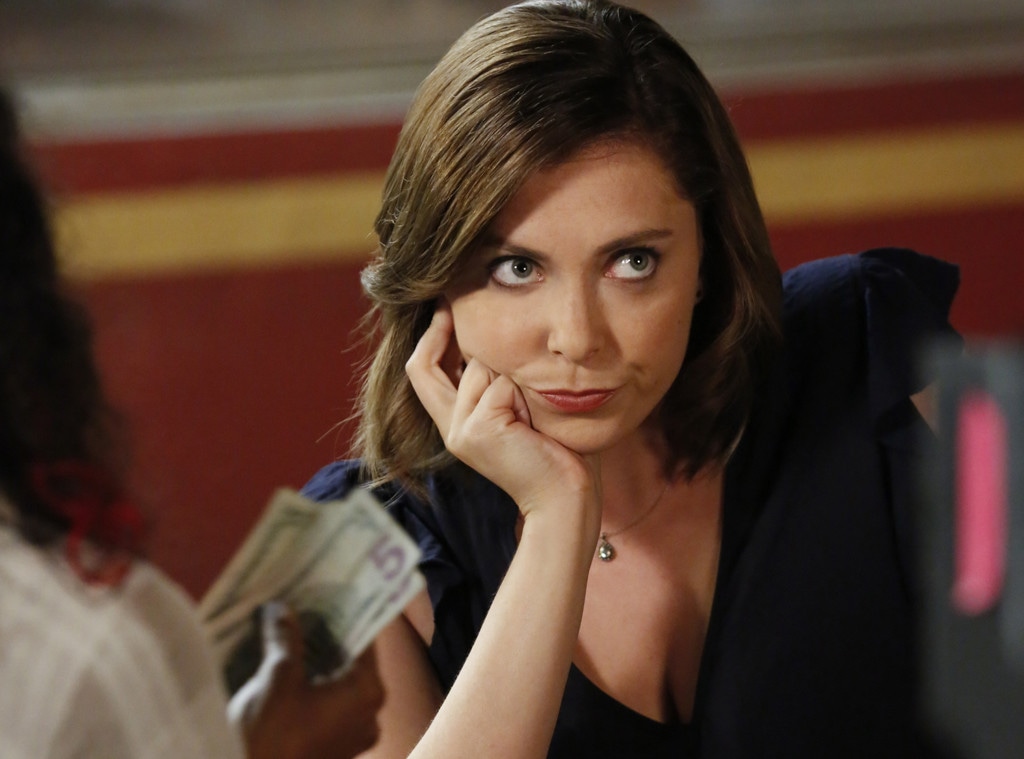 CW
Rachel Bloom is on a wild ride. It started the day The CW picked up her series, Crazy Ex-Girlfriend, and hasn't stopped since. As the ride sped up, there's been loads of critical acclaim, a Golden Globe win for Best Actress in a Comedy, a Critics Choice Award, a Television Critics Association award and two Emmys, one for editing and one for choreography, for her CW series. What happens next? There's almost no time to worry about the second season of Crazy Ex-Girlfriend and the pressures that come along with it, Bloom said.
"There definitely was a sense of—for the past year and a half in some ways—no time to process, which is why I will be taking a long vacation in December where I will finally process [Laughs.] everything that's happened in the last year and a half," she told E! News after a performance and Q&A at Feinstein's/54 Below in New York City. "My life has changed astronomically and I still feel like I'm in a little bit of a daze where I'm hanging on to the end of the roller coaster, you know?"
About a year and a half ago, Bloom was known to smaller crowds for her YouTube videos—those videos are what got Crazy Ex co-creator Aline Brosh McKenna's attention—and now it's Golden Globe winner Rachel Bloom, star and co-creator of her own TV show.
"There's not really time to adjust. It's gone so fast. All I can do is just kind of react and try and stay grounded. I think my husband is very important. I'm in a relationship that makes me feel secure, he writes on my show, we're actually filming his episode right now," she said. "And that's just coming back to I have people working on the show who I was friends with before the show…it's things like that. I've been very reactive, and also this is just what I've always wanted, so there is a little bit of still, 'Oh my god, I get to do this!'"
By "this," she means writing and creating her own TV show. Bloom and Brosh McKenna conceived the character of Rebecca Bunch, a high-powered attorney who leaves her job and moves across the country in hopes of rekindling a romance with her ex-boyfriend from summer camp, together, but the show and role are "very personal" for Bloom.
"A lot of emotionally and there's a lot of mannerisms on the surface," she said of the similarities between her and Rebecca. "I would say if you compared my life to hers, maybe 15-20 percent, but just the way that I approach the world is very myself. She's very much my id and she's a mixture of me and Aline in so many ways."
Rebecca Bunch is flawed. And that's certainly the point. Bloom counts shows like Breaking Bad and, particularly, The Comeback, shows with anti-heroes at the center, as inspirations. The character spent much of season one denying she moved to West Covina, California because she was in love with Josh (Vincent Rodriguez III), but when she finally admitted it to herself, she got what she always wanted.
"Season one is all about denial and season two is about, 'OK, she's gotten what she wants, how does she hang on to it,' or what she perceives is hang onto it…We can do outward love songs, we couldn't do that in season one because for a lot of season one she was completely in denial…There are things that we can do in every episode this season we couldn't have done before," Bloom said. "It's just pushing ourselves, always going for new things."
Those new things include a Lemonade-like musical number that would do Beyoncé proud, a Marilyn Monroe homage and a sweeping Disney-esque song that has lyrics about menstrual cramps and needing to poop.
"We have a ballet coming up soon that is incredibly ambitious to the point where we've never done anything like it and I'm really excited," she teased. And nothing is off the table, at least in terms of being taboo.
"No, it's just if it's funny and it feels earned," she said of the show's comedy. "There are things we legally can't show, and there's FCC violations, but we work with them. If a song really demands a dirty version we'll post it online, but we stopped doing it just a little because of costs…it's all context. It's like when people say you can't tell a rape joke. It's like, well, what are you talking about. Is the butt of the joke that rape is funny? You can tell that. It's frankly trite in addition to being offensive."
Bloom went into Crazy Ex-Girlfriend with a four-season plan. "It's four at most. It's a series that lives in being finite," she said. "It's because Aline's a screenwriter. She was like, 'I just want to map out the whole series.' We spent months just marinating the characters and really mapping it out. Our ratings aren't amazing, so I don't think CW would be like, 'Please give us 10 seasons!' It works to our advantage in that sense."
While Bloom admits there is some leeway with the arcs mapped out, there is one thing she can promise: there is no twist involving the musical numbers.
"I promise you that's not the big twist at the end of the series is that this whole thing is in her head. This whole thing has happened," she said.
Got that? This isn't in Rebecca's head as fans theorized after seeing the character dump her medication in the pilot.
"Yeah, so what's happened with the music videos is as you're kind of infected with Rebecca's madness you see music for yourself. So, off the bat Paula saw her song because Paula was simpatico of her. Once you're touched by Rebecca—like Greg's first song is 'Settle for Me' because he's touched by Rebecca. Paula didn't need Rebecca, the song was always in her. She just needed Rebecca to bring it out," Bloom said. "I've never said it like that. That's really true."
Crazy Ex-Girlfriend airs Fridays, 9 p.m. on The CW.