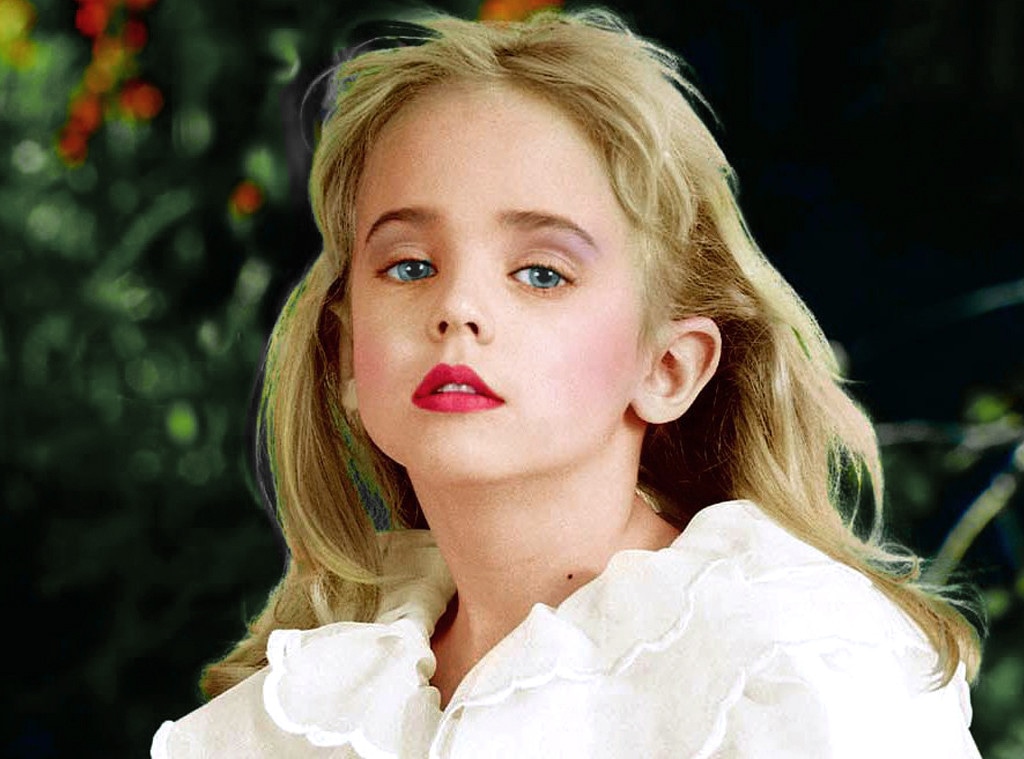 Splash News
Hey, TV network presidents: Can we talk for a second?
We here at E! News know how much you love a good trend. Something connects with an audience for one of your competitors and you've just got to chase after it with a similar project of your own. And there is nothing hotter than true crime right now. We can't get enough of it, so we don't judge you for taking any opportunity available to feed our ravenous appetite. But we've got a request to make: Please can we let poor JonBenét Ramsey finally rest in peace?
Look, we get it. What better time to trot out an infamously unsolved murder that captivated the nation at the time than its 20th anniversary? The renewed interest in the tragic tale of a little pageant princess gone missing, only to be found dead in the basement of the very home she was supposedly snatched from, however morbid, makes sense. Hot off the heels of Serial, The Jinx, Making a Murderer, and The People v. O.J. Simpson, a reexamination of the tragedy and its ensuing tabloid fodder is exactly the sort of thing you'd pounce upon. And pounce you did.
A&E kicked things off in September with a two-hour special that, like many that would come after it, seemed to promise a delivery of facts heretofore unearthed in the case. In the special, entitled The Killing of JonBenét: The Truth Uncovered, the truth was, in a portentous sign of things to come, predictably not uncovered.
Next came the double whammy of Investigation Discovery's three-night JonBenét: An American Murder Mystery (complete with an interview with the creepy John Mark Karr, who confessed to the murder in 2006, but was ruled out as someone just looking for some attention) and Dr. Phil's three-part interview with Burke Ramsey, JonBenét's older brother who's remained central to a theory that the Ramseys were covering up the accidental (or perhaps not) death at the hands of her sibling. Rather than offer anything truly new, the Burke interview seemed to be a preemptive strike against the impending CBS special that has Burke in its cross hairs.
By the time The Case Of: JonBenét Ramsey hit CBS in mid-September, it had very little to offer aside from some admittedly startling revelations about the odd 911 call and the even odder ransom note. (If the fact that, just prior to the premiere, the special was trimmed from its original six hour running to time to simply four isn't an indication of its needlessness, we're not sure what is.) The team, which included retired FBI supervisory special agent and profiler Jim Clemente; world-renowned forensic scientist Dr. Henry Lee; former chief investigator for the District Attorney in Boulder, Colo., James Kolar; leading forensic pathologist Dr. Werner Spitz; retired FBI supervisory special agent and forensic linguistic profiler James Fitzgerald; former New Scotland Yard criminal behavioral analyst Laura Richards and retired FBI supervisory special agent and statement analyst Stan Burke delivered their verdict on night two of the two-night special.
As expected, they revealed they felt certain that Burke had unintentionally killed his sister, prompting John and Patsy Ramsey to spring into action and cover the whole thing up. But did CBS' dream team really do anything to bring JonBenét justice? You probably know the answer to that.
"I'm a linguist and words mean things, so it's how we define solve," Fitzgerald told E! News at the time. "It's going to be up to a prosecutor's office and maybe a police department to actually put handcuffs on someone. Whether that happens, working as private citizens now, we can only go so far." So, the point of all this was...what, exactly?
As we march ever closer to the true December anniversary of the tragic loss of life that's kept the more morbid corners of the internet fascinated for two decades, we've firmly entered the Lifetime movie phase of this trend (which, yes, is truly the worst phase of all trends). Over the weekend, Who Killed JonBenét? premiered on the cable network, and we're not saying it took things to an all-time low, but with its unsettling decision to have JonBenét (Payton Lipinski) herself narrate the film and the even more unsettling decision to have JonBenét apologize to lead investigator Det. Steve Thomas (Eion Bailey) for ruining his life with her murder, it got pretty close.
"I liked it because I felt it was haunting, literally, but I thought it was a very unsettling device," director Jason Lapeyre told E! News about the choice to include the creepy narration. "But yeah, it was this idea of this human being, JonBenét Ramsey. Lots of people have seen video of her dancing and heard her singing, but I'm not sure anyone's ever stopped to think of her saying something or having a conversation, or having her own ideas about what may have happened that night, so we thought dramatically that was an interesting device with which to frame the story."
And though Lapeyre claims the goal of the film was to humanize JonBenét "as a person," speaking about any aspect of her representation in the film as a "device" really undermines his case. But that's all she's become to many of these projects: a device.
In your rush to capitalize on this trend, dear TV execs, you've misjudged why the earlier entries into the true crime phenomenon worked as well as they did. Serial and Making a Murder exposed some fatal flaws in our criminal justice system, while The Jinx delivered a fascinating story we hadn't heard before while managing to seemingly coax a confession of murder on tape. And The People v. O.J. Simpson went beyond the horrific double homicide that jump-started our nation's most infamous court case to examine the toxic confluence of race relations, sexism, celebrity, and an obsessed media that took a stranglehold on the country throughout and has never really let up.
JonBenét's sad story offers nothing of the same. It doesn't speak to something larger about our culture. It's simply the lurid tale of a distressing murder of a young child. A child who, at this point, deserves to rest in peace rather than continue to be exploited. So let's let her, huh? There will be other crimes to explore, other murders for the armchair detectives out there to attempt to solve. We've already got NBC's Law & Order: True Crime—The Menendez Brothers and FX's second and third installments of American Crime Story (subtitled Katrina and Versace/Cunnann, respectively) to look forward to.
It's time to accept that may never really know what happened that fateful Christmas night in 1996, and that there is literally nothing new to say about it. So do the right thing, TV execs, and let JonBenét go. It's time.