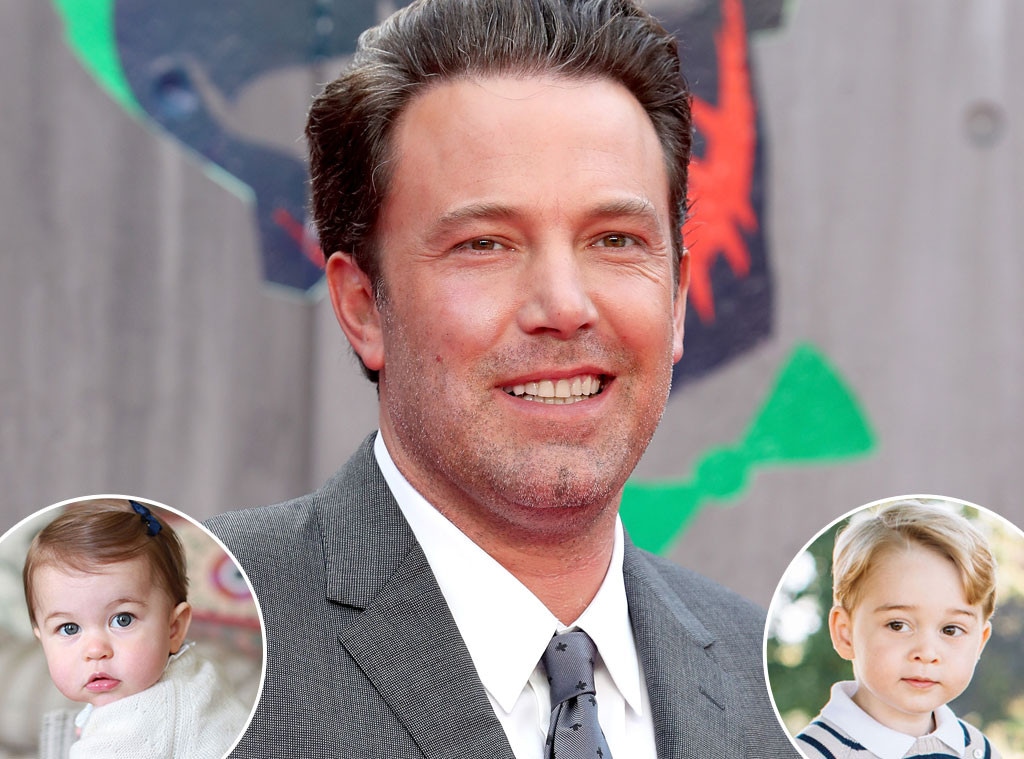 HRH The Duchess of Cambridge; SIPA; Getty Images
Just because you're Hollywood royalty doesn't necessarily mean you'd recognize actual royalty!
Such was the case for Ben Affleck when he failed to realize his youngest son, Samuel, was playing at an indoor park in London with Prince George and Princess Charlotte earlier this year.
The actor joined the Graham Norton Show for an interview that will air on Friday and recalled the funny incident. 
"Despite going to Windsor Castle, Tower of London and Buckingham Palace, we didn't see one royal," he said of his time spent in London while filming Justice League. "Then, when it was raining, I took my youngest to one of those kids' indoor play parks."
He continued, "It was pretty empty and then I noticed this weird vibe from the other grown-ups. They were all very well dressed and they had earpieces and I thought, 'For a kids' place, this is tight security.'"
However, he later understood what was going on. "I was the very last person to realize that Prince George and Princess Charlotte were in there playing with my kid," he said, laughing, "I can now tell him that he got a cold from the King of England!"
Speaking of their trip to Europe, many people wondered if Affleck and Jennifer Garner were planning to move their kids—Violet, 10, Seraphina, 7, and Samuel, 4—to the city as they were spotted there multiple times earlier this year.
However, a source told E! News at the time that the family was simply staying in the U.K. while Affleck finished filming Justice League, adding, "They continue to do what's best for the kids."
Affleck has reiterated that sentiment, telling CBS This Morning, "Life doesn't always turn out exactly the way you want. We're doing our very best and we're putting our kids first and that's how we're focusing on our day to day lives and we don't know what the future's gonna hold, but each step that we take is one where we prioritize our children and everything else comes second."
He continued, praising Garner, "She's just so good at doing that and has set such a good example and a lead that I follow. She's somebody that I admire and respect and remain excellent friends with."