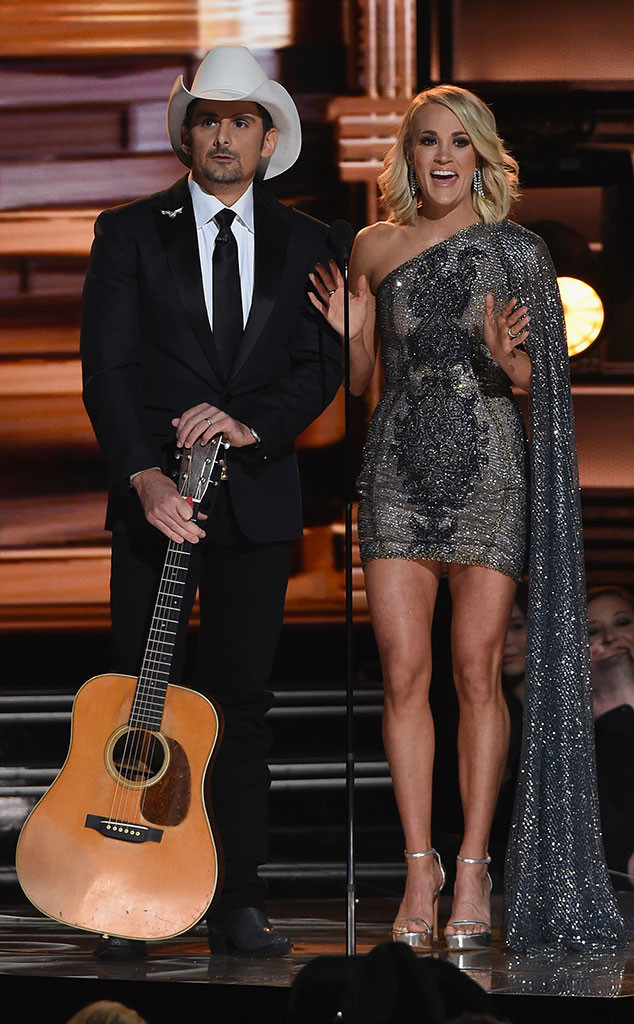 Rick Diamond/Getty Images
Carrie Underwood and Brad Paisley took the stage at the 2016 CMA Awards to host together for the ninth time in a row, and they definitely brought the jokes like the pair of seasoned veterans that they are.
The country singers opened the show with a hilarious skit that was filled with jokes poking fun at audience members and, as per usual, incorporated some necessary singing and guitar-playing.
But the laughs didn't stop there! The duo continued the comedy throughout the show. Check out some of their best jokes from the night below:
Crooked Carrie: Plenty of election jokes were made during the opening skit, but Paisley really got us laughing when he called Carrie a liar.
She began, "Speaking of, we're joined by all of this year's nominees for entertainer of the year. Like our buddy, Keith Urban."
Brad interrupted her, yelling, "Wrong!" as Carrie continued, "Also nominated, Luke Bryan and Chris Stapleton."
The country crooner stopped her again, "Lies! Crooked Carrie!" to which she responded, "Crooked Carrie? And Mrs. Yearwood, Garth Brooks."
The crowd laughed as Brad continued, "That's true. But one more nominee for Entertainer of the Year. I've been standing next to this wonderful person for a long time now. I love all you guys, but #I'mWithCarrie."
Brangelina: Of course, we couldn't get through any awards show without mention of one of the biggest stories of the year—Brad Pitt and Angelina Jolie's divorce.
Carrie said, "So much has happened in the news since we last met. Brad and Angelina broke up."
Brad responded, "Yeah, we did. And I don't want to talk about it." LOL!
Deplorable Gifts: The duo joked about the "gift" baskets the CMA Awards give out to the stars, which was full of a lot of nothin'!
Carrie told the crowd, "We're all getting stuff! Tonight for our big anniversary party, you're all going home with a special gift basket. Your very own basket of deplorables! We have camo, ammo, Miranda [Lambert], it's your favorite caliber!"
Brad added, "And beer googles, Luke Bryan, you're going to get a lot of use out of these!"
Plastic Touch: Carrie and Brad brought out a pair of Barbie dolls complete with a big, pink bus to represent Faith Hill and Tim McGraw. They sang, "Let's make love on this bus, I want to feel your plastic touch."
Poor Billy Ray Cyrus: The pair poked fun at the "Achey Breaky Heart" crooner all night, joking that he was their "designated survivor."
At one point in the middle of the show, Carrie asked how he was doing, and Cyrus was locked in his dressing room with a sign that read, "Help Me, Brad!"
'80s Lady: Brad poked fun of one of Carrie's sparkly, fringe looks, calling her "'80s lady" when he joined her on stage. He added salt to the injury by wearing an '80s-style wig to match her...LOL!